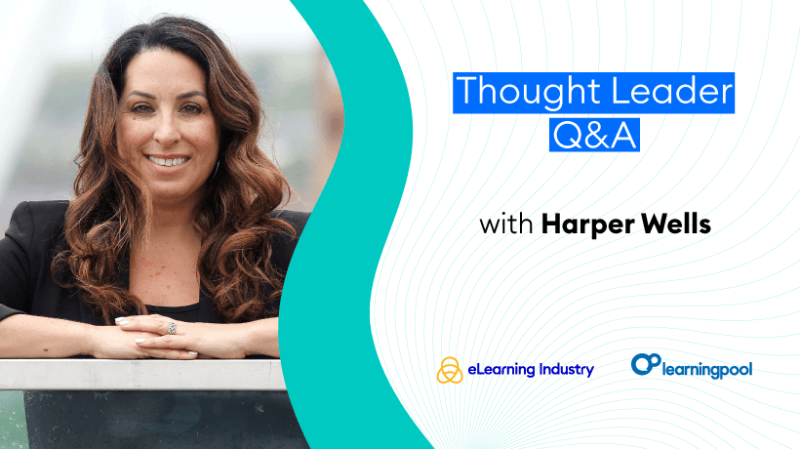 Exploring Behavioral Insights, Compliance Training Tech, And Generative AI
An industry expert who is passionate about building progressive, outcome-driven ethics and compliance programs, Harper Wells serves as the Chief Compliance Officer at Learning Pool. She oversees the company's ethics and compliance program and helps over 1400 organizations around the world—including leading Fortune 500 organizations—transform their program strategy by leveraging technology and behavioral analytics.
Prior to Learning Pool, Harper spent over 15 years in compliance, risk, and governance roles across heavily regulated industries. She is an active author and speaker in prominent media outlets and industry events. Harper also chairs the True North Conference, which brings together ethics and compliance professionals to find strategic solutions that maximize impact and strengthen the enterprise compliance function. Today she shares her insights regarding compliance training misconceptions, improving ESG performance, and behavioral analytics.
In your opinion, what is the most common misconception about compliance training, particularly when it comes to remote or hybrid workforces?
The short (somewhat controversial) answer? Compliance teams believing their training is effective with nothing more than completion data as evidence. We're halfway through 2023, yet many organizations continue to deliver compliance training the same way they did before Y2K!
Compliance teams should leverage technology and data to engage learners and detect areas of opportunity—wherever they sit. A properly executed ethics and compliance training program serves as a guide to employees and leaders alike. Training can help people who want to do the right thing, do their jobs compliantly, and feel empowered to speak up when they witness perceived wrongdoing. It provides a structured opportunity to communicate organizational expectations on a variety of topics where values, rules, and regulations matter. It is a frequently pulled—yet misused—lever, which is why it's time for compliance teams to get more prescriptive and predictive with more intelligent training and related data output.
What is the first step that organizations can take today to start improving their ESG performance and practices?
ESG performance and practices are quickly becoming table stakes for organizations that want to demonstrate their commitment to transparency and accountability. While regulation in the United States has yet to be formalized, companies shouldn't wait to implement programs that place their most important stakeholders (think employees, customers, and third parties) at the forefront of their business strategy and decisions. The first step organizations should take when starting their journey (or revisit, if they have a program in place) is to ensure the initiative is not treated as a data collection exercise, but rather embedded into the fabric of how the company does business. That means that every decision must fit the criteria that (i) it's good for stakeholders, and (ii) the implementation of every ESG effort has the systems, processes, and controls to support it. ESG programs aren't profit-first, business-as-usual. They recognize that businesses can—and should—add value to the communities and stakeholders they serve. When ESG programs are truly embedded into their organizations, they're able to track demonstrable progress with metrics over time. It's about demonstrating improvement and being accountable when there isn't change.
What do you think the future holds for compliance programs, especially pertaining to the use of technology and behavioral analytics?
Compliance teams have an opportunity to move towards progressive, outcome-driven training programs that leverage technology and data for actionable, predictive intelligence. The future vision of a program should be targeted, tailored, and humanized to ensure employees are getting the guidance they need to do their jobs the right way–in plain language that's relatable to their specific role. Technology plays a vital role in delivering more efficient learner-centric outcomes within the training ecosystem:
Intelligent training should right-size the learning experience by adjusting the course based on the learner's skills and experiences, giving bespoke feedback and comparable alternate scenarios to demonstrate proficiency;
Supplemental learning paths should include logic that looks back on an employee's prior performance on compliance concepts to give them the specific reinforcement they need; and
Generative AI should facilitate an experience where employees navigate realistic scenarios and have dialogue around situations they may encounter in their day-to-day in order to practice an appropriate response.
Behavioral insights underpin the training ecosystem by providing actionable intelligence on employee behaviors in simulation, showing compliance teams where opportunities and strengths lie, where additional targeted remediation may need to take place, and helps inform compliance teams' program planning. This data, paired with other operational and transactional data, gives the team a more predictive, comprehensive view of compliance risk.
Wrapping Up
If you'd like to learn more about how to tailor your training to boost L&D effectiveness and how technology can help you get closer to your learners, join Harper for the webinar Targeted, Tailored, Humanized: How to Create Compliance Training that Employees Connect With. You can also check out Learning Pool's case studies to find out how they've helped organizations transform their already established L&D programs by leveraging the latest tech, reducing compliance training seat time, and implementing centralized learning platforms.