Using An AI Skills Management System For Talent Development
Employees are your most valuable asset, and every business should prioritize skills development and individual growth. But how can you use the latest tech to address gaps and personalize your training initiatives? How can you leverage a skills ontology to improve productivity and structure your training program more efficiently? This ultimate guide by Learning Pool explores what an AI-driven skills management system can bring to your organization.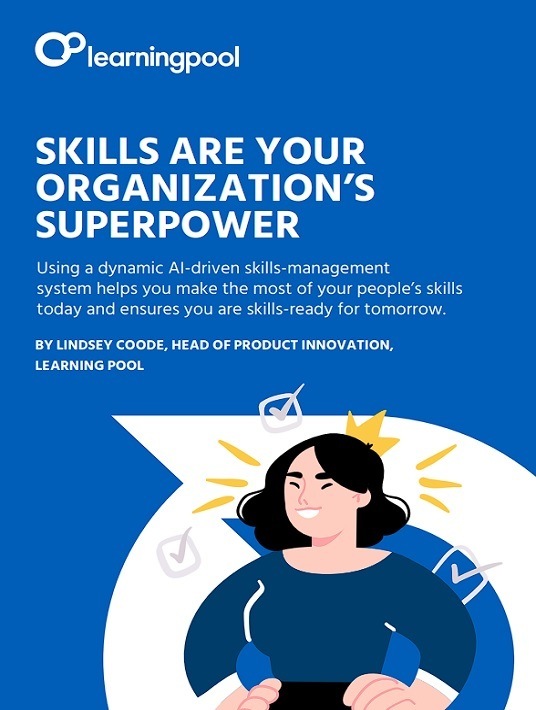 eBook Release
Skills Are Your Organization's Superpower
Discover what a skills ontology is, what the benefits are for all areas of an organization.
The Perks Of Skills Management Systems
AI skills management systems offer deeper insights regarding employee development and training performance. You can also evaluate the talent you currently have in your organization and map out which skills are required to help team members reach their full potential. Another benefit is being able to ensure that employees are in the right roles based on their skillsets. For example, you may discover that a customer service employee has a knack for negotiation and persuasion, making them an ideal choice for your sales team. Thus, you can adjust their training course to fill gaps and get them ready for the next stage of the employee journey.
About This eBook
How can you prepare your people for the challenges of tomorrow? What can you do to bridge skill gaps now and improve employee retention? How do you find the right AI-driven skills management solution for your organization's needs? Here's a brief glimpse of what you'll find in this guide by Learning Pool:
What is a skills ontology?
The challenges organizations face when managing skills
A highly competitive labor market
The skills gap
The benefits of an AI skills ontology
Staff engagement and retention
Upskilling and reskilling
Workforce readiness
Next steps
Get Your Copy
Download the eBook Skills Are Your Organization's Superpower today to maximize your internal talent with an AI-powered skills management system.