Modernism Week in Palm Springs, CA, each February (with a smaller version in October) is a celebration of the many beautiful mid-century modern homes – both old and new.
If you love architecture and design, and mid-century modern is your vibe, you'll want to get tickets to tour these homes with fascinating, famous and secret pasts. But even if you don't particularly love mid-century, you might be turned!
I personally wouldn't fit out my house with mid-century furniture, for example, but seeing these homes that are all-in from colour to design, decor and inspiration, is so fabulous.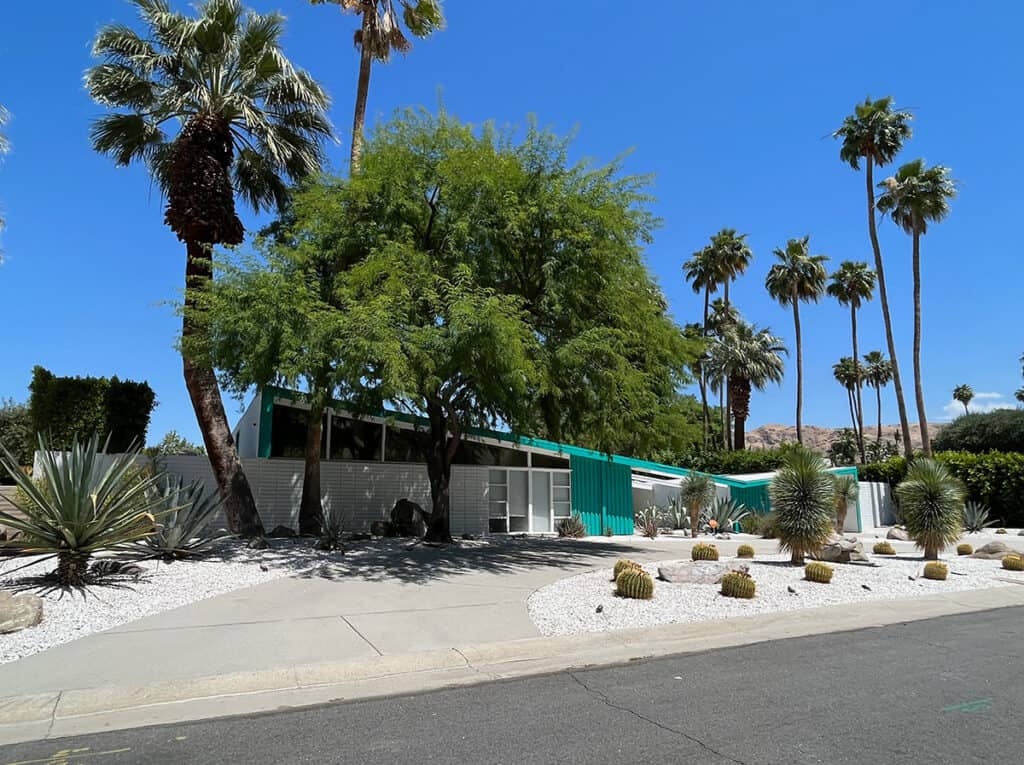 Palm Springs is about a 2-hour drive from Los Angeles, so makes for nice a day trip from LA – if you pick the day right and don't try and return at the end of a long weekend! There are so many wonderful things to do in Palm Springs, that you'll want to spend at least the weekend. I was here on my fourth visit.
This time I found the most fabulous day spa built upon a natural hot spring, right in the middle of town and you can use the entire facilities for the whole day if you wish, just for booking one treatment. And I went on a mid-century modern architecture tour with David Dixon, who runs Modernism Week and knows everything there is to know about these houses. Including who built them and who used to own them!
Because it's the stories behind them too. Did you know Elvis Presley and Priscilla were planning on have a low-key wedding here in Palm Springs in the house below, where Elvis had been renting for about a year in 1967, when the neighbour caught wind of it. Unfortunately for the love birds, she was editor of a magazine and pretty soon the cat was out, so they borrowed another neighbour, Frank Sinatra's, jet and flew to Las Vegas and got married there.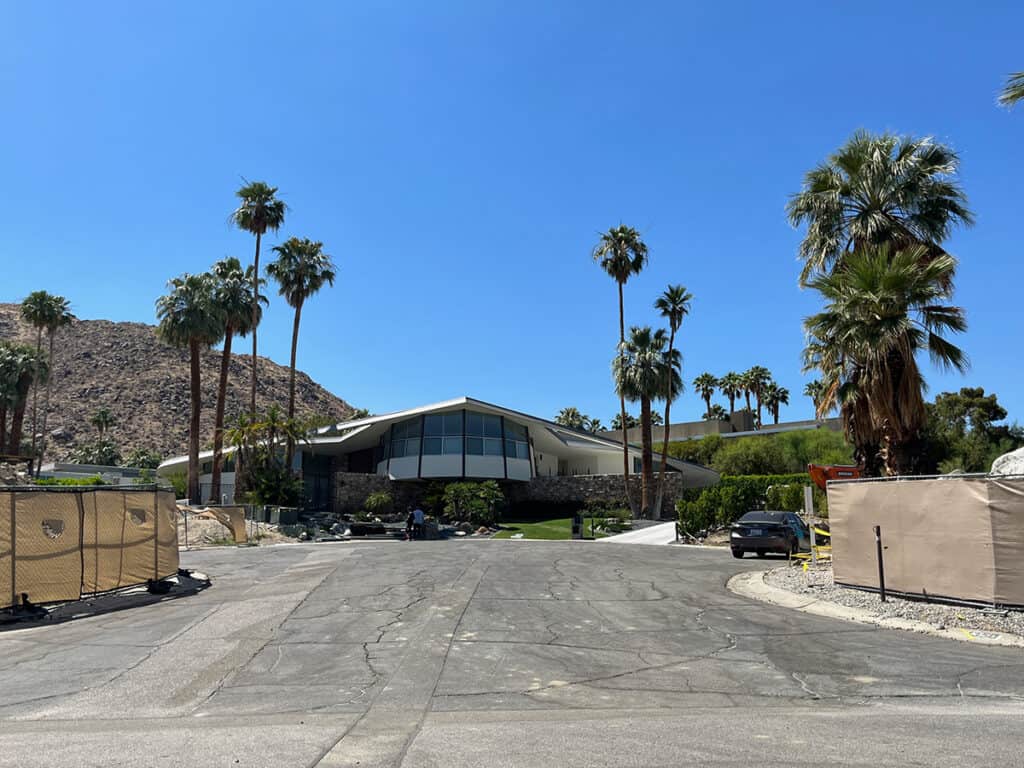 They returned to this house for their honeymoon in the William Krisel, 1960 designed house. Inside the walls are curved with lots of glass and lined with exposed rock. It has an octagonal shaped swimming pool. It sold in 2022 for $5.65 million and is undergoing restoration.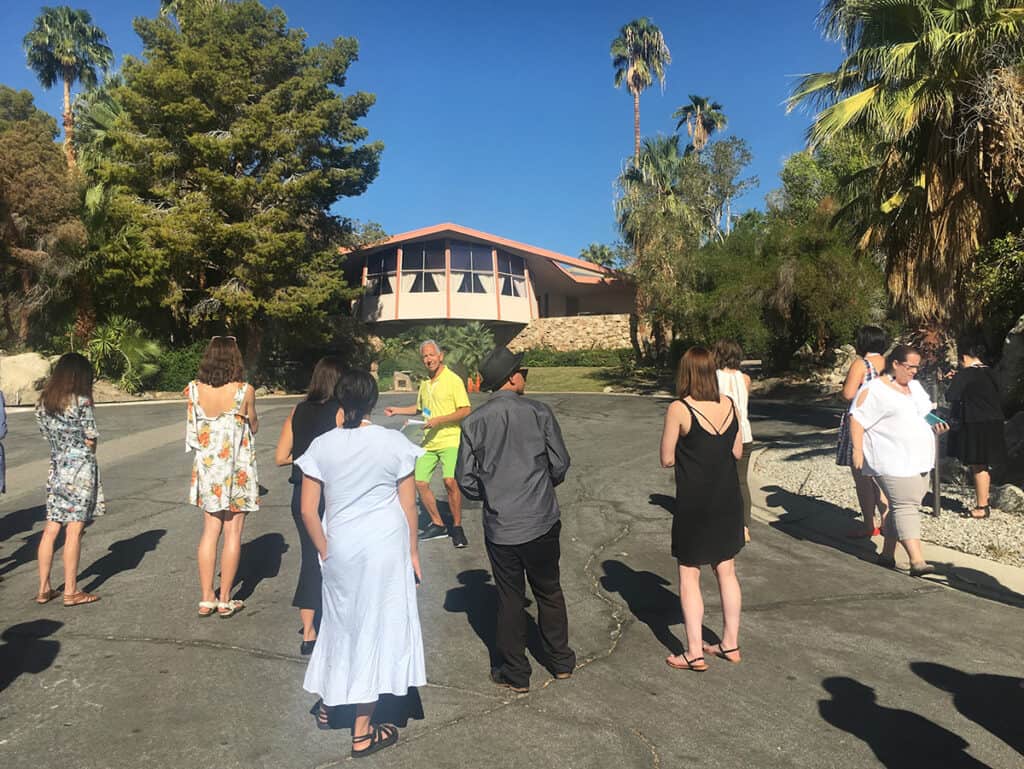 Pop into the Visitor Center, here at the corner of the road that leads up to the Palm Springs Aerial Tramway, which will take up the 10,000m mountain where you'll still see snow in early summer.
Not only is it a great example of function and design of the mid-century, but you can pick up a self-guided tour booklet to take your own driving tour of the houses I've photographed below – and a whole lot more.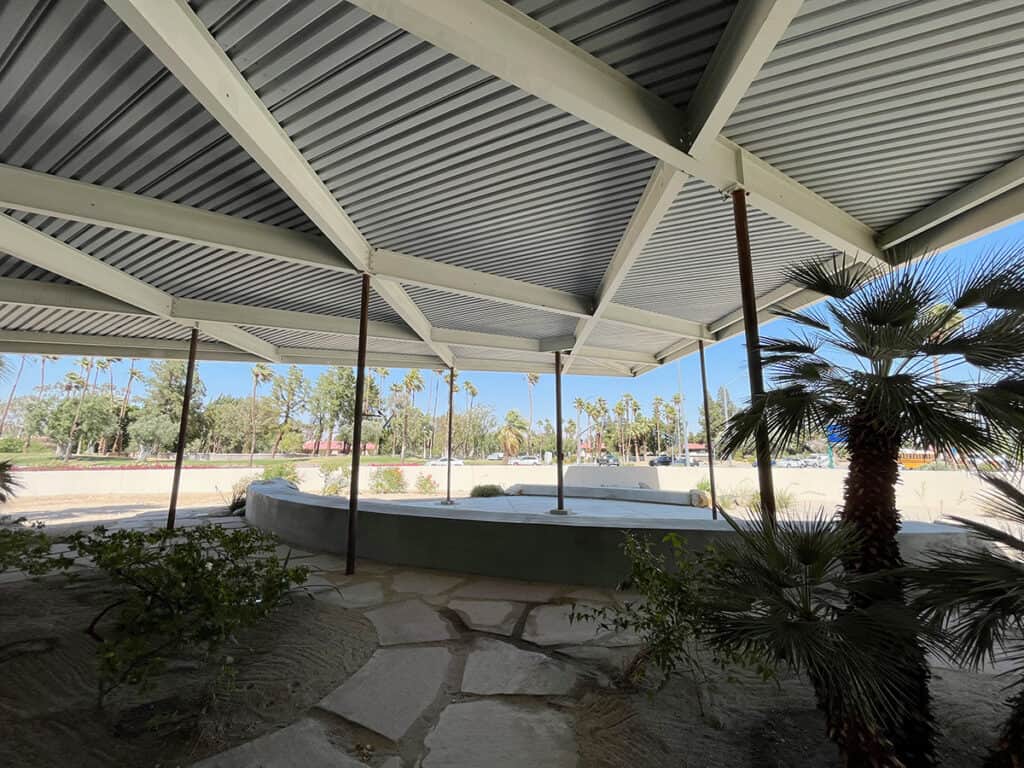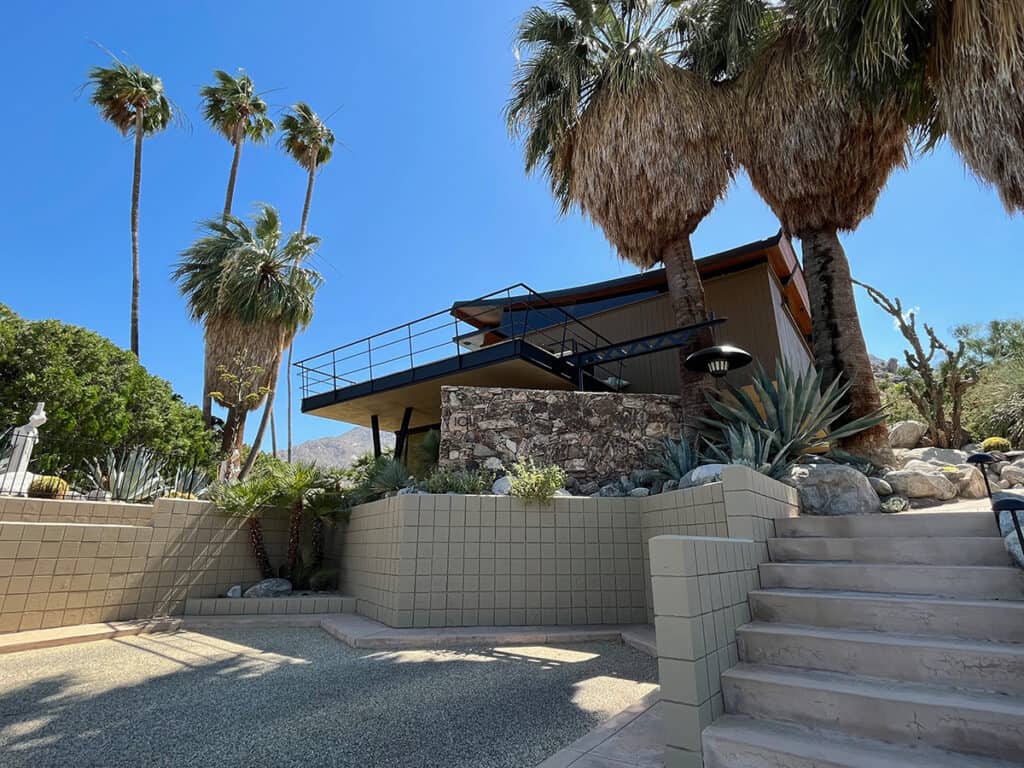 The Alexander home (above), completed in 1955, is listed on the National Register of Historic Places, and features innovative construction methods (particularly the V-bent steel frame "skeleton" which makes up the structural support system), as well as the unique cambered roof, which appears to lift off from the structure's southern façade.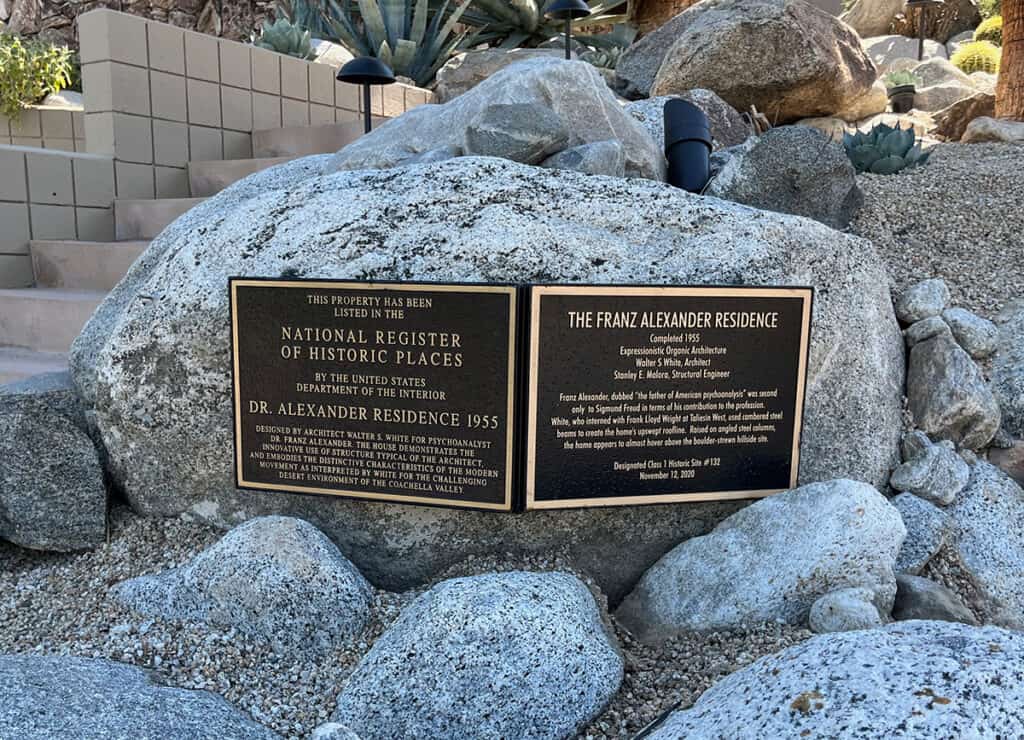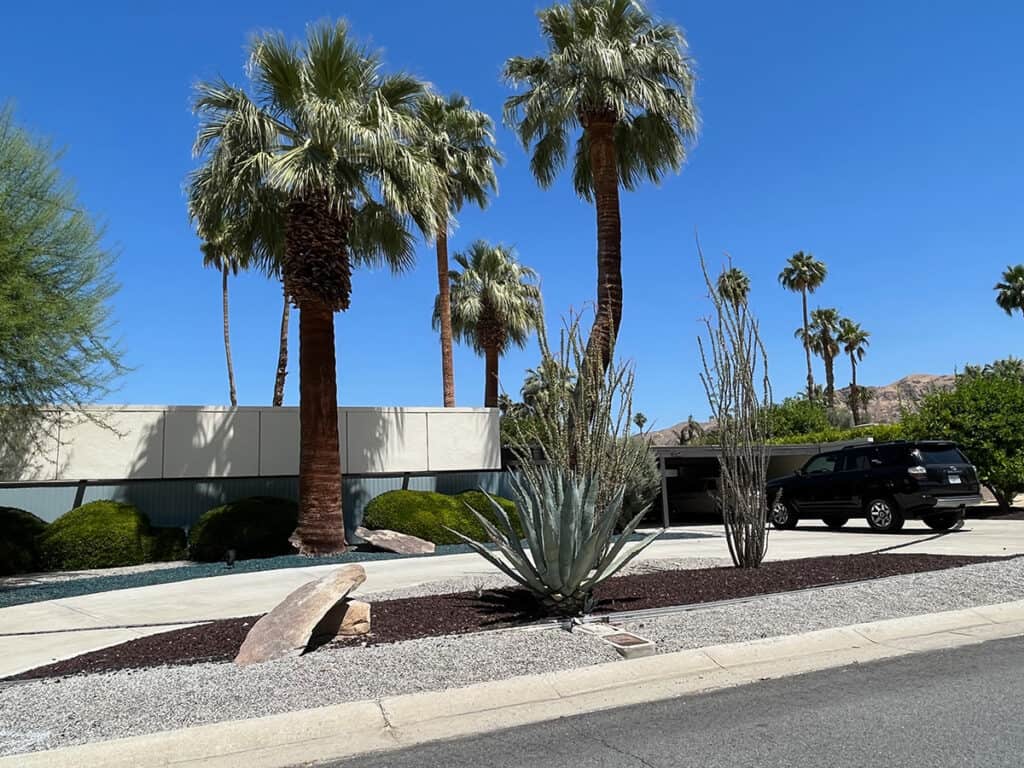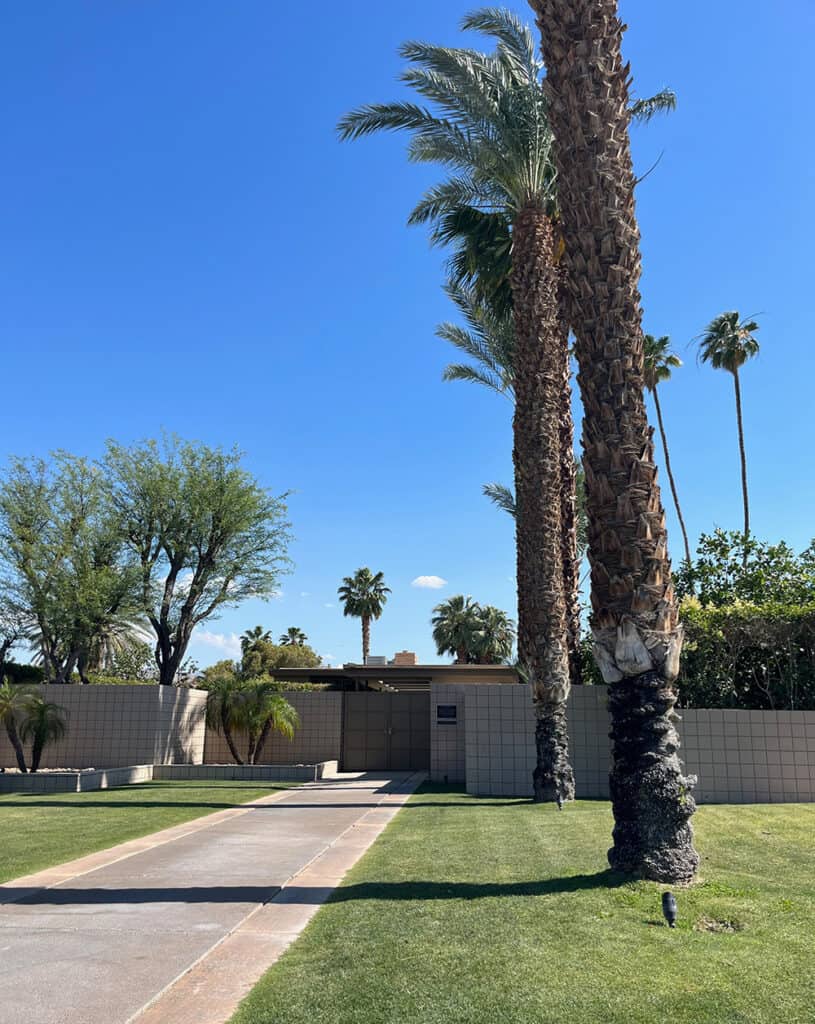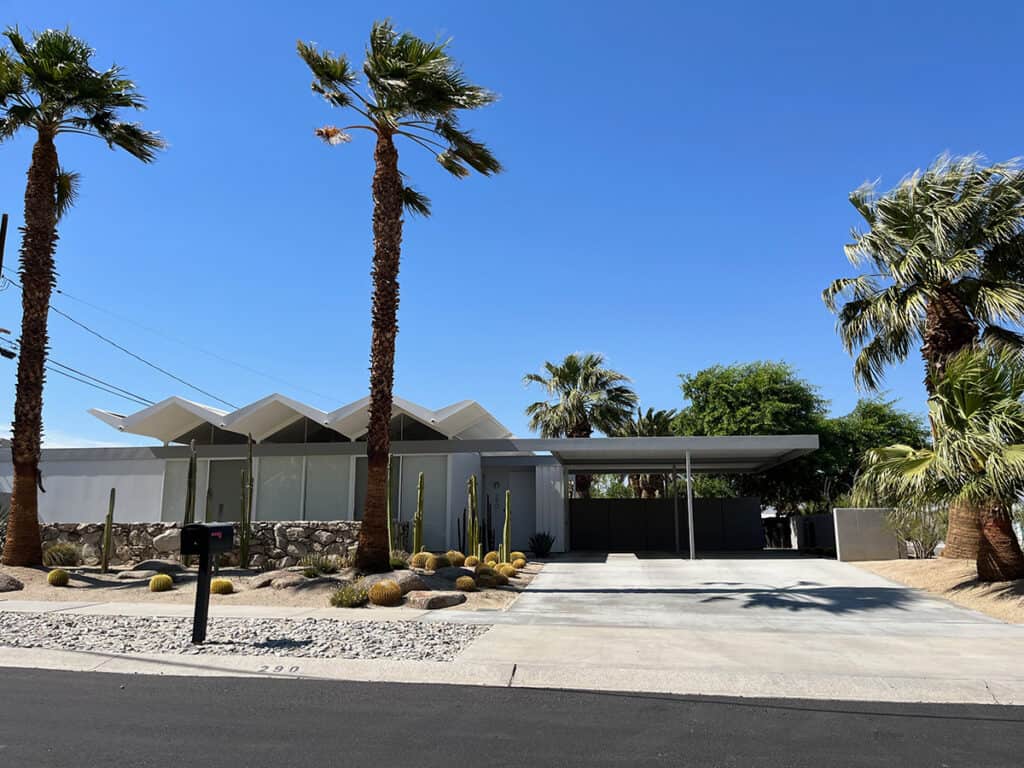 Visit Modernism events in Palm Springs
Each February Modernism Week (which runs for 11 days) is one to get to. It's a celebration of midcentury modern design, architecture, art, fashion and culture in the Palm Springs area. Over 100,000 people visit each year participating in more than 350 events.
"Highlights of the festival include the Modernism Show, Signature Home Tours, films, lectures, Premier Double Decker Architectural Bus Tours, nightly parties, live music events, walking and bike tours, tours of Sunnylands, fashion shows, classic cars, modern garden tours, a vintage travel trailer exhibition, and more."
Each October a similar four-day event called Modernism Week – October runs as a taster for the big February one and is also great to visit if you don't have the time to see everything. "Mini-Modernism Week" offers some of the most popular tours from February, talks, and of course parties, highlighting midcentury and modern architecture in the Palm Springs area.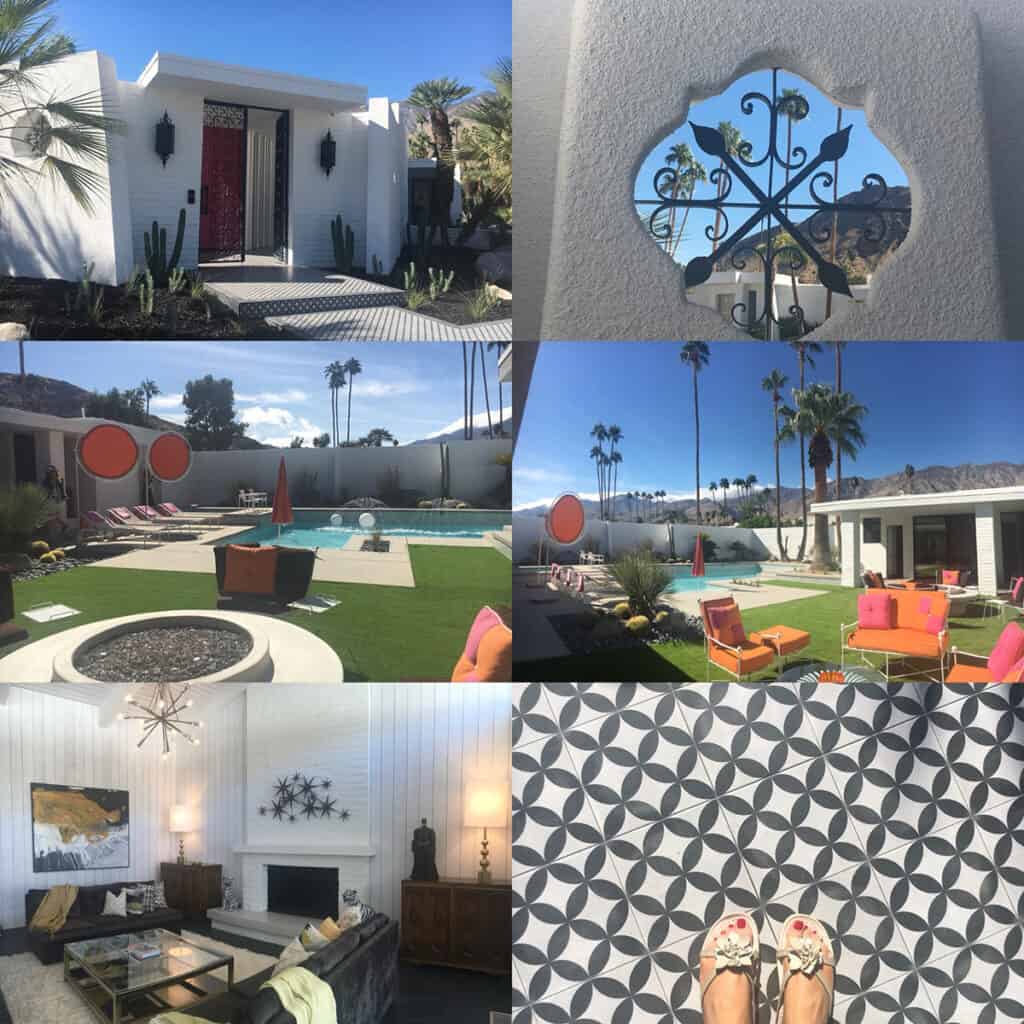 Driving tour of mid-century modern homes
Any time you visit, you can take a self-driving tour (pick up a map from the Visitor's Center at the Aerial Tramway entrance), or take a private guided tour through any time by checking this calendar of tours.
Or just drive past and admire the architecture and the desert gardens. Get inspiration for your own home or while away a couple of nosey hours!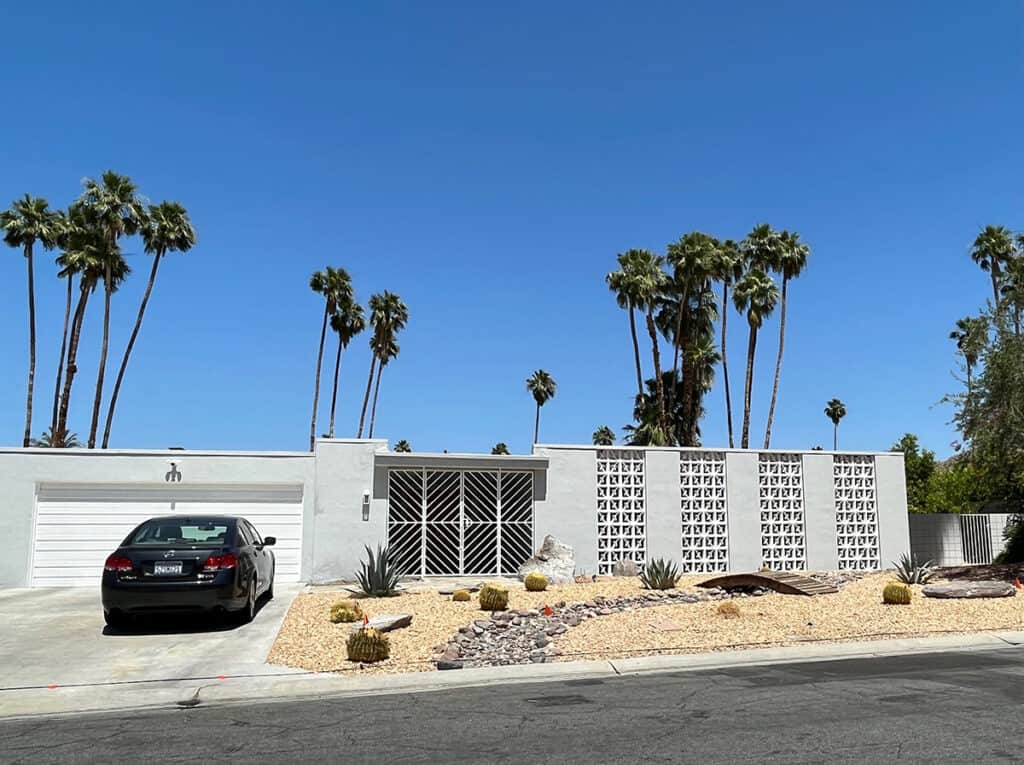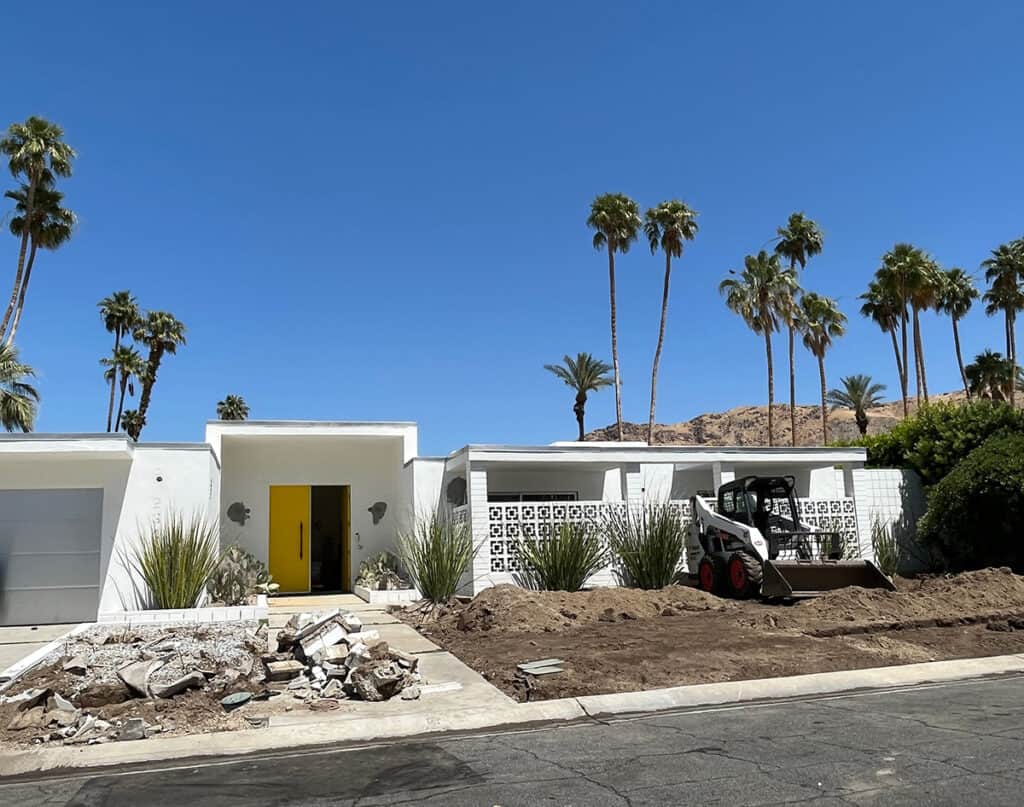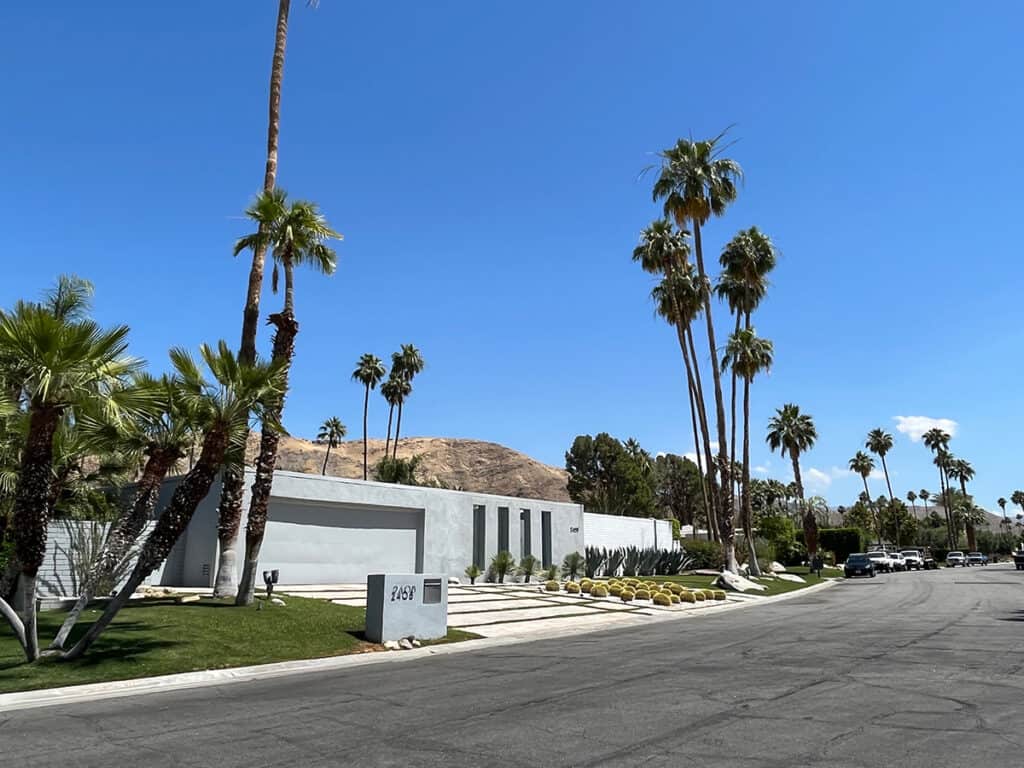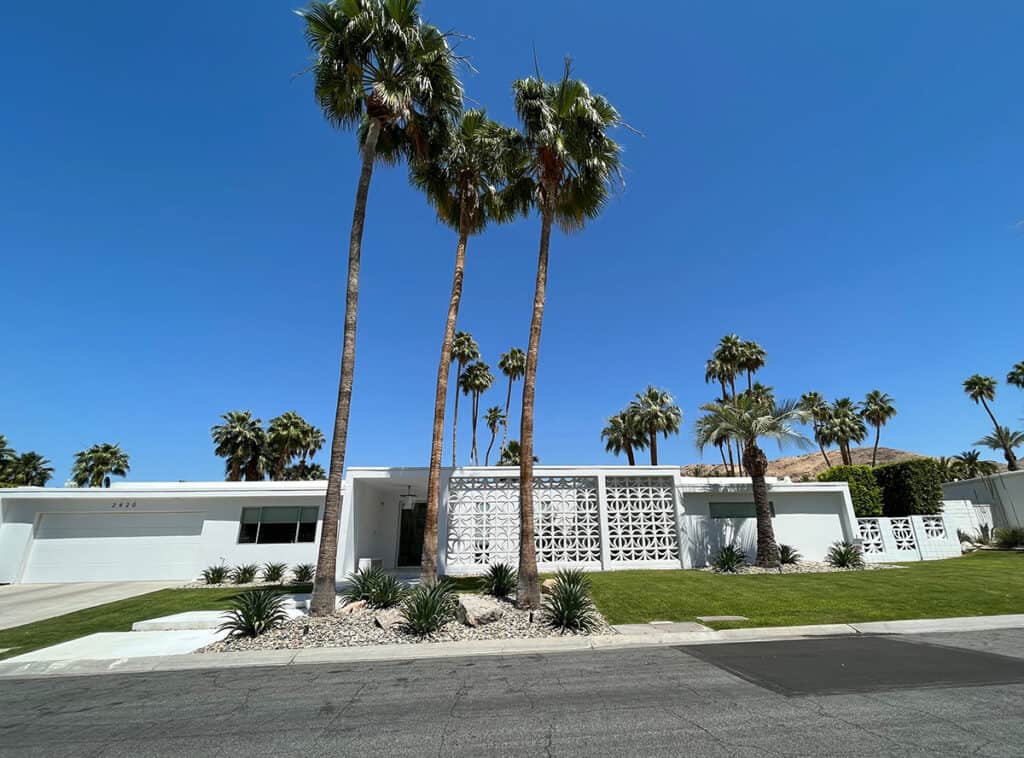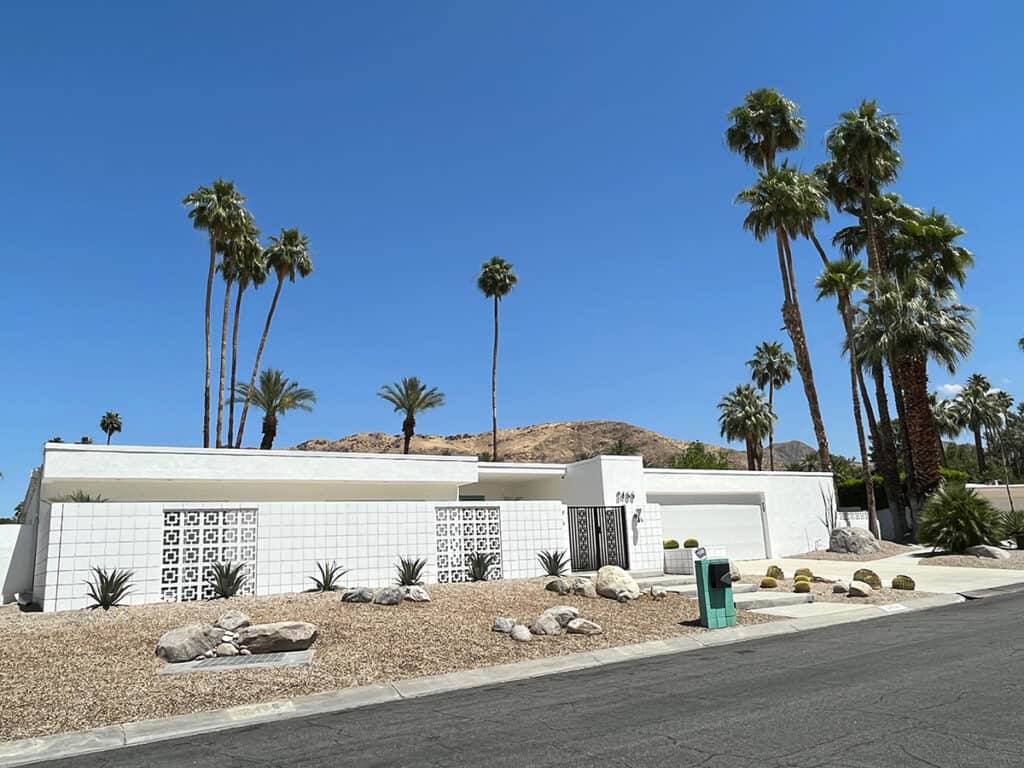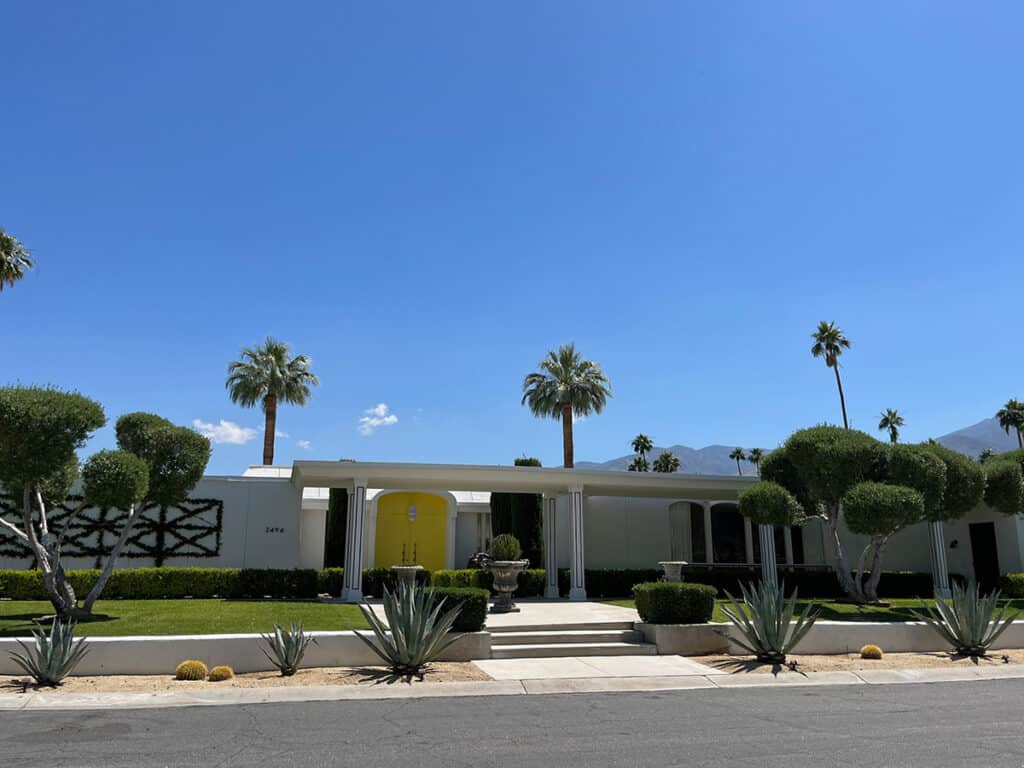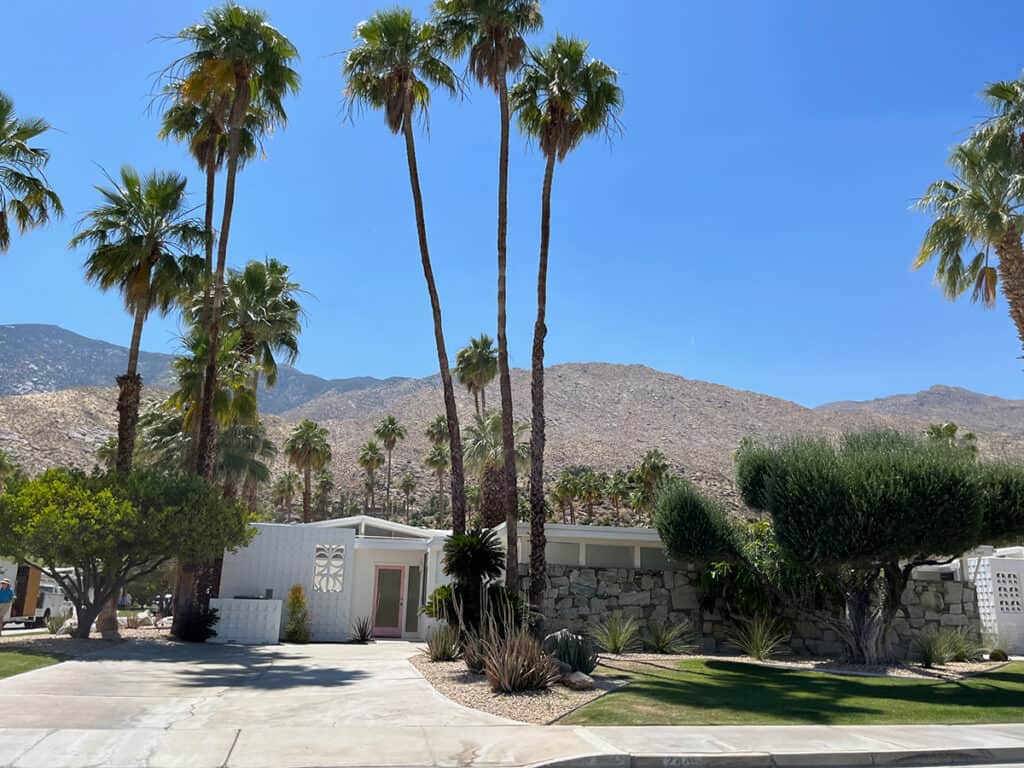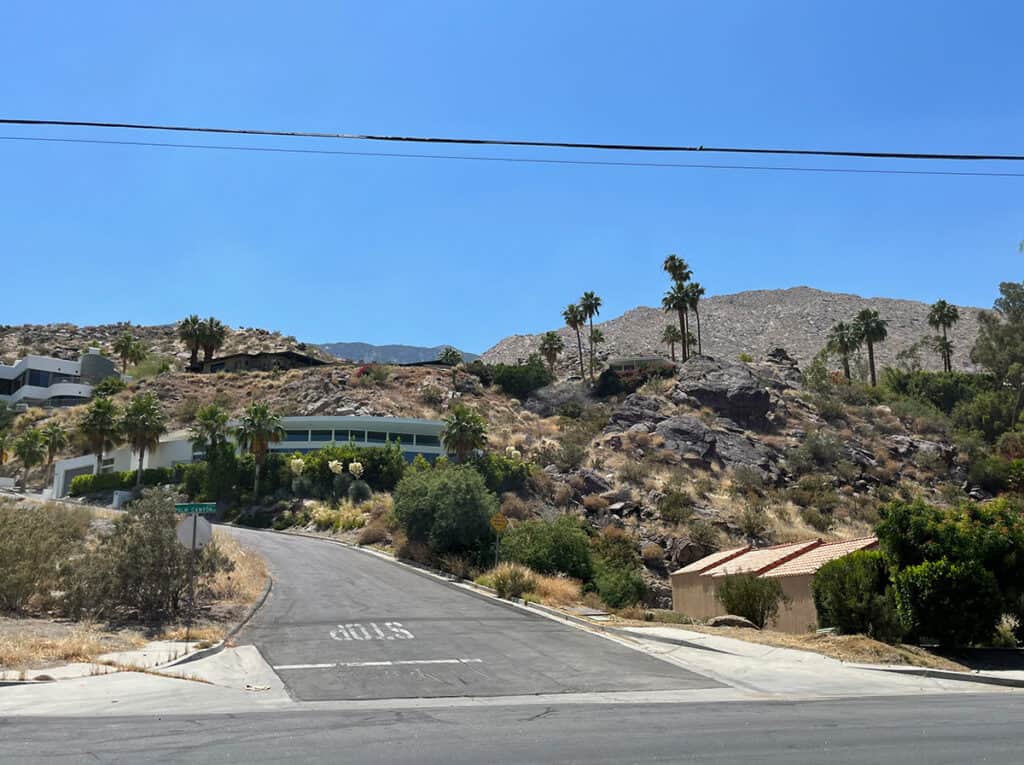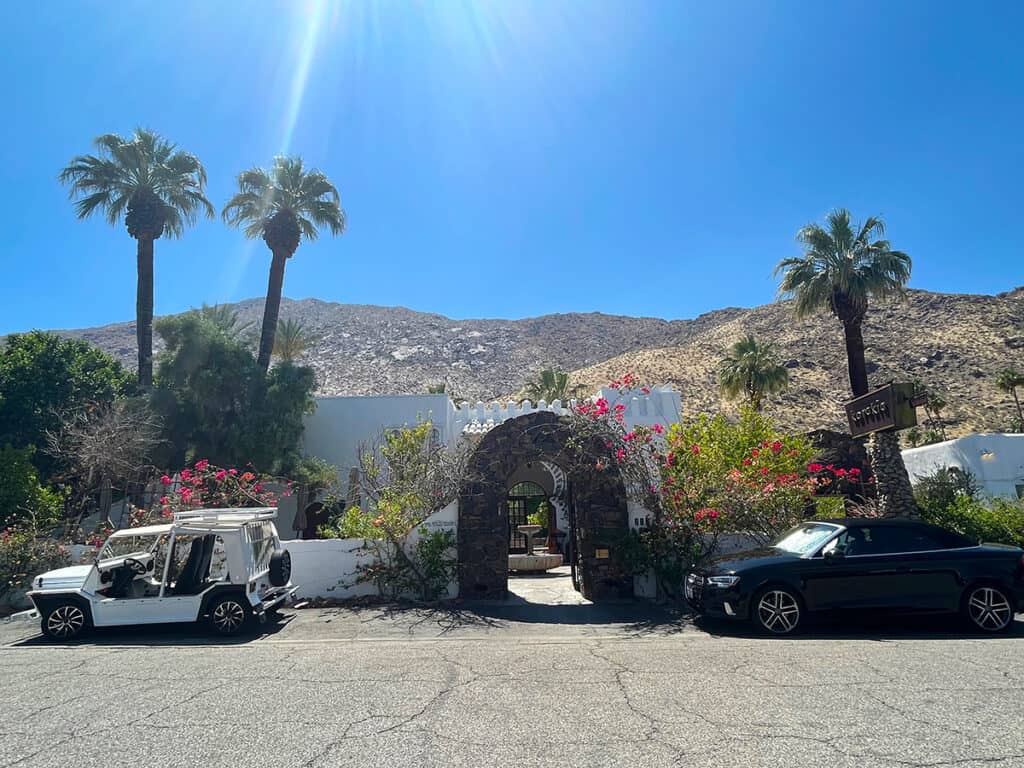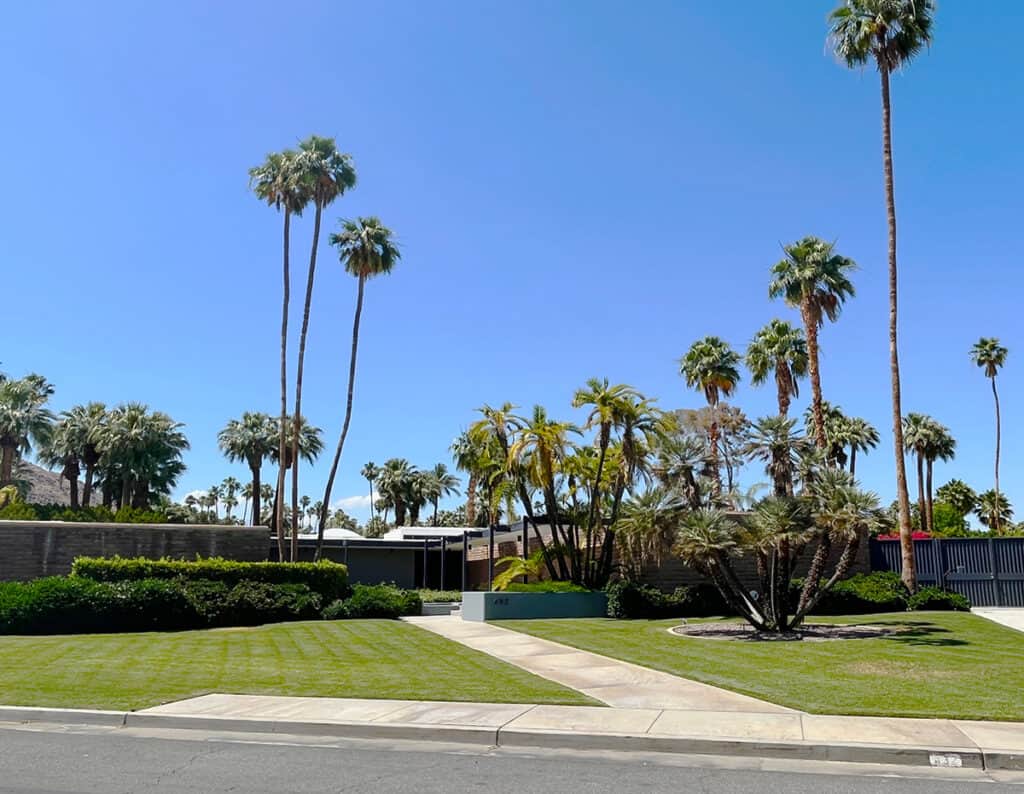 Stay in Leo DiCaprio's house!
432 Hermosa (above) was built in 1964 for Dinah Shore and rumoured to cost Leo $5.32 million in 2014. He sometimes holidays here, but so can you!
If you have a cool $3,750 per night, you can stay here. Or if you just want to nosey (virtually) through it, it has its own website: 432 Hermosa.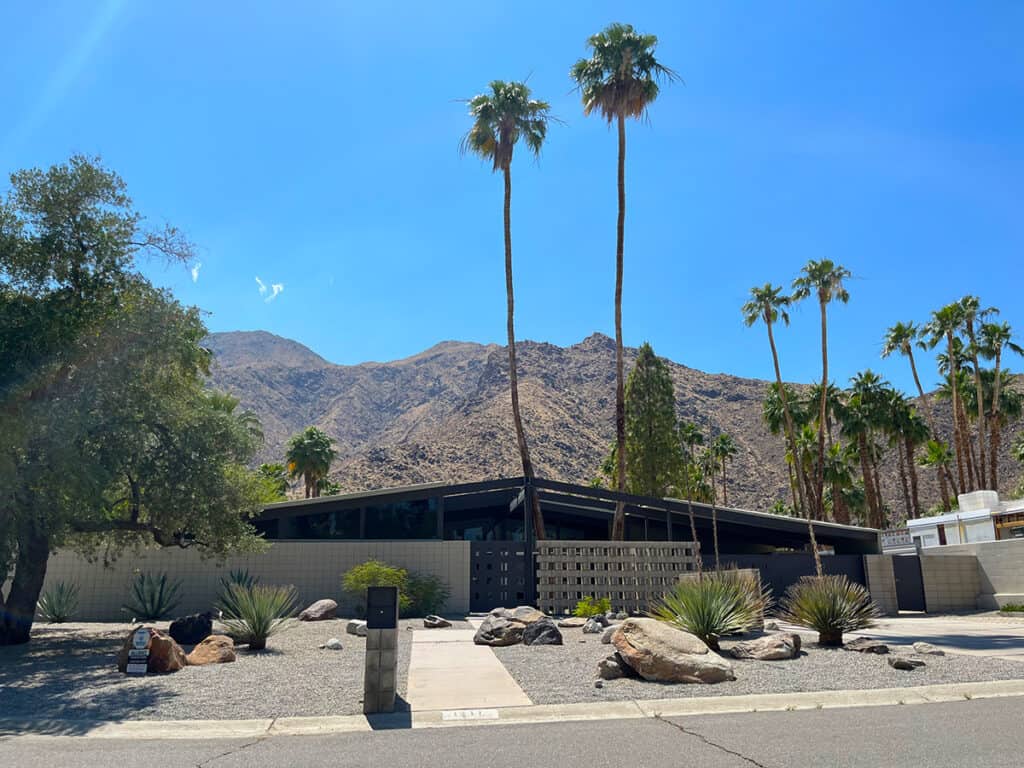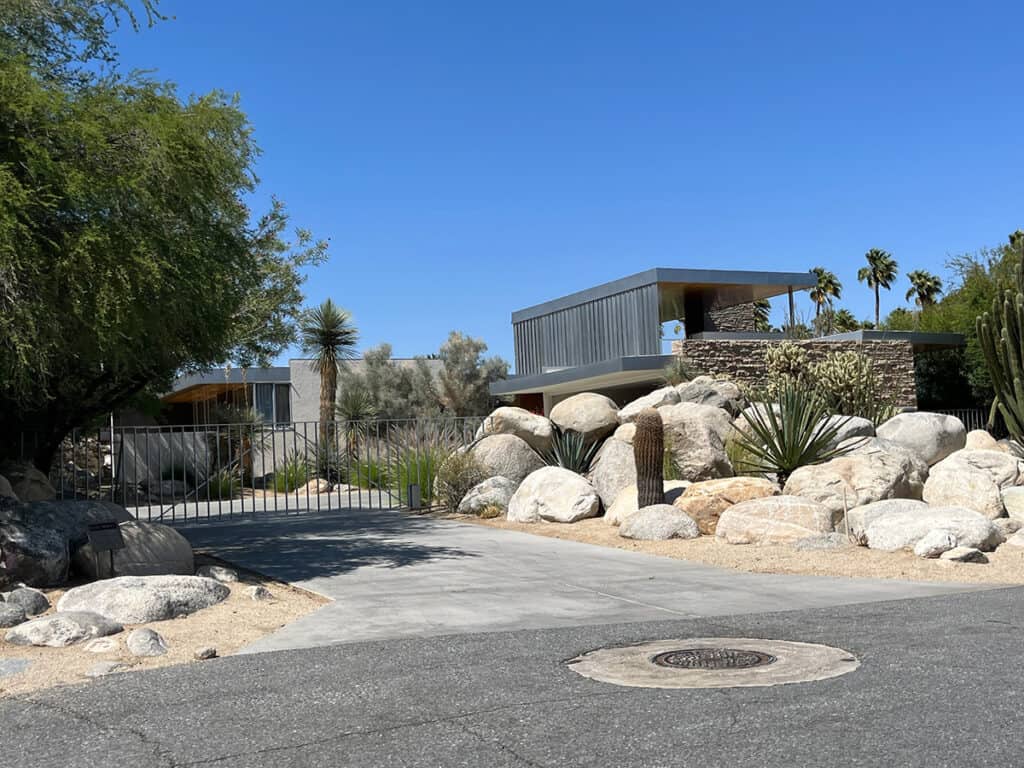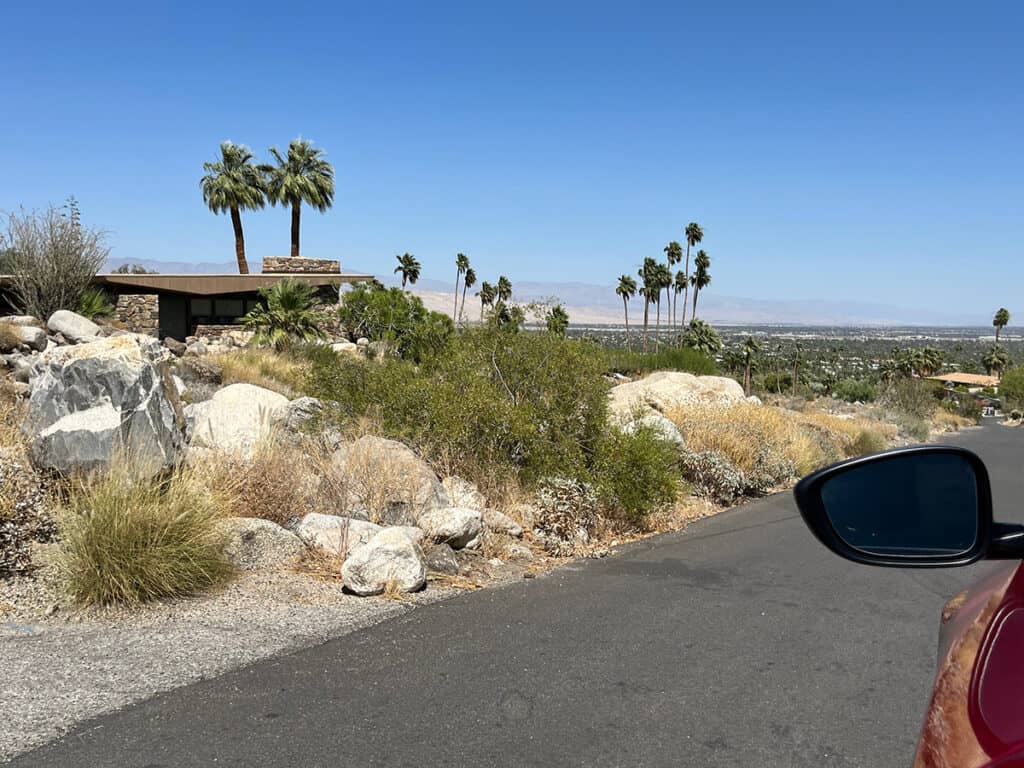 Visit the Modernism Week website to read more and buy tickets for coach tours and events during the festivals. You can also buy tickets for an architectural tour year round.