I love a spa treatment, don't you? They're the only things I want for birthday gifts these days and in between the annual visit, I pop in and out of a couple of my local spas when there's a deal to be had for a massage or a facial.
But in Palm Springs, California a new beautiful day spa has opened and it is so amazing – and it won't break the bank!
I love Palm Springs and this was my fourth visit. You can read some of my suggestions for things to do in Palm Springs here.
The Spa at Séc-he is built on the ancient site of Agua Caliente Hot Mineral Spring, and uses the natural hot springs, for which this town is named, to fill its pools. Séc-he means "the sound of boiling water".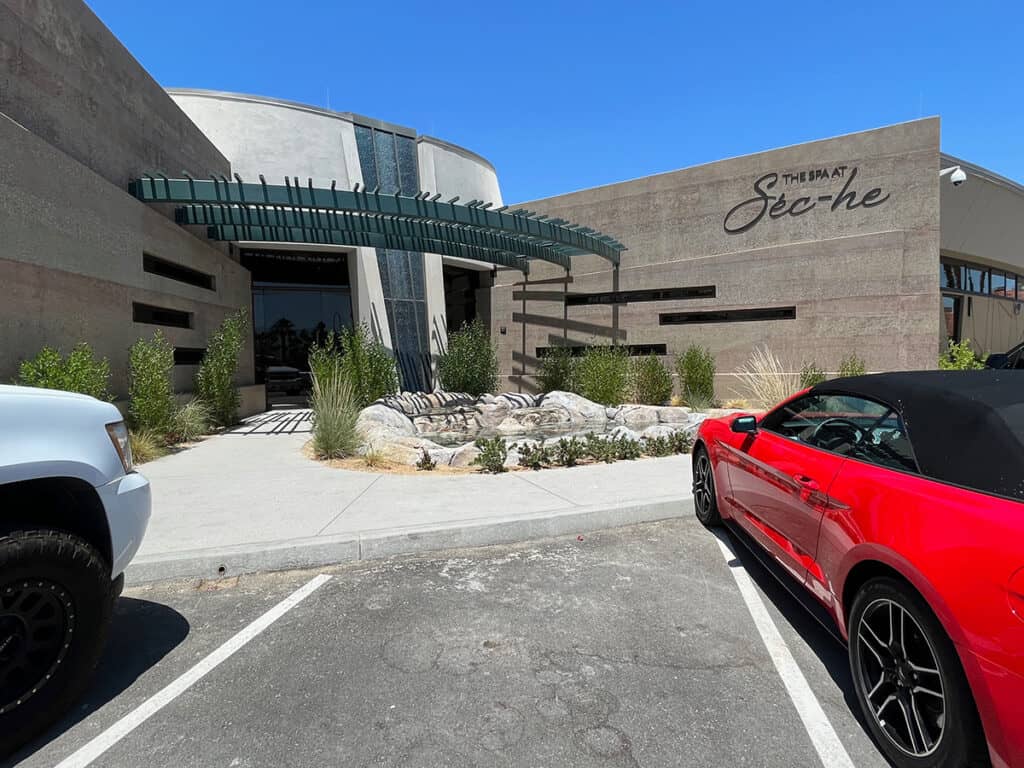 The Agua Caliente band of Cahuilla (pronounced koo-ee-a) Indians cares for these springs and has done for centuries. They are located in the heart of downtown Palm Springs near the shops and restaurants.
It was late May when we visited and I could still see the last of the snow on the top of the San Jacinto mountains, where the peak is 10,834 ft (3,300m). For respite from the scorching Palm Springs summer heat, locals and visitors ride the aerial tramway to its peak of 8,516 feet and where snow can still be seen in summer.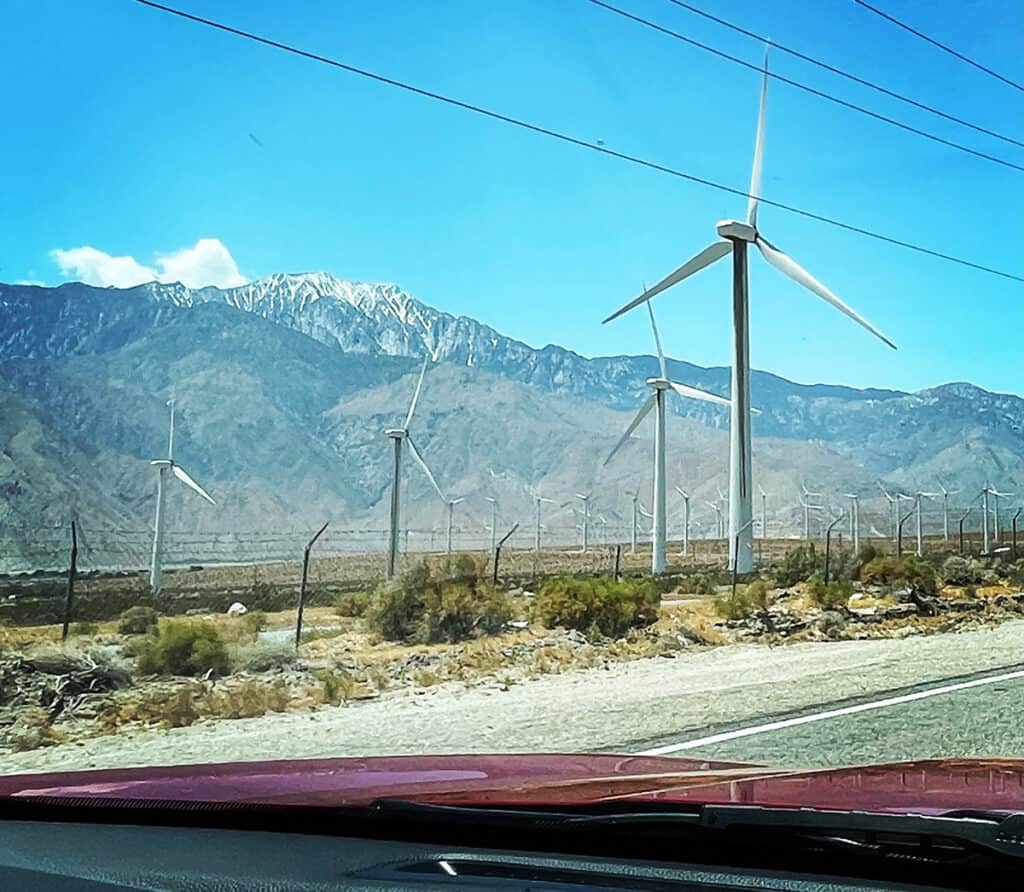 But deep underneath the earth, rainwater and snowmelt have collected for millennia and instead of spewing out in various geysers or fissures, these springs travel in one single tube-like phenomena, picking up minerals and salts along the way, to spring out at a rate of 26 gallons per minute here in the middle of town. It's not sulphurous smelling either, like in New Zealand's Rotorua.
But here's the amazing thing about this newly built day spa on the site of ancient spas before it, you can buy one treatment and stay all day using all the other luxurious amenities, including a main pool surrounded by day beds and cabanas, with a food and drink menu too.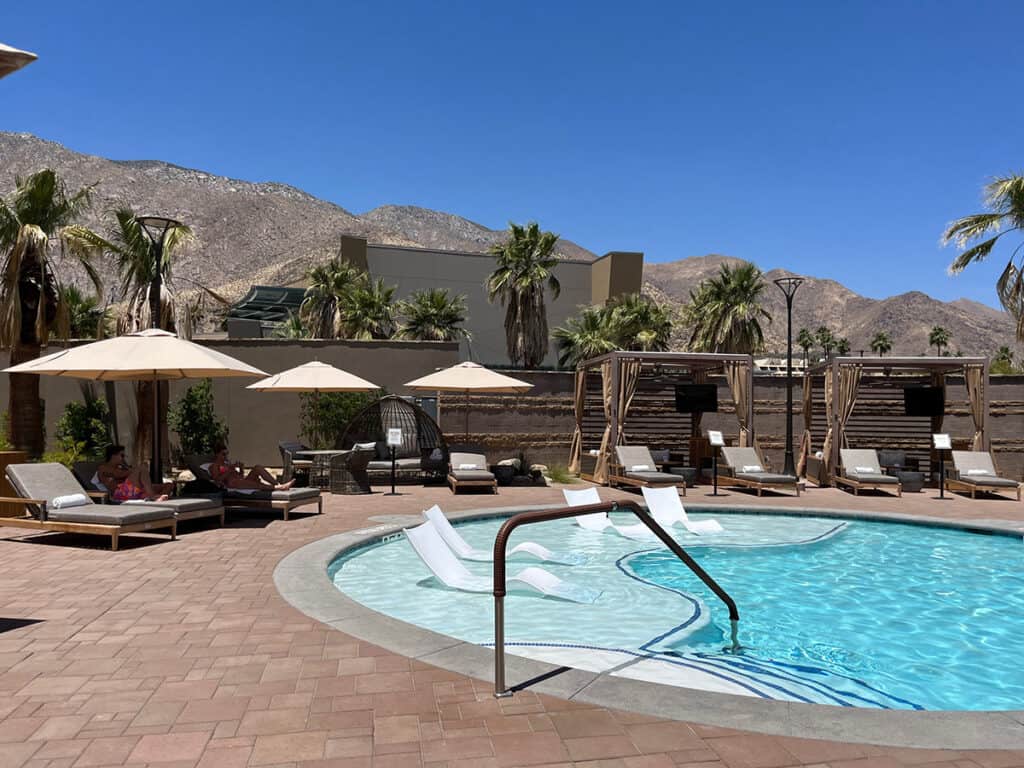 The spa facility is a whopping 73,000 square feet (6,680 sq metres) and has several treatment rooms, relaxing rooms, mineral pools for private soaks and communal swimming. Soon the Agua Caliente Cultural Museum will be built alongside.
But back to my treatment, which was a collagen facial (60 minutes for $245) and husband had the Desert Rain Massage for the same price. We arrived early to enjoy a 15-minute private soak in our own personal mineral tubs first, he in the men's zone and me in the women's, with hot water piped in directly from under ground. This is complimentary with treatments over $200.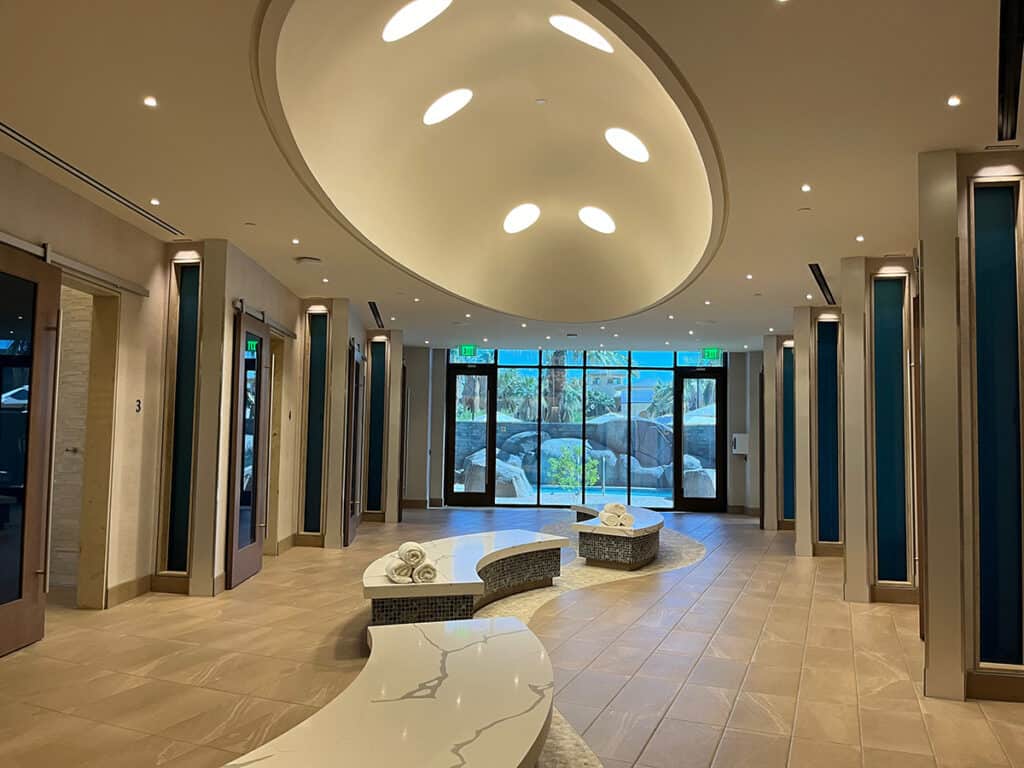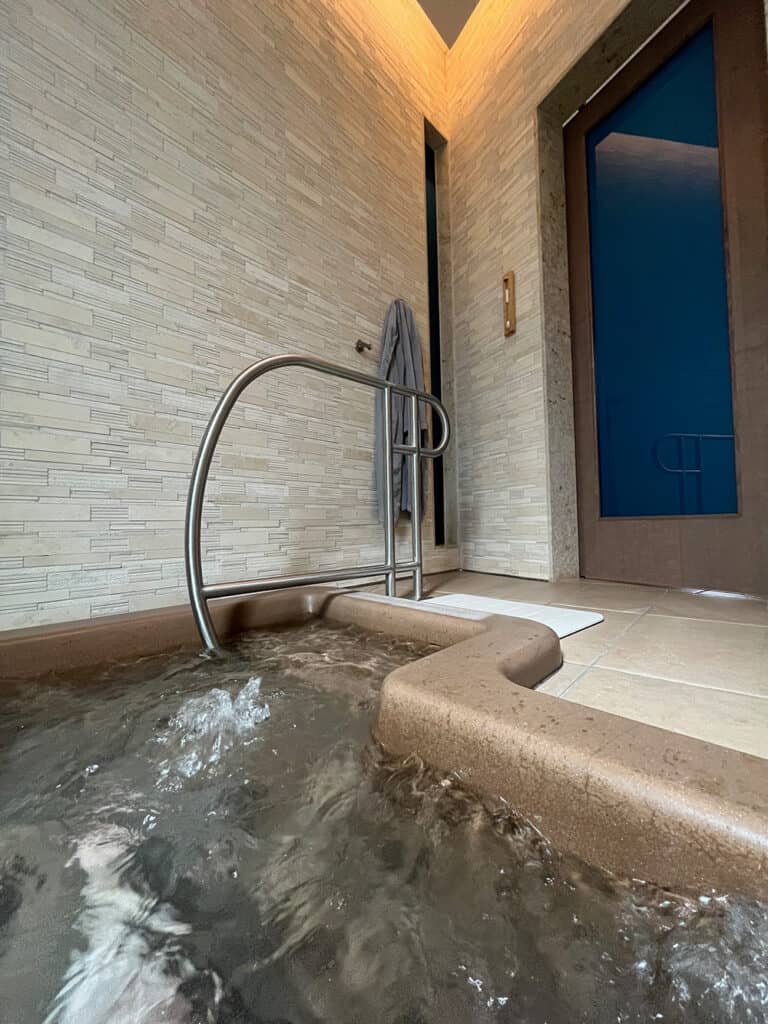 It's a tub for one (or two if you are the same gender). But I slipped in carefully, because it was hot, and sat by myself in my own little room with a 15-minute sand timer on the wall so I wouldn't have to wonder when my time was up. The tubs are emptied and cleaned between guests. Just go in the nude – although you'll want your swimsuit for later… NOTE: remove silver and white gold jewellery or it will tarnish.
Then, wrapped in robe with just my knickers on, I was led to a resting room which was indoors under skylights. It has a waterfall and a stream running through it, dotted with potted plants making you feel like you are in a tropical oasis, to wait for my therapist. Husband joined me from his soak and we sat whispering so we wouldn't disturb anyone's zen.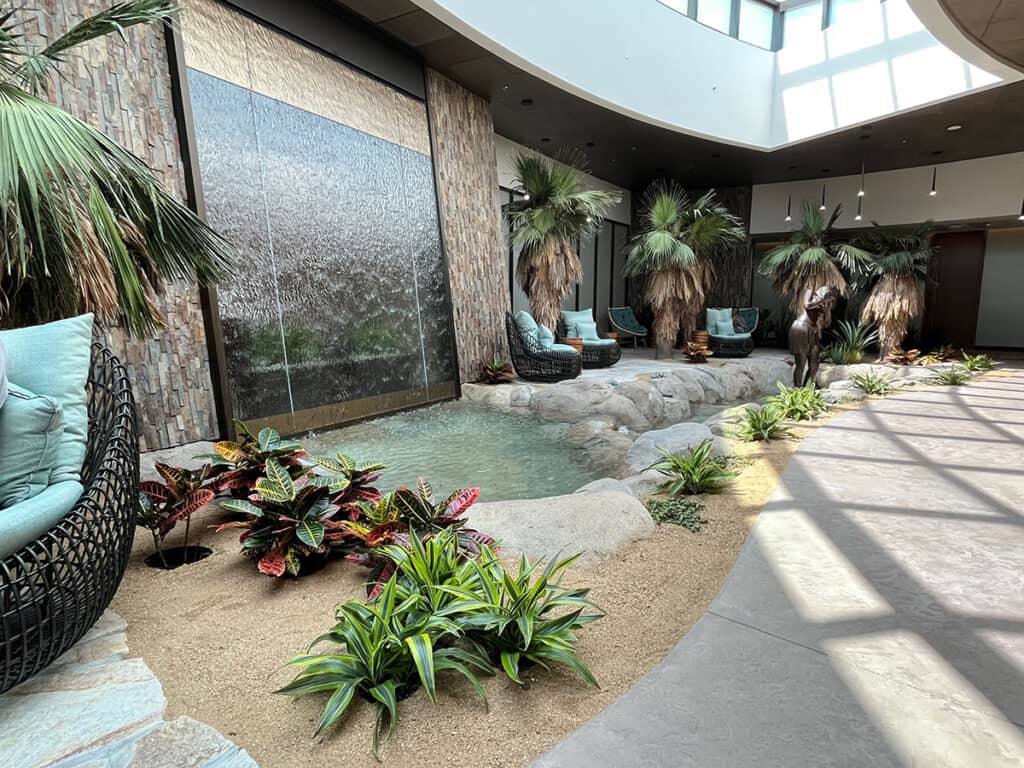 Doris came to get me for my facial. She's been working for the company for nearly 30 years, and came back to The Spa at Séc-he, when it opened here in the heart of Palm Springs.
The table had a little waterbed mattress in it and pink light panels under the sheets on each side, which were good for my energy apparently. I did love the waterbed with no pressure points.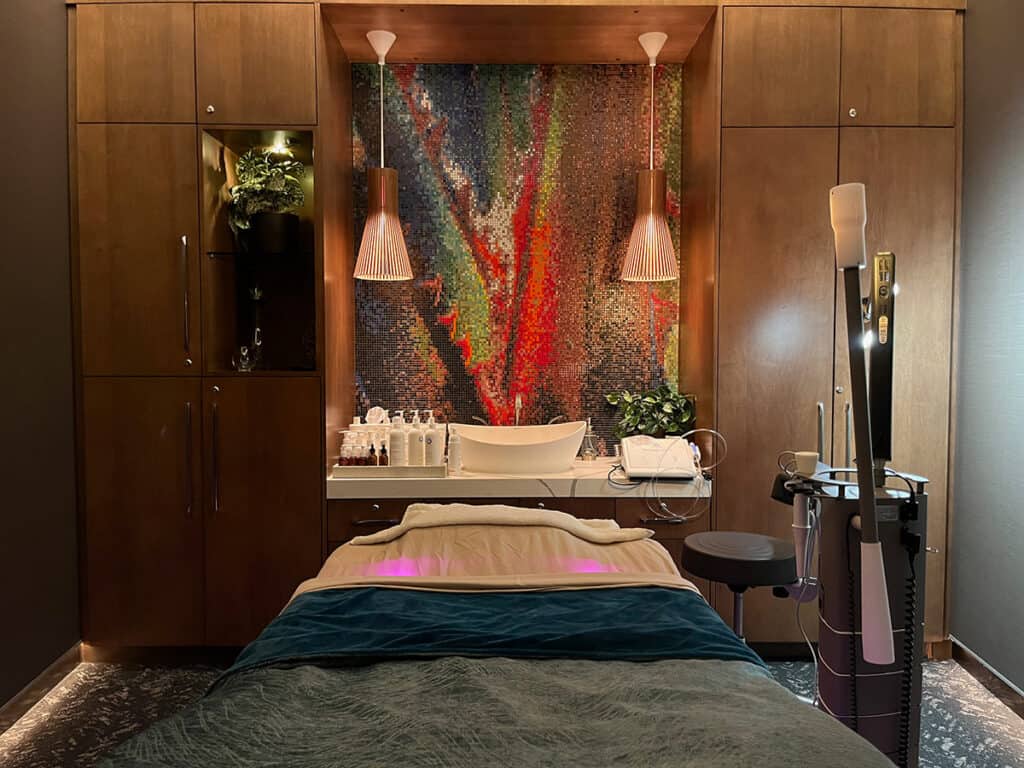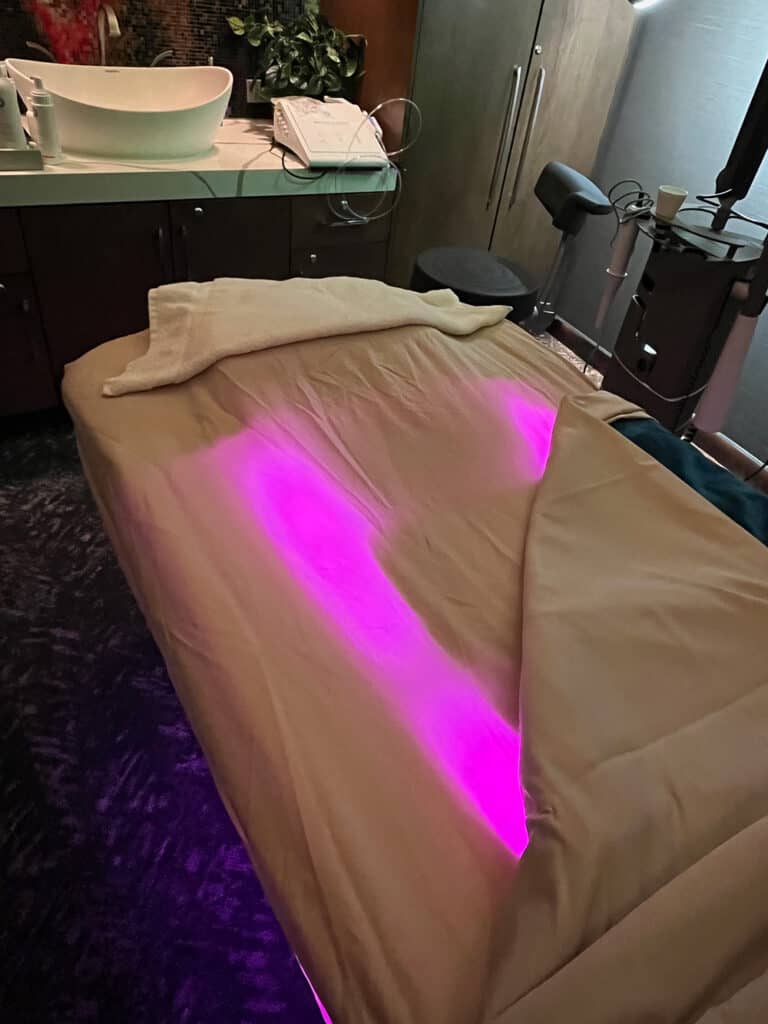 Doris cleansed, toned and plumped and pampered my face and decolatage with masks and exfoliation and moisturisers. She ran a scrapey device to get rid of the "peach fuzz" she said. What peach fuzz?! It felt like one of those de-pilling scrapers you use on your bobbly cardigan – but my skin sure feels smooth without those pesky fuzz bobbles!
Afterwards husband and I met up again in one of the communal sitting rooms, and had free time for the rest of the day – if we wanted! We started in the salt room.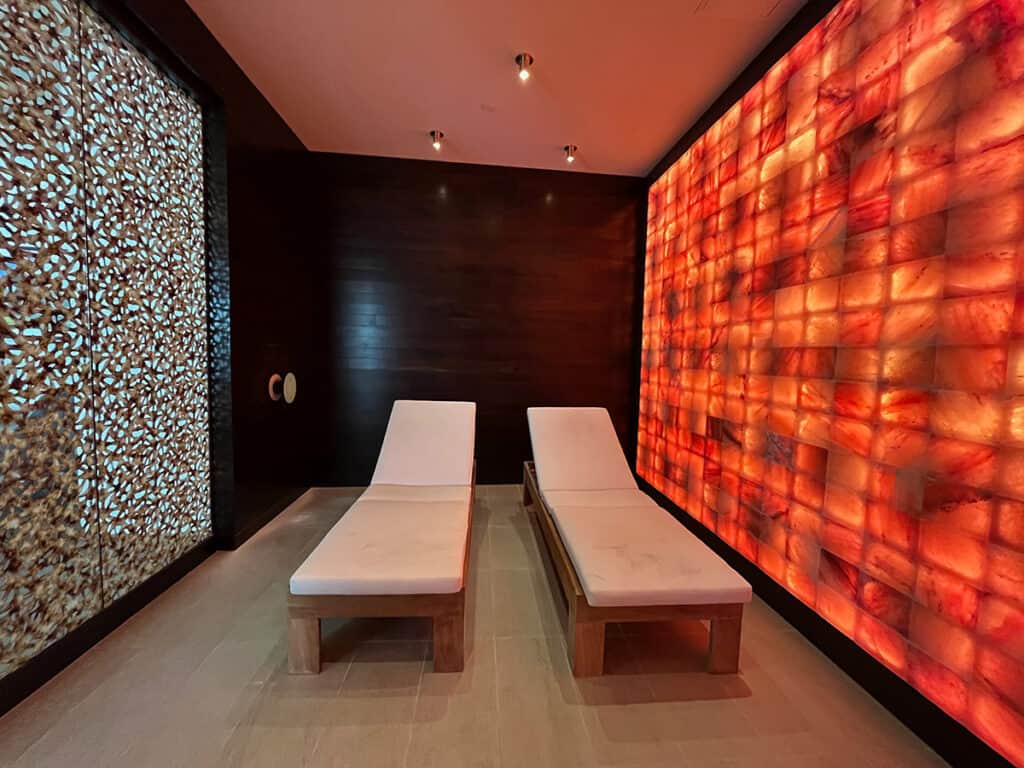 What is a salt room? Good question! Usually they are rooms with salt for walls and the floor, but the halotherapy Salt Cave at Spa Sec-he looks more like a sauna with wooden seating and lounge chairs in the one opposite, and a machine in the wall which is sending salt particles into the air. You can tell it's doing that, even if you don't see it or smell it, because a telltale pile of salt sat collected under it.
Salt therapy is said to be good for lung, sinus and breathing conditions, and even the skin. There are not many studies done on it yet, but I don't poo-poo it. Drink plenty of water though. Treatments like these and the mineral soak tubs are dehydrating. I drank probably two-three cups while I was there, but I did leave the spa with a headache that got worse throughout the day.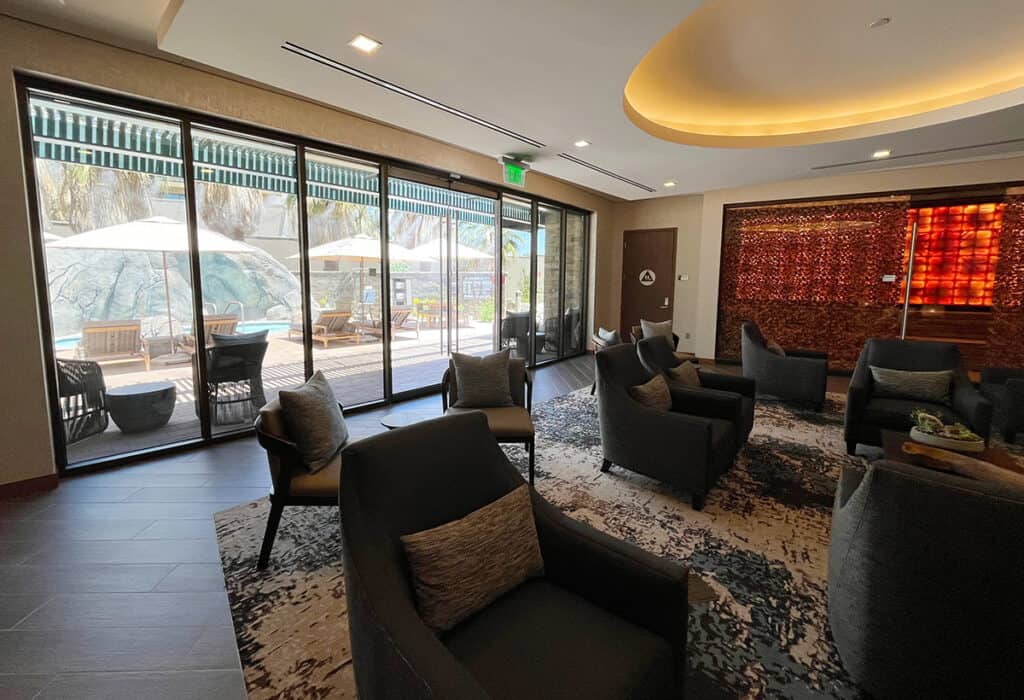 Spend time in the ladies lounge or men's lounge which also have relaxing recliners to just close your eyes and drift away. Some chairs are heated, some vibrate, some have an audio system with headphones if you want to listen to music.
There is also a full gym, which is free to use too with that one paid treatment. Inside the gym is a Cryogenic chamber (for muscle treatment). You get 3-minutes for $65 and are supervised by a staff member when you're locked inside the chamber. There is also a Float pool where you can lie for an hour for $85.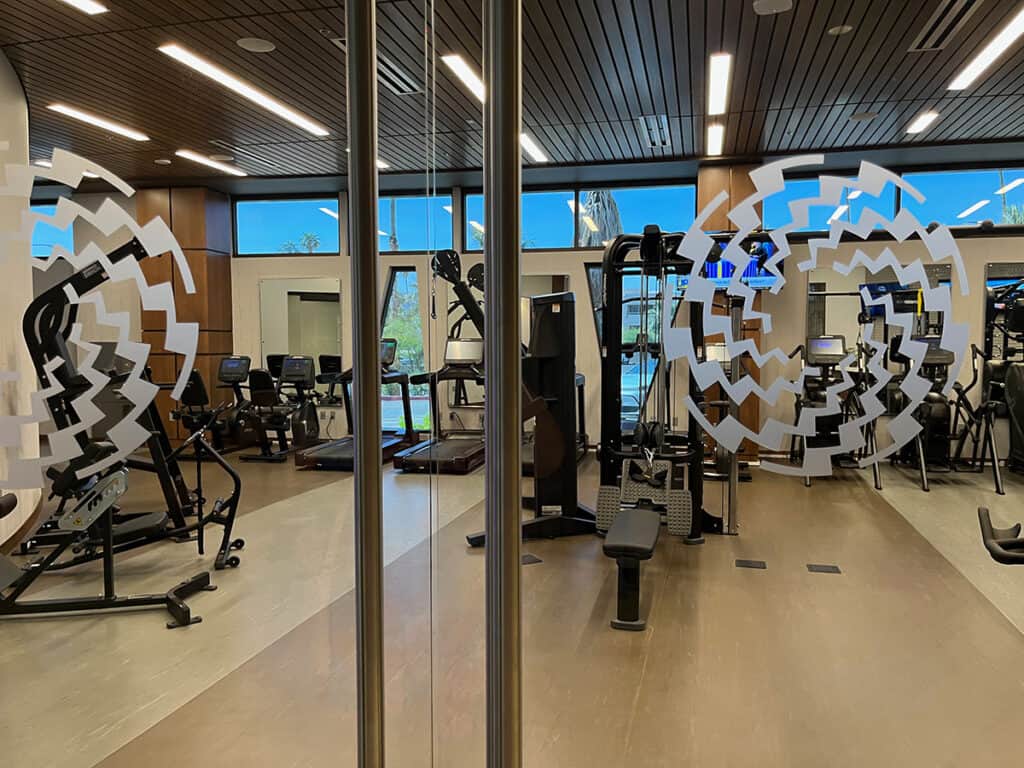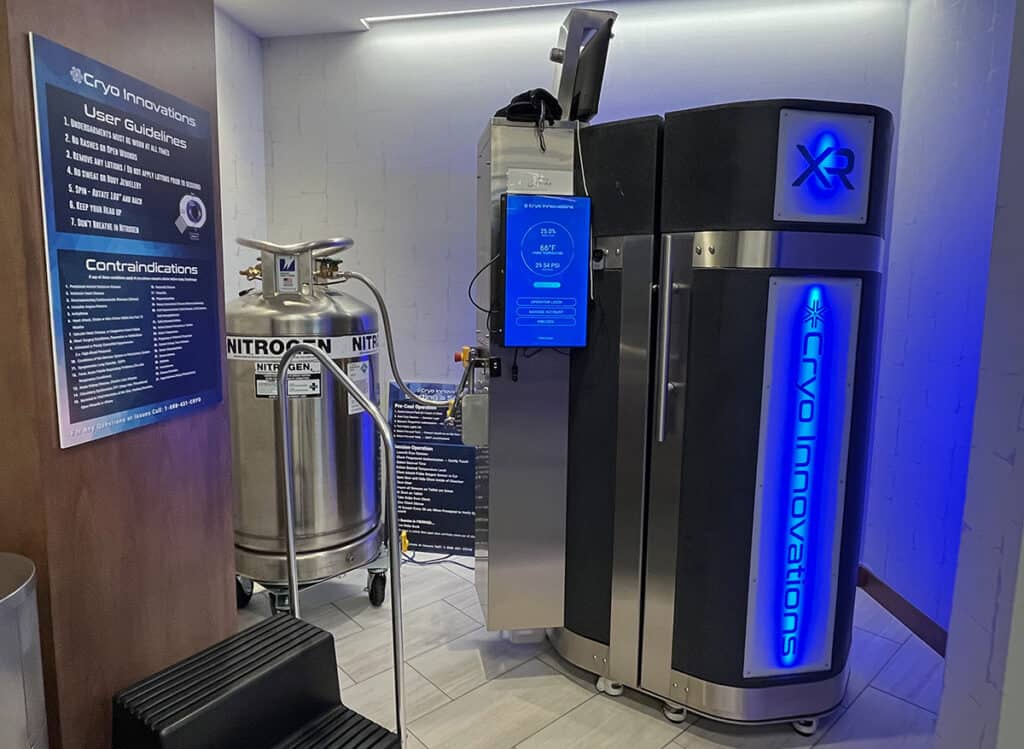 Outdoors is a mineral pool for all genders with a few loungers around it, and a large outdoor pool with loungers and cabanas (the latter has an extra charge) to sun bathe, read, swim and eat from the restaurant menu (extra charge).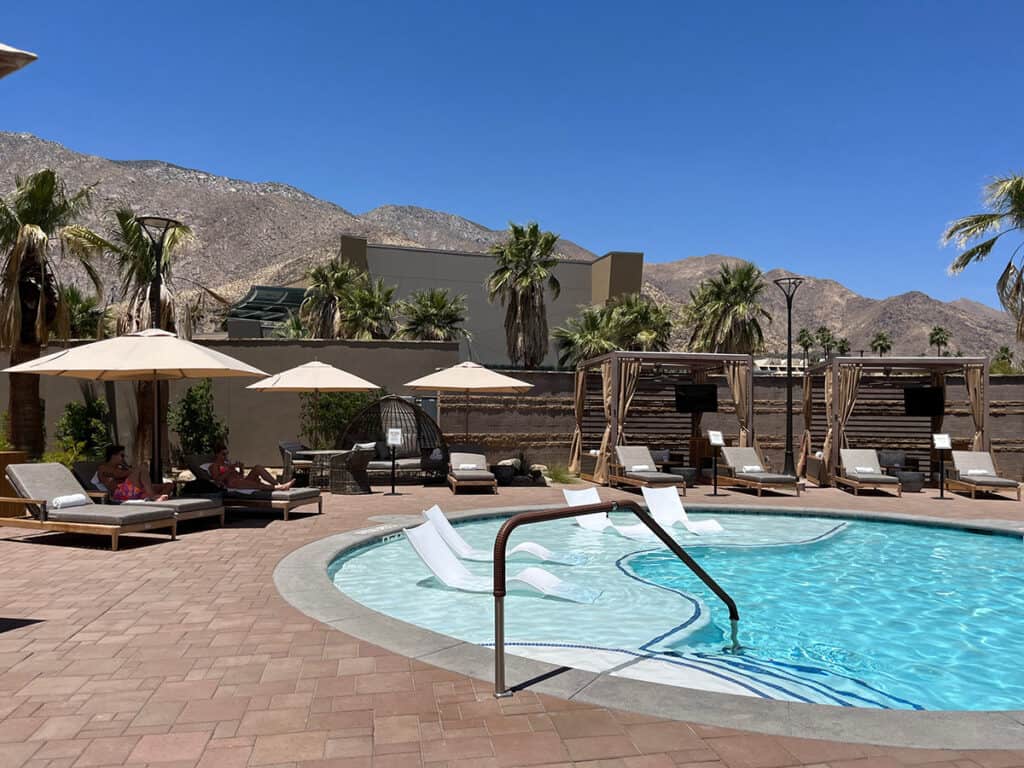 I didn't even see the eucalyptus steam room, the menthol sauna, nor the aromatherapy showers! You can have a cold rinse experience, and hit the outdoor men's or women's whirlpools.
Spa at Sec-he would be fabulous for a girls weekend away!
What else would be perfect is a shopping trip to Los Angeles and I have covered five places to shop in LA in this post.
What else shall I read?
You might like to head to San Diego? It's close to Palm Springs and this post has a great list of things to do in San Diego.
I also wrote this post on 12 fun day trips from Los Angeles, and Palm Springs features on it, plus Joshua Tree and several more.
And of course, you're probably coming or going from LA to get to Palm Springs, so this post on the best things to do in Los Angeles will give you some fun ideas you might not have thought of it. I update it regularly.
For more things do and tips for places to stay, check out Visit Palm Springs, who hosted my treatment – but we paid for lunch and all views are my own.