Yes you could come to Las Vegas and lose it all (step away from the table!) or you could win big and if so, this post will be unnecessary *sigh
Because did you know Las Vegas has a huge amount of things you can do for free? It's true and this post covers the best free attractions to give your wallet a break on your Vegas vacation.
Yes, you still have to pay for your hotel. And you'll have to reach into your pocket to eat (try the cheap buffets). But in a city known for its over the top extravagance, you can still find plenty of free things to give your bank balance some respite.
Going to Las Vegas for the lights and the shows? Read about the flashy free shows you'll want to see.
Looking to connect with nature when all the lights get overwhelming? Check out all the free outdoor activities listed below.
I also have some free museums and fun free outdoors activities to do in Sin City on the list. And……wait for it: I even found a way you can gamble for free! (But remember, the house always wins).
When you arrive in Las Vegas, the first thing you're going to want to do is walk along the Strip. But wear good shoes because it's long! You'll be up escalators and down stairs and across roads and through casinos and into shopping centers and before you know it, you'll have walked 20,000 steps.
You could easily spend a few hours just strolling along past the iconic hotels with their amazing facades, taking photos and posting them to your socials without opening your wallet.
If you want more of my picks for things to do that are not all free, I keep this post of the coolest things to do in Las Vegas updated and checked most them off on my last visit!
*This post contains affiliate links, that means if you make a purchase I may make a small commission at no extra cost to you.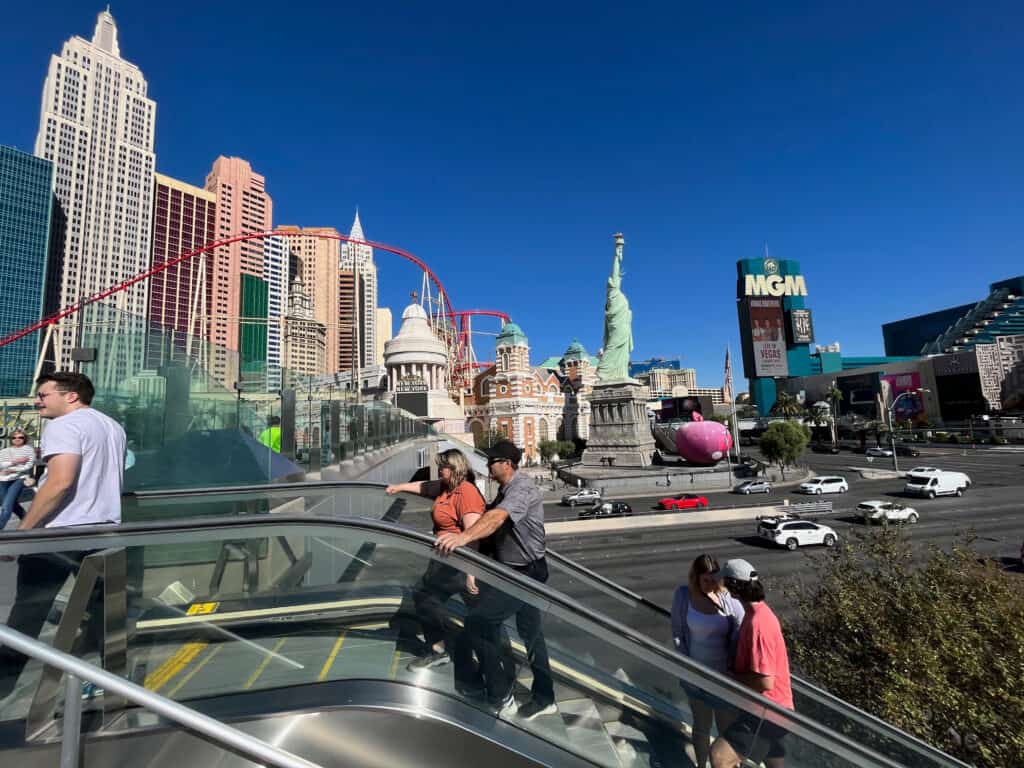 But here are some cool free things to do in Vegas:
Free shows in Las Vegas!
Dueling pianos at The Piano Bar at Harrah's Casino
Oh how I love me a piano bar, and one of Las Vegas' top casinos happens to host an excellent free dueling piano show that is so much fun you might want to go back every night. I love this kind of thing and stumbled upon a dueling piano bar in Nashville that was one of the highlights of our visit.
The pianists play just as well as they sing. And if you go on a night when the popular twin sisters are playing you'll get to see some good ol' sibling rivalry! They also take requests, so come with your fave tune and see what they'll do with it.
You might want to have dinner first, because the experience starts at 9pm nightly inside Harrah's. Drinks and tipping are totally optional! But you could eat somewhere on the LINQ Promenade, which is right there.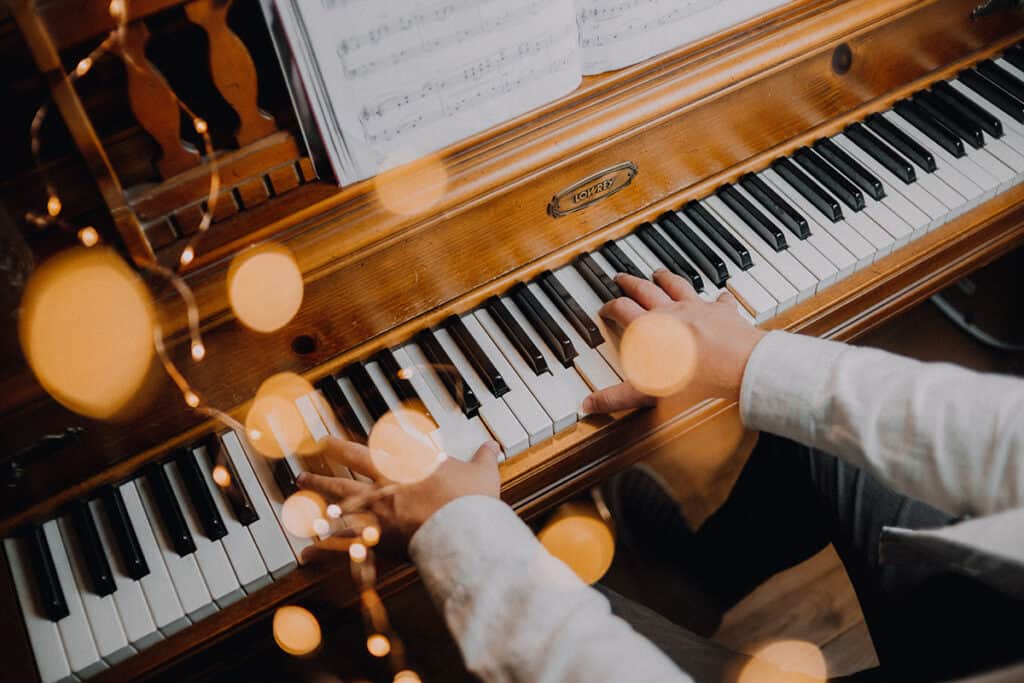 The Dirty 12:30 Free Comedy Show at the South Point Casino
If you enjoy stand up comedy – especially the irreverent stuff – this free show is for you. It's at the south end of the strip, in the South Point Casino. Warning: it is R-rated for its potty content! It's totally free – none of that "BUT you have to buy drinks", sham!
Shows begin at 12:30 AM and seats fill up fast so go early.
Free Live Music at The Fremont Street Experience
The Fremont Street Experience is enormous fun and incredibly it's free. You don't have to take my word for it, check out Fremont Street's almost five star online rating and you'll see there's universal agreement! 
Last time we visited Las Vegas, we spent a night at the Golden Nugget, the iconic Fremont Street hotel right in the middle of the action. Step out the doors onto the pedestrian walkway below a rooftop LED screen with miles and miles of flashing neon lights synchronized to music. People zip line above you while you look for a place to eat or a casino, or hit the souvenir shops in Las Vegas. Or just find a spot in front of the stage and enjoy the free show.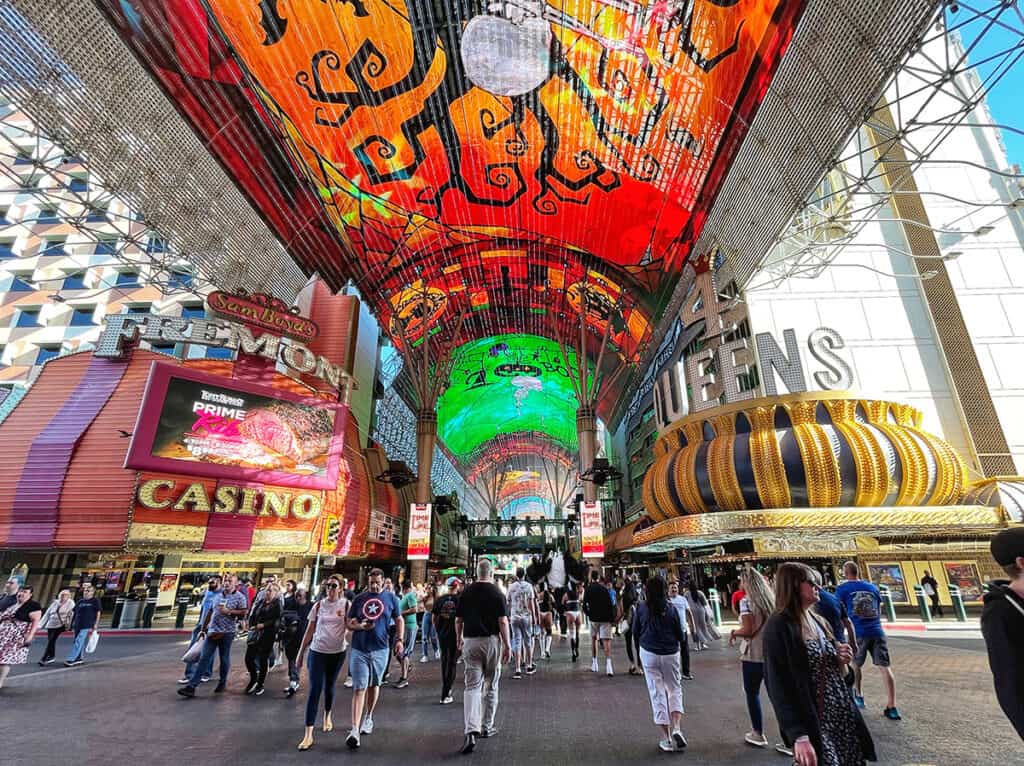 Check out the live music concerts  that happen at Fremont Street every night from 6pm. 
You could book this night tour with a guide that takes you down to Fremont Street as well as drive along the Strip and see the fountains going off, the neon lights and have free time on Fremont.
Bellagio Fountain Show
The most famous free attraction on the Las Vegas Strip is in front of Bellagio, one of Las Vegas' grandest hotels. But this free water show does more than wow. It's spectacular and romantic watching the water dance to the music.
They play different tracks throughout the afternoon and evening, as thousands gather along the roadside waiting for the choreographed performance with 1200 nozzles set to go. If you can't get right to the fence, head up top onto the footbridge that leads from Bellagio for great views.
The fountains of Bellagio spring into life every half hour from 3pm until 8pm, then every 15 minutes until midnight.
The Mirage Volcano Show 
This is one of the iconic, must-see attractions on the Las Vegas Strip, but it won't be around for much longer!
In front of the Mirage Hotel every night on the hour from 7pm until 11pm, fiery balls erupt and a light show illuminates in the background. The Mirage Volcano Show is one of Las Vegas' coolest free things to see.
But don't wait too long to see it. The Mirage is being taken over by Hard Rock so at the end of 2023, the Volcano shows will close permanently. But don't worry, my epic list of all the cool things you can do in Las Vegas has loads of great ideas – although not all are free.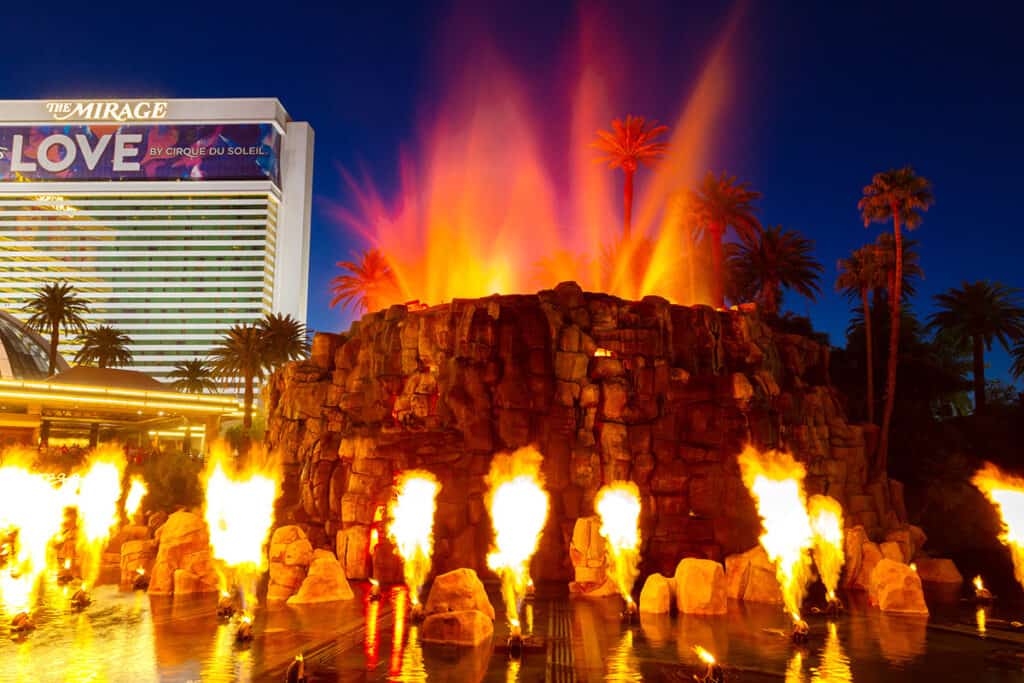 The free Circus Show at Circus Circus
You don't have to have kids to enjoy a circus. You'll love Circus Circus' trapeze acts and jugglers if you still have a bit of that fun child you used to be inside. With all the items in this show and at one hour long, Circus Circus' free show is one of the most valuable free things you can do in Las Vegas. 
We would call it good value for money. Except you're aren't actually paying any money! If you do have the kids with you, I wrote this list of amazing things to do with kids in Las Vegas.
Located north of the Strip, Circus Circus is also a cheap hotel if you're looking for a room under $100.
The Mermaid Show at Silverton Aquarium
My niece once told me unicorns and mermaids were real because she'd seen them on Youtube…. These mermaids might have been the very ones she'd seen.
The best free aquarium in Las Vegas is located at the Silverton Casino. Located four miles south of the Strip, just past the Las Vegas South Premium Outlets, which might lure you in for a spot of shopping! (If it's shopping in Las Vegas you want tips on, I've covered the best spots in this post).
Walk into the casino and you'll be drawn to the 117,000-gallon tropical aquarium filled with thousands of tropical fish, sharks, stingrays, colorful corals – and those mermaids, who swim through, but only at certain times: Thursday, Friday, Saturday : 12pm – 1.15pm, 2pm – 3.15pm and 5pm – 8.15pm. Sunday : 10.30am -12.45pm, 2pm – 3.15pm and 5pm – 6.45pm. The stingrays are fed every day at 1.15pm and again 4.30pm.
And if your child is anything like my niece, you could enrol them in the Mermaid School (they have a school for adults and a separate one for kids!)
See the Fall of Atlantis show 
Continuing with the Atlantis theme, this long-standing free and fun show at Ceasar's Palace should be on your list of things to do in Las Vegas.
Walk through Caesars Palace to the Forum Shops and you'll see a fountain in the center, under the domed ceiling surrounded by Roman statues. But these are not your every day statue! They are animatronic with 400 moving parts and from Thursdays to Mondays, every hour from 12noon to 8pm, they come to life taking passersby on a journey through the ill-fated story of Atlantis in front of a hundred cell phones.
It's a bit of fun and will keep you amused if you happen to be shopping – or dining at the Cheesecake Factory.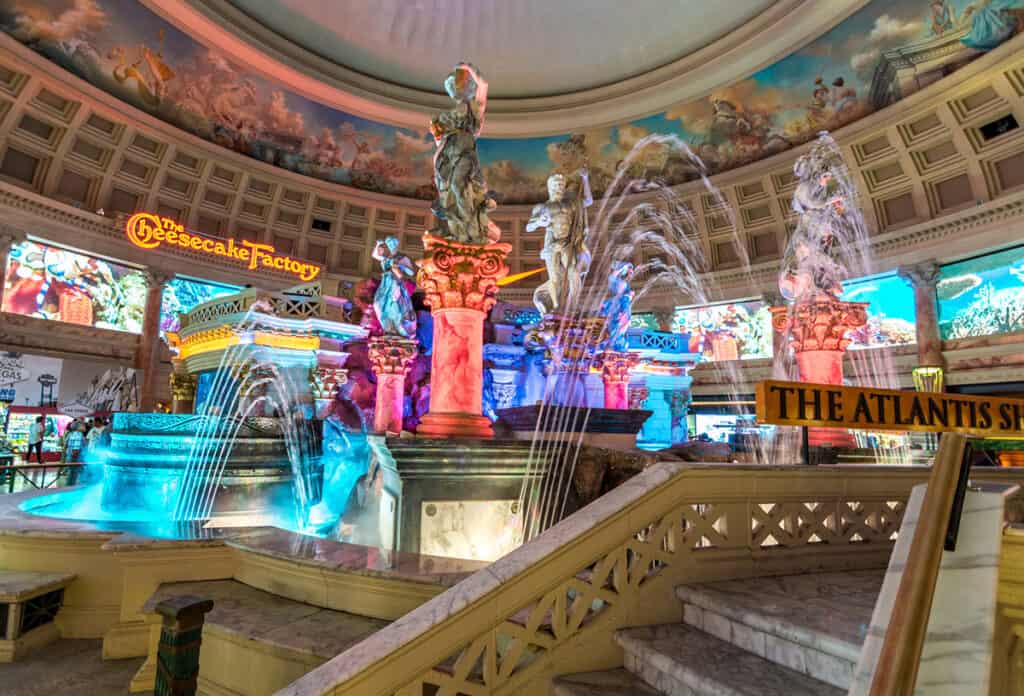 Best Free things to do in Las Vegas
Stroll through Venice at Grand Canal Shoppes, Venetian
If you ever wanted to go to Venice, the 'city of bridges' but don't want to get your passport out, how about seeing it for free in Las Vegas?
The Venetian Hotel is an over-the-top representation of Italy's famous city and leading you in from outside on the Strip, are canals filled with water offering gondola rides with singing gondoliers, punting you under bridges and inside, where the ceiling is painted like the sky. You'll glide past shops and "cobbled" streets while other visitors take photos. Actually, the gondola rides aren't free, but watching them and listening to the singing is!
This real life replica of Venice at The Grand Canal Shops at the Venetian Resort, is worth a selfie and stop for a moment to listen to live classical music shows at Streetosphere.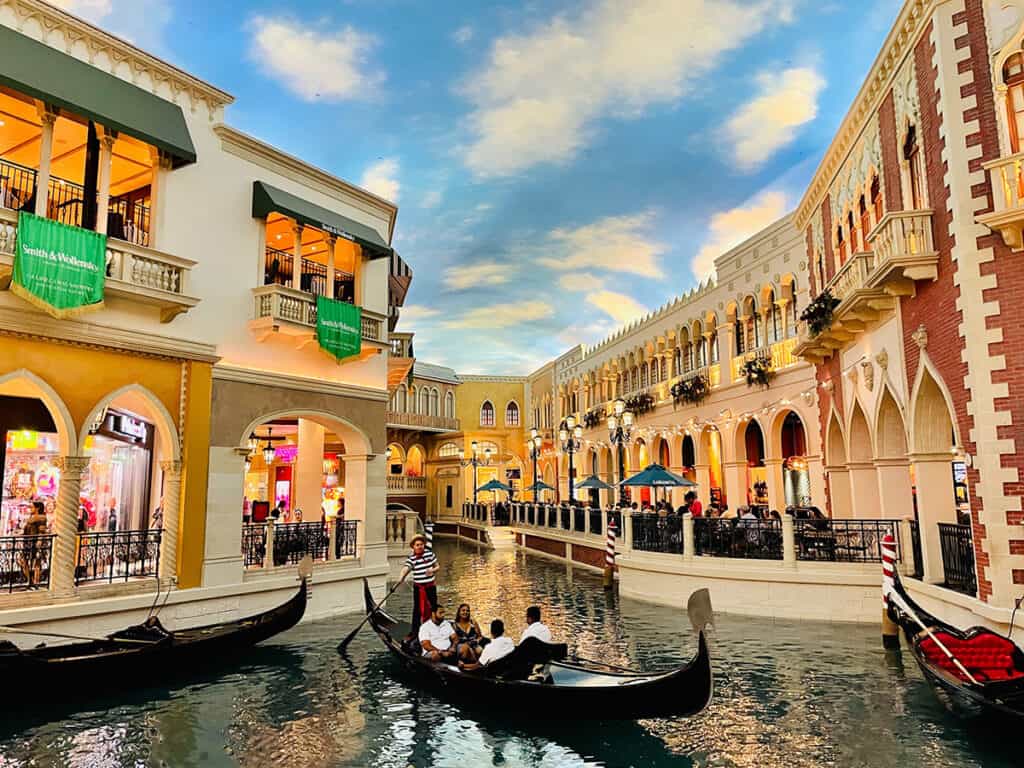 Crash an Elvis-themed wedding!
I did this once. I got a cab downtown to where several wedding chapels are located, and as it happened a couple were about to have a vow renewal with Elvis and they invited me in to watch. I wrote about it here, but it was one of the most unique and fun things I've ever done in Vegas – and it was free to watch!
Free outdoor activities in Las Vegas
The Wynn Botanical Gardens
Las Vegas is a city of lights, showgirls, casinos anxious to take your money, and noisy streets made so from the dizzying array of happenings going on at any given moment. Just try walking the whole strip and you'll see why it's so dizzying (by the way, we don't actually recommend you try to walk the whole strip. See other things we don't recommend doing in Las Vegas). 
But truly, Las Vegas can be overstimulating. If you plan on visiting and know you may need refuge from all the excitement, head to Wynn Hotel's Botanical Gardens for a free outdoor experience that will rejuvenate. While you're exhaling inside the outdoorsy oasis, take in floral creations like the hot air balloon and the life size carousel ( made from real flowers!).
 You can spend upwards of an hour here and really relax so make sure to stop by. 
Bellagio Conservatory and Gardens
If the gardens at the Wynn sound relaxing and you want more, add the Bellagio Conservatory to your itinerary of fun free things to do in Las Vegas.
Inside the Bellagio Hotel, you will love the Conservatory's garden, crafted by over 100 horticulturalists, with elaborate arrangements of plants and flowers, in the atrium, that are changed each season.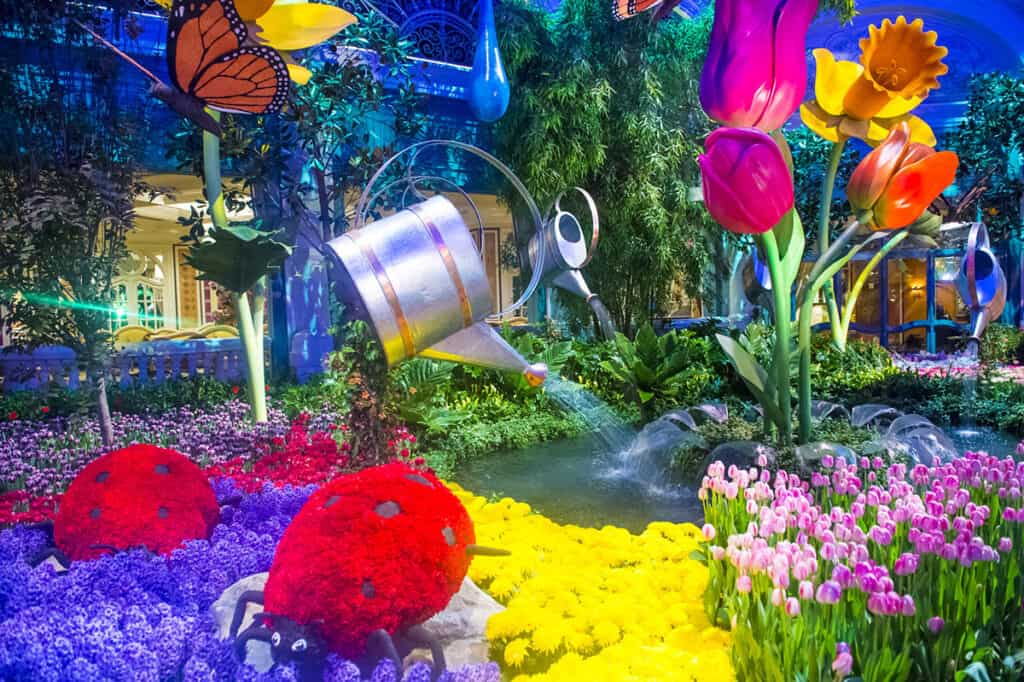 Flamingo Wildlife Habitat
Just when we thought a casino was no place for a wildlife habitat, the Flamingo Hotel proved us wrong with their habitat for flamingos, pelicans, ducks, other exotic birds and water creatures like koi and turtles.
If kids are part of your group, they'll particularly enjoy the pink birds and more importantly, you wallet will love the fact that you get to spend upwards of an hour in the four-acre gardens seeing the wildlife for free!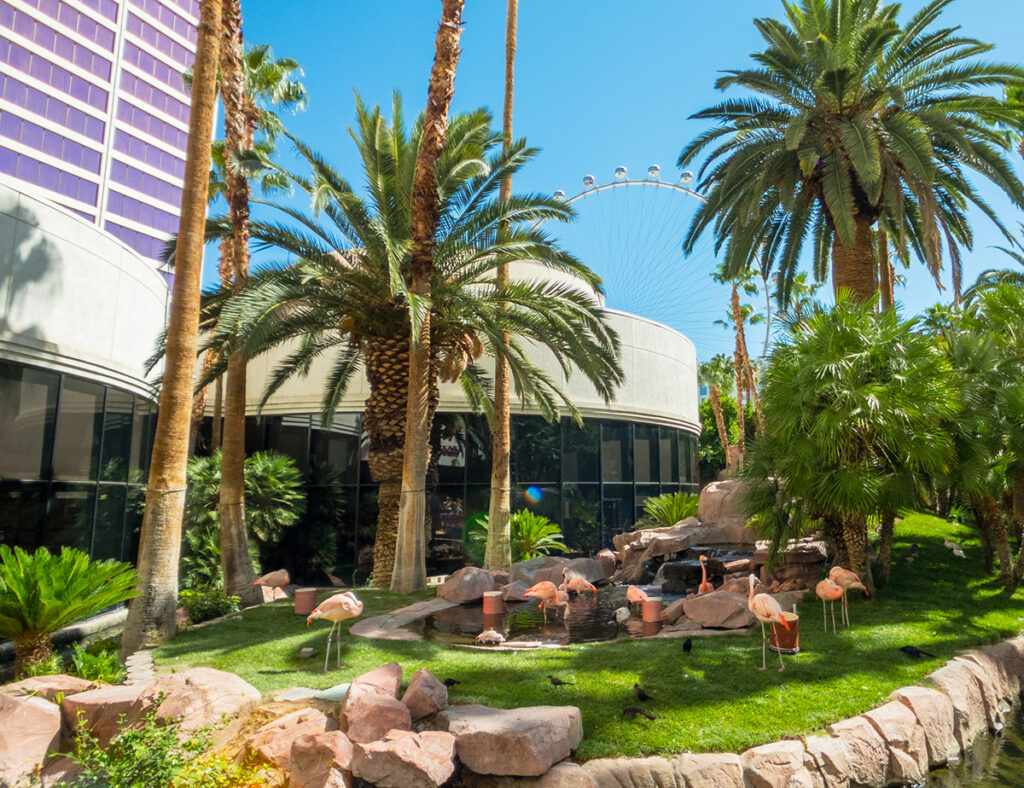 Downtown Container Park
You'll be welcomed by the giant 40-foot tall praying mantis breathing fire, to this quirky shopping precinct, set in and around 40 shipping containers in downtown Las Vegas. No big brand stores, just small boutiques and off-beat stores and dining options. Plus free entertainment in the form of short videos projected onto the ceilings of a small theatre compete with loud music and lights.
While you're down here, you're also close to the Mob Museum (I recommend having enough time to stay for a drink in the basement Speakeasy), and the Neon Museum where old Vegas signs go to die.
You'll find these places in my tips of the coolest things to do in Las Vegas (which are not necessary free!)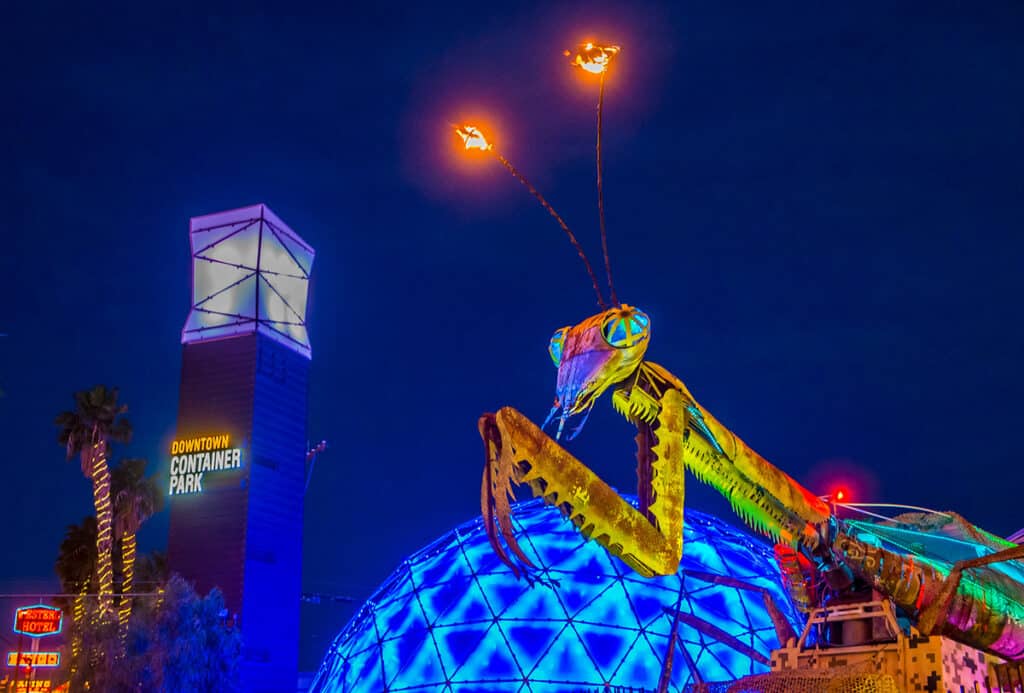 LINQ Promenade
Promenade yourself through the LINQ Promenade outside Harrah's. This shopping street is on the Strip and lined with restaurants and shops. At the far end you'll see the High Roller, an enormous rotating wheel with air-conditioned pods to take you for a half-hour spin for the best views of the Strip.
While you need to buy tickets for the High Roller, walking under it and photographing the zip liners zooming over your head, is free.
Get a selfie at the Welcome to Las Vegas sign!
I had to do this on my last visit and here's my warning. This sign is further than it appears! It's behind the Mandalay Hotel. A long way behind! Almost opposite the Pinball Museum and the Harley Davidson Store.
But if you're like me and you need your selfie, put your walking shoes on and get here early as there are queues of people waiting for their moment.
Note: you're actually not too far from the Silverton Casino, if you want to continue on for some mermaid spotting.
Ride the free monorail between Excalibur, Luxor and Mandalay Bay
Why? Because it gives you a different perspective being up on the rail. And it's free! If you're down at the Las Vegas sign, this will get you back to Excalibur, opposite New York-New York Hotel. And it'll save you walking past enormous windowless buildings.
Once at New York-New York you're back in the thick of it with lots of shops and casinos to peer into as you stroll back along Las Vegas Boulevard.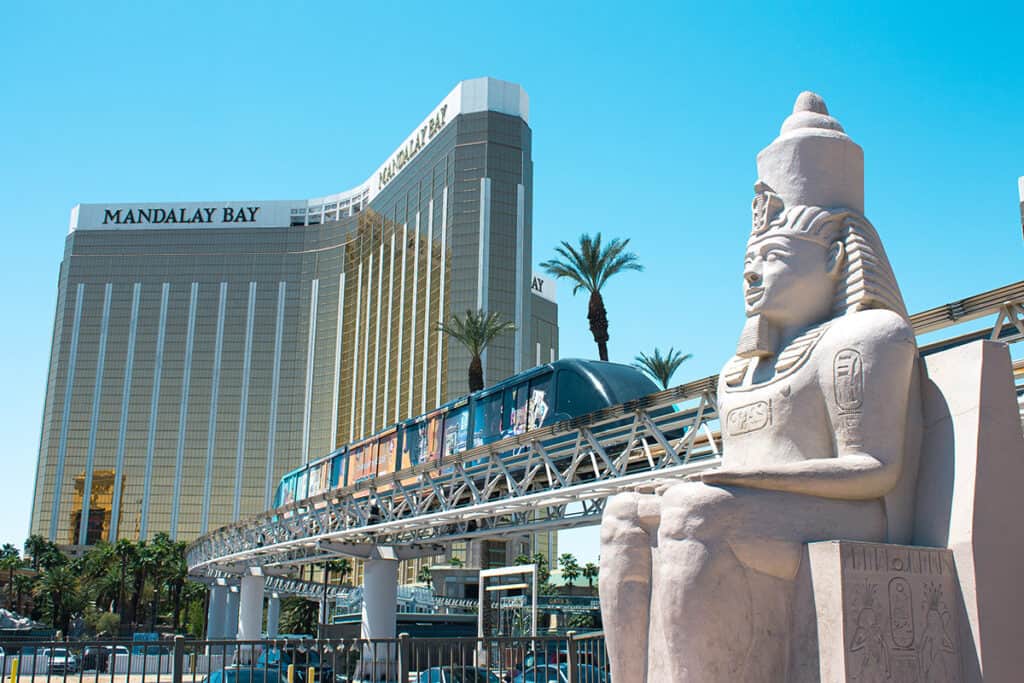 Get out of town!
Day trip to Hoover Dam
The Hoover Dam made history for many reasons. At one time it was the world's tallest dam. It was completed two years ahead of schedule and under budget. A whole city (Boulder City) was constructed to house the workers building the dam, and after its creation it made America's largest manmade reservoir – Lake Mead.
If you want to take a break from the glitzy Strip and see one of Nevada's historic sites, Hoover is one of the best places you can head to.
I took a 4-day Nevada road trip from Las Vegas and spent hours here at the Hoover Dam. It's truly gobsmacking!  Once you're done exploring around the engineering and taking a gazillion photos, be sure to walk over the Pat Tillman Bridge for amazing views.
You could also go on and make a day trip of it to the Grand Canyon.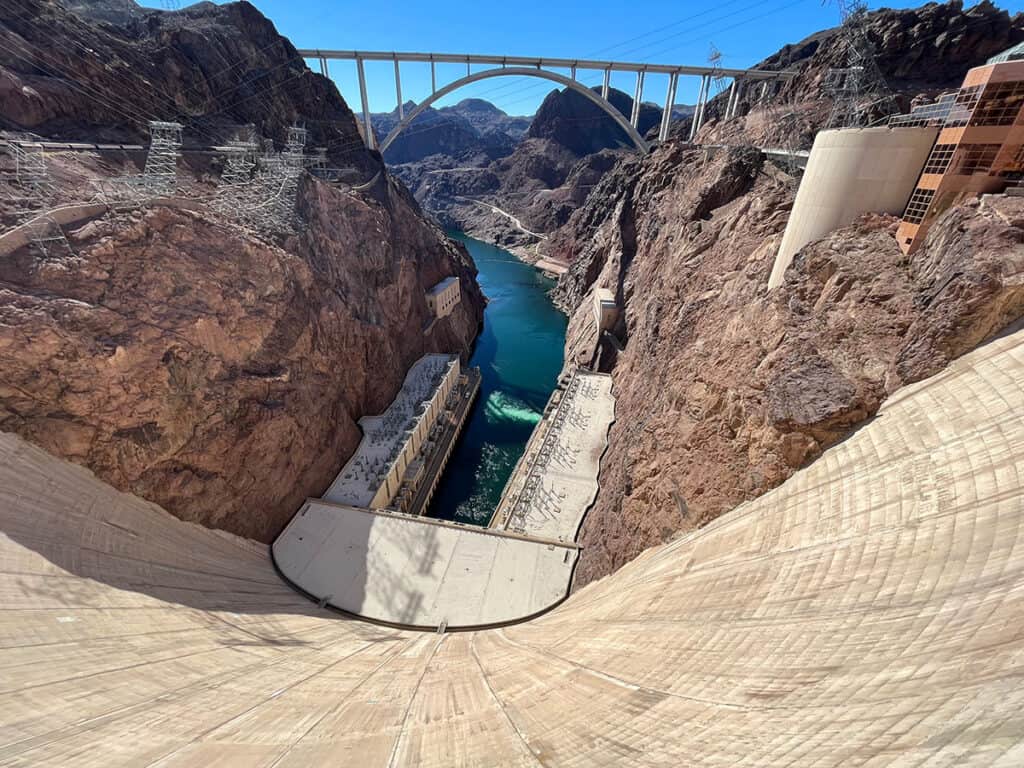 Hike Red Rock Canyon
Red Rock Canyon is just outside Las Vegas and well worth the trip if you want to do something different while on your Las Vegas trip. Rent a car or take a tour and see the petraglyphs – and if you're lucky you might see a tarantula like we did!
Whether you're a nature lover, a hiker, or simply looking for some free outdoorsy things to do in Las Vegas, a hike up one of the trails of Red Canyon should fit the bill.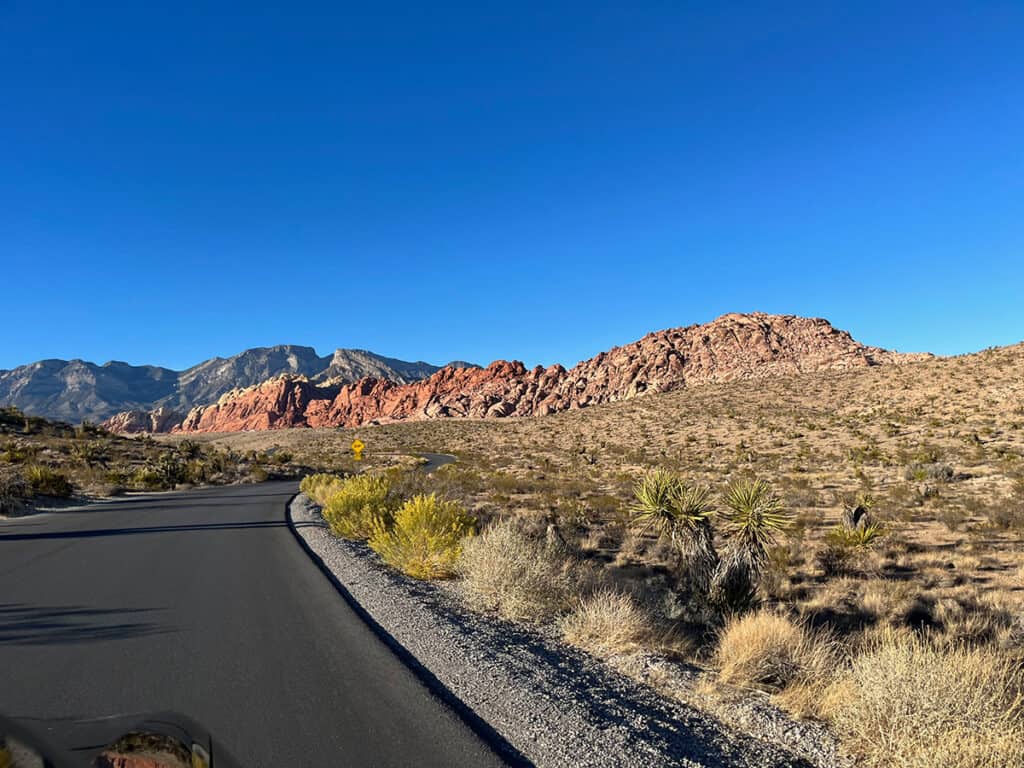 The Ethel M Botanical Cactus Garden
Head to famous chocolatiers, Ethel M Chocolate Factory, where you can make like Charlie in the chocolate factory with a free self guided tour of their delicious smelling factory between 10am and 3.30pm. From the viewing aisle you'll get a peek into the kitchen where you'll see them making brittle and filling their decadent chocolates with mouth-watering fondants.
And after the tour, explore the amazing three-acre cactus garden on their grounds with over 300 species of cactus. This is one of the most unique free outdoor experiences you can have in Las Vegas and great for budding photographers. Just, don't touch anything! 
Best free museums in Las Vegas
Marjorie Barrick Museum of Art
If you're looking to squeeze some art into your trip, this art museum on the University of Nevada's campus is one place you can do it for free. Exhibitions rotate regularly for a fresh experience and there's a cool garden outside the museum.
Pinball Hall of Fame
You will have to really be into pinball to head to this museum. But if you are, this free museum is a good place to spend an hour or two. If you aren't and want to boast that you saw the world's largest collection of pinball machines, that's a good reason to go too! You will need to bring some quarters for some of the machines. It's located near the Welcome to Las Vegas sign, so do that too!
Shelby Heritage Center
If you love everything about cars, this museum dedicated to the Shelby company will be the most fun free thing you can do in Las Vegas. In addition to the more than 30 shiny antique cars on display, learn about Carroll Shelby himself and the bumpy road he took to founding his company.   
Free casinos in Las Vegas
Casino Royale
 We promised you we would show you how to do a casino for free and thanks to the Casino Royale we can deliver on that promise! Their refundable casino card allows you to spend $20 on a card and get it refunded immediately (in slot credits) if you lose it. 
It's not technically free but if you stick to $20 on the card and you get it back as soon as you use it, it's almost free right?
Free drinks in casinos!
Yep, truly, you can get free drinks in Las Vegas BUT there is a catch. You'll need to be playing the tables. However, if that's your plan anyway, then here are some tips to get the free drinks: sit amongst the action. The busier the table the better your chances of getting the attention of servers. And the higher value the tables the more often the servers will come round *wink-wink.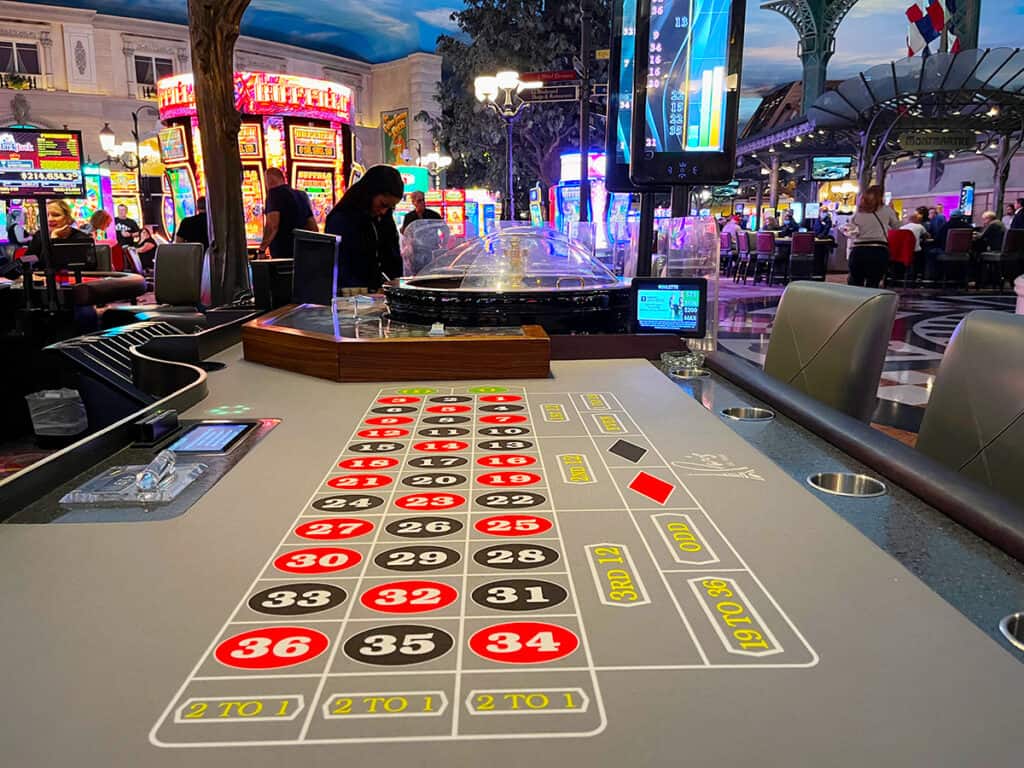 Another tip is to tip. Tip well for your first drinks and you'll find you get premium service. How much is a good tip? Anywhere from $5-$20 and you'll have them for life. Well, for as long as you sit there playing and tipping. Typically a $1 tip per drink is standard. For more inside tips on how to get free drinks in Vegas, have a look at this post.
Other random free things in Vegas
Find the best Instagram spots in Las Vegas
Totally free and probably the first thing you'll do if you're in a certain demographic. Hey! Las Vegas is a very photogenic city, thanks to the replicas of things like the Venice canals, the Eiffel Tower, the enormous Mad Apple and Statue of Liberty in front of New York-New York Hotel, and plenty of foot bridges that cross the road or just give you an elevated view.
My picks for the best Instagram spots in Las Vegas would be: the Welcome to Las Vegas Sign, the Bellagio Fountains, Shark Reef at Mandalay Bay, the Neon Museum, Seven Magic Mountains art installation (a quirky art installation in the desert that I cover in this post), the Eiffel Tower at Paris Hotel, the bridges and canals at the Venetian Hotel, and anywhere inside Meow Wolf – once you walk through the refrigerator….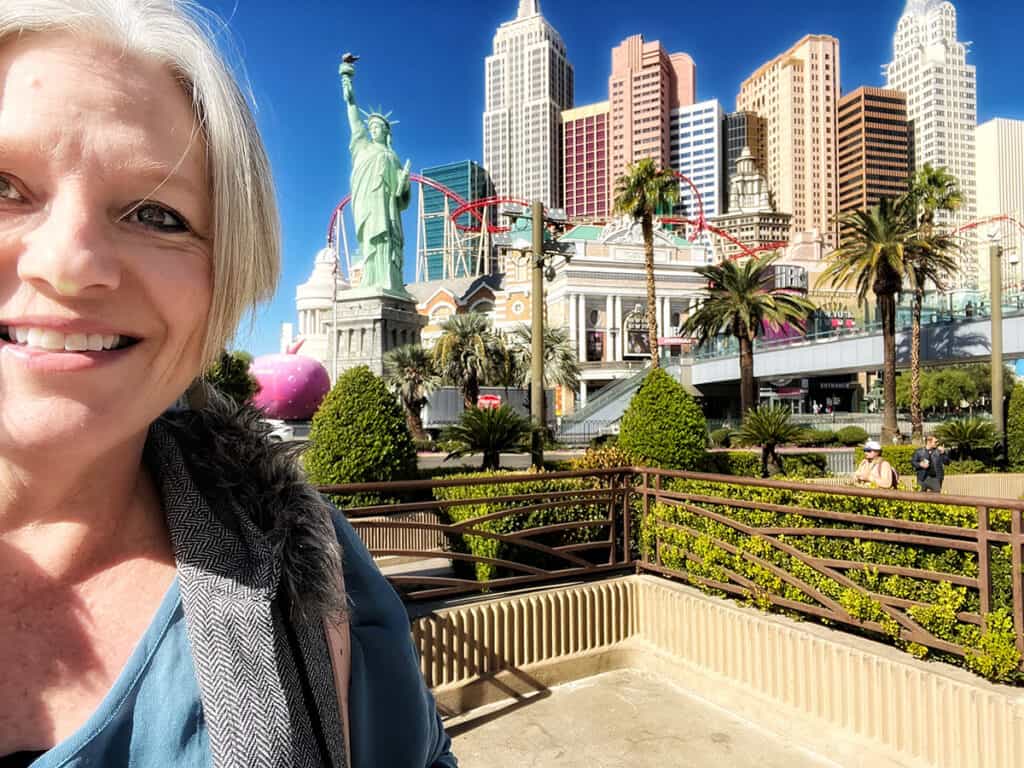 Visit Pawn Stars shop
My husband and I are tragic TV watchers of Pawn Stars, the pawn shop show based in the business of the Harrison family in Downtown Las Vegas. We visited the store when we were last in town. Alas Rick, Corey and Chumlee were not there, but their cut outs were!
We grabbed a plate of BBQ brisket at Rick's Smokehouse next door and had a look around Chumlee's Candy Store, wandered through the store looking at the items they've got for sale, and then Ubered out of there.
You can take a paid tour of TV film sites in Las Vegas which includes a stop here at Pawn Stars, plus Counts Kustoms and Shelby American Collection and more.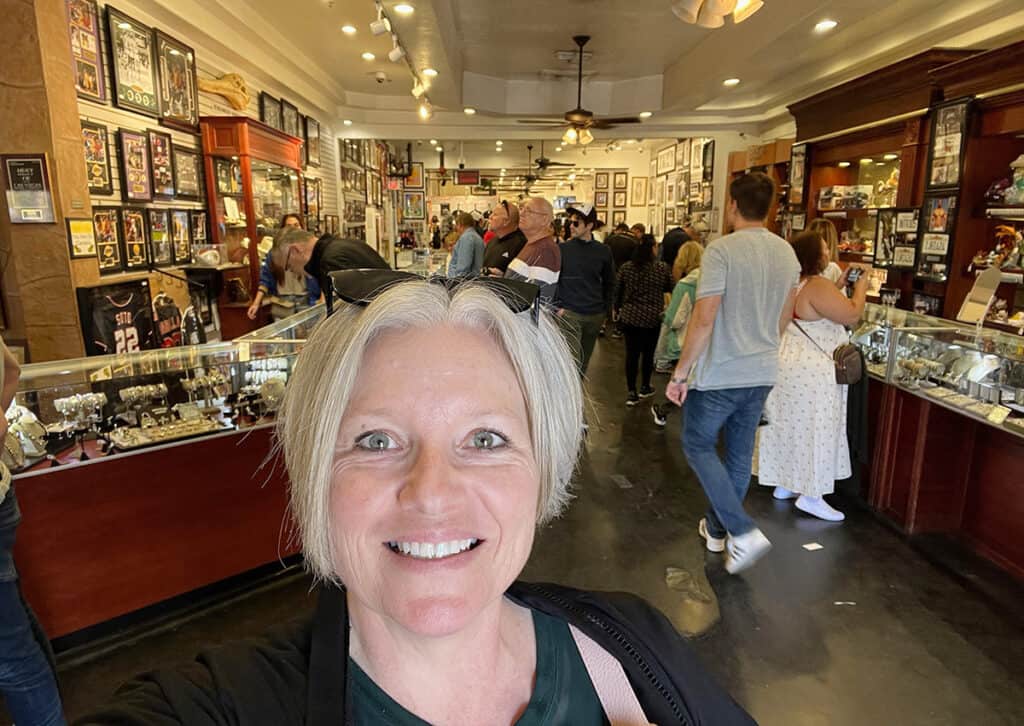 Swim for free in Las Vegas
Harder to find, but not impossible, you can swim in Las Vegas pools without being a hotel guest.
Topgolf is located off the Strip and you need to be aged 21+. It has all the cool things the resort pools have: the swim up bar, TV screens, beautiful people, DJs spinning tunes, sun loungers and food and drink.
If you're a local, you can also swim for free at the Tropicana pool Mondays to Thursdays. But you probably knew that. Bookings are not required, in case you're a local who didn't know that!
There are a bunch of other Las Vegas hotels with pools you can use by purchasing a day pass. But as it's pretty much essential to be a hotel guest to swim in the best pools in Las Vegas (and some still charge an entry fee), I recommend staying in a couple of different properties in Las Vegas in my post on the best things to do in Vegas.
You'll also see great looking street performers everywhere, like showgirls with feathers and corsets and not much else, and Elvis Presley waiting for a photo. But warning, you need to tip them. They pay a license fee to dress up for selfies, so they expect a buck in return.
While you'll have to reach into your pocket for things like hotel and food, these fun free things to do in Las Vegas should help you save on everything else.
Free parking in Las Vegas
Believe it or not there is lots of free car parking in Las Vegas! If you self-park, you won't need to pay a penny at Venetian, Sahara, Treasure Island, Palazzo, Circus Circus, Wynn/Encore, Stratosphere, Tropicana, Shoppes at Crystals, Fashion Show Mall. One hour free at all MGM properties. Other hotels offer free parking for hotel guests, some are valeted for that too.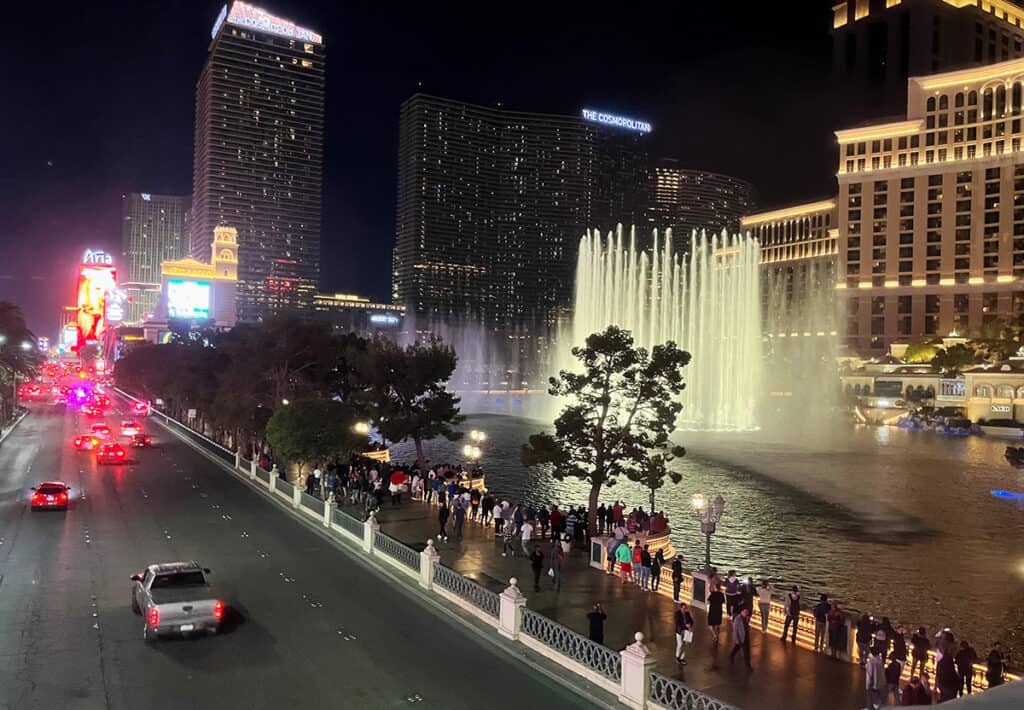 Get discounted show tickets
If you want to get to the some of the best shows in the world, I use Vegas.com for discounted tickets.
I've also listed my picks for the best shows in Vegas in this post to help you get started, as there are hundreds of shows on every day!
Great hotels to stay at on the Strip
Right bang in the middle of the Strip:
We recently stayed at Paris Las Vegas Hotel which was really nice and easy to get to both ends of the Strip for riding the High Roller, shopping and visiting other hotels.
Best family hotel:
I love Mandalay Bay for its incredible wave pool, lazy river and sandy beach. Plus it's next to the Pinball Museum for cheap entertainment! Plus Cirque du Soleil's Michael Jackson ONE is based here and they have a huge aquarium with sharks and a komodo dragon (which I walked with in Indonesia, by the way!)
Best romantic hotel:
I love Bellagio for the grandeur, the fountains (get a room with a fountain view), the incredible on-site gardens, the Ocean's 11 vibe and general lavishness. Plus it's centrally located for walking everywhere.
Best cheap hotel:
Excalibur. I stayed here with my brother once and we had a blast with all the jousting and maidens wandering around the place. You can get a room for as little as $35 a night depending on the time of year. It's also linked to Luxor and Mandalay Bay by monorail and is close to New York New York and MGM Grand.
Flamingo Las Vegas Hotel is also one of the most inexpensive hotels, and located in the middle of the Strip.
Most expensive room on the Strip:
If money's no object, or you just won big, go book the three-bedroom villa at the Nobu Hotel which is within Caesar's Palace. Price starts at $35,000 a night and you need to email direct. No booking websites for this level!
Nearest hotel to T-Mobile Arena:
Aria and Park MGM. They're virtually out the back and one block from the Strip!
Best golf resort on the Strip:
If you're bringing your clubs, you want to stay at luxurious Wynn Las Vegas with its 18-hole golf course including three lakes and 8000 trees – in the desert!
 Because 1 is never enough!
You might like to delve into some of my other Las Vegas posts:
The Coolest things to do in Las Vegas, features things you won't want to miss.
My picks for the 24 best shows in Las Vegas covers everything from Donny Osmond (don't laugh!) to Magic Mike and a run down on all the Cirque du Soleil shows.
If you love shopping then you should read these 10 places for shopping in Vegas, including outlets.
And if you want to get married by Elvis or renew your vows, and need to know which lookylikey is the best, I've found him in this post on the time I crashed an Elvis wedding!
Buy a 2, 3 or 5 day Las Vegas Pass and get admission into 30 shows and attractions – more than you'll have time for. The reviews say it's paid for itself on the first day!