By Lambert Strether of Corrente.
Happy May Day!
Bird Song of the Day
European Starling, Libertytown , Audrey Carroll Wildlife Sanctuary, Frederick, Maryland, United States. "Call; Song. Other Behaviors: Advertise. Habitat: Pond." I like that this is from 1999. Quite the library!
* * *
Politics
"So many of the social reactions that strike us as psychological are in fact a rational management of symbolic capital." –Pierre Bourdieu, Classification Struggles
2024
"Biden's diverse coalition of support risks fraying in 2024" [Associated Press]. "Former Sen. Joe Lieberman, the Connecticut Democrat-turned-Independent long known for his centrist views, voted for Joe Biden in 2020. But as Biden's reelection campaign begins, Lieberman is preparing to recruit a third-party candidate capable of defeating the Democratic president. Centrists and moderates feel that he's governed more from the left than they hoped,' Lieberman, a leader of the group, No Labels, said of Biden in an interview. 'He hasn't been able to be the unifier that he promised to be.'" • Joe Lieberman, one of the nastiest pieces of work in American politics. (Lieberman gave us the DHS, let us remember.)
Democrats en Déshabillé
Patient readers, it seems that people are actually reading the back-dated post! But I have not updated it, and there are many updates. So I will have to do that. –lambert

I have moved my standing remarks on the Democrat Party ("the Democrat Party is a rotting corpse that can't bury itself") to a separate, back-dated post, to which I will periodically add material, summarizing the addition here in a "live" Water Cooler. (Hopefully, some Bourdieu.) It turns out that defining the Democrat Party is, in fact, a hard problem. I do think the paragraph that follows is on point all the way back to 2016, if not before:

The Democrat Party is the political expression of the class power of PMC, their base (lucidly explained by Thomas Frank in Listen, Liberal!). ; if the Democrat Party did not exist, the PMC would have to invent it. . ("PMC" modulo "class expatriates," of course.) Second, all the working parts of the Party reinforce each other. Leave aside characterizing the relationships between elements of the Party (ka-ching, but not entirely) those elements comprise a network — a Flex Net? An iron octagon? — of funders, vendors, apparatchiks, electeds, NGOs, and miscellaneous mercenaries, with assets in the press and the intelligence community.

Note, of course, that the class power of the PMC both expresses and is limited by other classes; oligarchs and American gentry (see 'industrial model' of Ferguson, Jorgensen, and Jie) and the working class spring to mind. Suck up, kick down.

* * *

Here is California DNC member David Atkins on generational politics. The thread is worth reading in full:

This chart explains *so much* about modern American politics. What it says, simply, is that almost all the actual persuadable voters in the electorate aren't "moderates."

They're cross-pressured extremists and…kinda fashy. They're socially bigoted and economically leftist. /2

— David Atkins (@DavidOAtkins) April 26, 2023

For some definition of "bigoted," of course. (Throwing "essential workers," disproportionately "people of color" under the bus with Biden's policy of mass infection without mitigation is totally, totally not bigoted in any way. Look, I've got an "In This House" sign on my lawn!) More:

Whether econ or social leftism overreaches sometimes is debatable on its own merits as public policy when it comes to, say, housing policy or standardized testing.

But it's worthless as an *electoral* strategy for reaching the Upper Left Quadrant voter. /10

— David Atkins (@DavidOAtkins) April 26, 2023

Note the word "gradually":

Let the fash sort with the fash into the upper right. Let liberals and the left sort with each other.

Leftists: stop trying to placate the fash with anti-globalism. Centrists: stop trying to be "anti-woke" or appeal to non-existent bottom-right quadrant voters. /13

— David Atkins (@DavidOAtkins) April 26, 2023

And to conclude:

Ultimately, there are a lot more of us than there are of them.

There is no magic bullet to fixing the Fash problem. It will be with us for a while.

All you can do is understand it–and then reform the anti-majoritarian structures of American democracy that empower it. /end

— David Atkins (@DavidOAtkins) April 26, 2023

Functionally, the key words in Atkin's thread are "gradually" and "it will be with us for a while." That strikes this jaded observer as being, in its effect, identical to Rey Teixeira's theory of of the "coalition of the ascendant." Where Teixeira theorized that demographics would do the Democrats' work for them — all they had to do was sit back and relax, until the electorate got less white — Atkins theorized that aging will do the Democrats' work for them — all they have to do is sit back and relax until Gen Z assumes positions of power.

Let's follow the money. Atkins gives the source for his chart and his ideas: An article from the Democracy Fund's Voter Study Group from June 2017, "Political Divisions in 2016 and Beyond." From their About Page: "The Democracy Fund Voter Study Group project is made possible through support from Democracy Fund."

I find it a little difficult to believe that Omidyar is all in favor of making sure that "the AOC/Bernie/Warren-aligned under-45s who vote Dem +20 points are a bigger and bigger share of the electorate"; he funded J.D. Vance, after all. I find it very easy to believe that Omidyar would be very happy to see another decade or so of Democrats being exactly what they are today.

* * *

This is one of those Gen Z influencers everybody's so excited about:

Gen Z won't sit back and watch as the Republican Party tries to destroy our country @chrisdmowrey pic.twitter.com/fUwh6LCjiU

— Harry Sisson (@harryjsisson) April 28, 2023

And:

Biden is the clear choice in 2024. He's one of the most accomplished Presidents in American history 👇

-Infrastructure deal
-PACT act
-CHIPS act
-Major gun reform
-American Rescue Plan
-Cancer Moonshot Program
-Lowest unemployment in 54 years
-First black woman on SCOTUS…

— Harry Sisson (@harryjsisson) April 26, 2023

And:

MAGA trolls have claimed that I'm paid by the DNC and the White House but that is simply not true 👇 pic.twitter.com/rweLcESO5v

— Harry Sisson (@harryjsisson) April 30, 2023
Realignment and Legitimacy
"Moderna co-founder calls on US politicians and judges to stop questioning science" [Financial Times]. "More than 700 executives signed an open letter last month condemning a decision by a federal judge in Texas to overturn the regulatory approval of mifepristone — a drug approved by the FDA more than two decades ago. 'Judicial activism will not stop here,' the letter said. 'If courts can overturn drug approvals without regard for science or evidence, or for the complexity required to fully vet the safety and efficacy of new drugs, any medicine is at risk for the same outcome as mifepristone.'" • I don't agree with the Texas judge's decision, but surely the question of "mifepristone" is primarily political? Unless one equates "science" with "decisions made by the regulatory state," which I don't think is a very good idea. Though I see why Big Pharma might see it that way, and might want to see it that way.
#COVID19
"I am in earnest — I will not equivocate — I will not excuse — I will not retreat a single inch — AND I WILL BE HEARD." –William Lloyd Garrison
Resources, United States (National): Transmission (CDC); Wastewater (CDC, Biobot; includes many counties); Variants (CDC; Walgreens); "Iowa COVID-19 Tracker" (in IA, but national data).
Lambert here: Readers, thanks for the collective effort. We are now up to 50/50 states (100%). This is really great! (It occurs to me that there are uses to which this data might be put, beyond helping people with "personal risk assessments" appropriate to their state. For example, thinking pessimistically, we might maintain the list and see which states go dark and when. We might also tabulate the properties of each site and look for differences and commonalities, for example the use of GIS (an exercise in Federalism). I do not that CA remains a little sketchy; it feels a little odd that there's no statewide site, but I've never been able to find one. Also, my working assumption was that each state would have one site. That's turned out not to be true; see e.g. ID. Trivially, it means I need to punctuate this list properly. Less trivially, there may be more local sites that should be added. NY city in NY state springs to mind, but I'm sure there are others. FL also springs to mind as a special case, because DeSantis will most probably be a Presidental candidate, and IIRC there was some foofra about their state dashboard. Thanks again!
Resources, United States (Local): AK (dashboard); AL (dashboard); AR (dashboard); AZ (dashboard); CA (dashboard; Marin); CO (dashboard; wastewater); CT (dashboard); DE (dashboard); FL (wastewater); GA (wastewater); HI (dashboard); IA (wastewater reports); ID (dashboard, Boise; dashboard, wastewater, Central Idaho; wastewater, Coeur d'Alene; dashboard, Spokane County); IL (wastewater); IN (dashboard); KS (dashboard; wastewater, Lawrence); KY (dashboard, Louisville); LA (dashboard); MA (wastewater); MD (dashboard); ME (dashboard); MI (wastewater; wastewater); MN (dashboard); MO (wastewater); MS (dashboard); MT (dashboard); NC (dashboard); ND (dashboard; wastewater); NE (dashboard); NH (wastewater); NJ (dashboard); NM (dashboard); NV (dashboard; wastewater, Southern NV); NY (dashboard); OH (dashboard); OK (dashboard); OR (dashboard); PA (dashboard); RI (dashboard); SC (dashboard); SD (dashboard); TN (dashboard); TX (dashboard); UT (wastewater); VA (dashboard); VT (dashboard); WA (dashboard; dashboard); WI (wastewater); WV (wastewater); WY (wastewater).
Resources, Canada (National): Wastewater (Government of Canada).
Resources, Canada (Provincial): ON (wastewater); QC (les eaux usées); BC, Vancouver (wastewater).
Hat tips to helpful readers: Art_DogCT, B24S, CanCyn, ChiGal, Chuck L, Festoonic, FM, FreeMarketApologist (4), Gumbo, hop2it, JB, JEHR, JF, JL Joe, John, JM (9), JW, KatieBird, LL, Michael King, KF, LaRuse, mrsyk, MT, otisyves, Petal (5), RK (2), RL, RM, Rod, square coats (11), tennesseewaltzer, Utah, Bob White (3).
* * *
Look for the Helpers
This is very, very good news:

Wait, can it be?! Way to go @AMCTheatres !

Legitimately, I am finally going to get to see a movie (while still masking) in theatres! https://t.co/P3UrnDS1HM pic.twitter.com/WhCRW51aqZ

— Christina Virgil (@ChristinaVirgil) April 30, 2023

Paris is worth a mass, and "fresh, outdoor air" is worth a deal with Clorox on fomites. If any readers with CO2 meters go to an AMC movie, please send pictures!

If you are in Wells-next-the-sea, Norfolk, please patronize:

A commitment to our customers:

🎨 Provide a welcoming gallery space with clean air
🪟 Open windows for good ventilation
🌪️ Use HEPA filtration
✔️ Monitor CO2; ensure it remains < 800ppm
😷 Wear FFP2 masks@CovidPledge @hazardscampaign #CleanAir #CovidSafe #CVCEV #WearAMask pic.twitter.com/osnnyX9A2E

— Gallery Plus (@Gallery_Plus) April 29, 2023

I would bet there are other businesses like this, too. There should be a "Green Book," a directory…
Transmission
"Widespread Household Transmission of SARS-CoV-2 B.1.1.529 (Omicron) Variant from Children, South Korea, 2022" [Yonsei Medical Journal]. "Here we report an outbreak that started in young children attending various pediatric facilities, leading to extensive household transmission that affected 75 families with 88 confirmed case-patients in 3 weeks. Tailored social and public health measures directed towards children and pediatric facilities are warranted with the emergence of highly transmissible omicron variant to mitigate the impact of coronavirus diseases 2019 (COVID-19)." And: "On January 15, 2022, a 10-year-old child (index case-patient) with a 1-day-onset of fever and sore throat was confirmed positive for SARS-CoV-2. He had visited a childcare center and a Taekwondo academy in Wonju-si, Gangwon-do during winter vacation a day before the symptom onset." • One asymptomatic kid.
Elite Maleficence
"CDC meeting, intended to mark covid progress, sees virus cases of its own" [WaPo]. We ran this in Links over the weekend, but allow me to point out the hilarity: The CDC's own superspreading event occured a little more than a year after the superspreading event at the Gridiron Club, where the PMC showed how committed they were to the superspreading bit. The denial — and the absolute refusal to accept responsibility — is so, so thick:

Current and former CDC staff also told The Post that moderators at the conference warned staff several times that some attendees had tested positive for the virus.

A CDC official said the agency was 'aware' of several confirmed cases that could be connected to the conference, but cautioned 'the cases we're aware of at this time should not be referred to as an 'outbreak." [Oh, hell no].

'These cases are reflective of general spread in the community. It's not news that public health employees can get COVID-19,' CDC's Kristen Nordlund wrote in an email.

So now not only has CDC normalized superspreading, it's normalized attending mass events while sick with Covid, good job. And of course, CDC will take care of its own:

I have to ask – did they inform hotel staff too?
Will hotel staff & other non-CDC guests be getting the same treatments & resources as CDC employees?

— Jo Comma And (@Jo_can_and_will) April 30, 2023

CDC will take care of its own. But not you:

Just to be clear, all those @CDCgov officers who got #Covid at the conference will have access to tests, #Paxlovid and paid time off. Maybe not so much the Uber drivers, waitstaff, housekeepers and others they infected in onward transmission. 1/2

— Jamie Weisman, M.D. (@jamie_weisman) April 29, 2023

They were careless people, Rochelle and Ashish….

Another Canadian hospital turning away sick people:

Royal Columbia Hospital in the Vancouver, BC area knows how to amuse its patients. Does anyone know where you are suppose to go if you are truly very ill with Covid? The mall? pic.twitter.com/vCDYrpuIvv

— Glass Half Empty @YUL_native over on Spoutible (@yul_native) April 28, 2023

Have any readers spotted one such hospital in the wild, in the United States?

Then again, hospitals are turning into torment nexuses, if they were not already:

For anyone still wondering why we have medical conference superspreaders, hospitals embracing nosocomial COVID spread, etc., all you have to do is look at responses like this one to @chronicallybeee (and I love how this person leverages autistic patients as an excuse). pic.twitter.com/0v7XJhuqaV

— Caught in a Perfect Storm of Clusterfuckery (@Michael59503746) April 30, 2023

"Live your life but let others live theirs." Which is, exactly and precisely, what anti-maskers do not to. "The right to infect others shall not be infringed."

"FYI: Stanford research staff have stopped masking in the middle of the long-Covid PAXLOVID study" [r/covidlonghaulers, Reddit]. Confounders? What confounders?

We just walked out and quit the study today. Stanford medical dropped all masking requirements and the researchers running the long-Covid paxlovid study have stopped masking while tending to long covid participants. It's frankly abhorrent, selfish behavior, and not only does it demonstrate a complete lack of regard and understanding for the illness in question, in my opinion it calls into question the legitimacy of the entire study. We've been traveling hundreds of miles for months in order to try to participate in their study and provide THEM with data about the illness, and this is what they think of us. Just want to make everyone aware in case you also have the misfortune of being a participant.

EDIT: Aside from the obvious lack of regard for the safety and well being of their patients/subjects, I should point out that this is also just a terrible choice for the study. Want to know how to get consistent study results? I'll give you a hint: it doesn't involve dramatically changing the study conditions 3/4 of the way through. Not only are they callously risking people's health, they risk invalidating the entire project and its data by suddenly increasing the odds of reinfecting their participants and negatively changing the course of their health.

Who's running this study? Dr. John Conly? Did he want to see the smiles of Long Covid patients?
The Jackpot
* * *
Lambert here: I'm getting the feeling that the "Something Awful" might be a sawtooth pattern — variant after variant — that averages out to a permanently high plateau. Lots of exceptionally nasty sequelae, most likely deriving from immune dysregulation (says this layperson).
• "This professor is a global coronavirus expert. Now he has long COVID" [Australian Financial Review]. "'Complacency is COVID's friend,' said Professor Nicholson, who has a profound, and personal, understanding of COVID and the damage it can wreak on the health of people when it turns into long-COVID. Professor Nicholson is not only one of the world's foremost experts in understanding the mechanics of the virus and how it interacts with individuals, he also observed the impact of long-COVID first-hand. As one of the first people to contract the disease in Australia, having picked it up at a conference in Italy in February 2020, Professor Nicholson is also one of the first to develop long COVID…. International research has estimated the health costs of long COVID will be in the trillion dollar range globally and recent data reveals that the life expectancy of Americans has been dialled back three years for white men, and six years for African American men. 'All the efforts that have been made in preventative medicine over the last 30 to 40 years have been negated by COVID-19,' Professor Nicholson said."
• "COVID will eventually evade one of the few treatments for those infected and could cause deaths to 'easily double,' former White House advisor Deborah Birx says" [Fortune]. "Omicron is mutating to bypass the initial arsenal of weapons developed for use against it. Already, its changes have rendered every universal monoclonal antibody treatment—administered to people at high risk of hospitalization and death—useless. Eventually it will take down Paxlovid too, Birx says. She added: 'If we lose Paxlovid, we could easily double the number of deaths,' which currently sit at just over 1,000 per week, according to data from the U.S. Centers for Disease Control and Prevention. … 'Right now, we're just accepting that 270,000 Americans died last year,' she said. 'Two hundred and seventy thousand. We're going to easily lose over 100,000 this year. That, to me, is not success.' Birx continued: 'You don't want to back yourself into controlling the pandemic because all the vulnerable Americans have died. That's not how you win in public health.'" • Well, "winning" depends on how you define your goals, surely. Anyhow, if you don't breathe in the virus, you don't catch Covid. One can only wonder why non-pharamaceutical interventions have been entirely erased from the discourse — even by Birx! And then–
• "New insights into deadly fungal invasion in people with compromised immune systems" [News Medical Life Sciences]. "Fungi such as Aspergillus are so common in our surroundings that we breathe in hundreds to thousands of spores every day. In healthy people, fungi typically pose no threat, but they can cause deadly infections in those with compromised immune systems. However, it is increasingly recognized that viral infections such as influenza or SARS-CoV-2 can increase the risk of invasive Aspergillus infections even in healthy people. The World Health Organization (WHO) has stated that invasive fungal infections are an increasing threat to human health and reiterated that more research is needed. Until now little was known about how the Aspergillus fungus was able to take root, and what could be done to get rid of it. Researchers at the University of Calgary working with researchers at McGill University have provided new insight on why the immune system fails. 'We discovered that influenza and COVID-19 destroy a previously unknown natural immunity that we need to resist invasive fungal infections,' says Nicole Sarden, a PhD candidate at the University of Calgary and first author on the study. The findings published in Science Translational Medicine show that two types of white blood cell (neutrophils and a unique type of B cells) normally work together to fight fungal infection. However, viruses like SARS-CoV-2 and influenza impede the special B cells from doing their job." • Speaking of immune system dysregulation….
• "Deadly fungus spreading in U.S. with approximately 60% mortality" [KIRO]. I'm filing this here because C. auris infection can be a consequence of weakend immune systems. "The Centers for Disease Control and Prevention (CDC) has issued a warning about a drug-resistant strain of fungus, Candida auris, spreading in healthcare facilities in the United States. 'The rapid rise and geographic spread of cases is concerning and emphasizes the need for continued surveillance, expanded lab capacity, quicker diagnostic tests, and adherence to proven infection prevention and control,' said CDC epidemiologist Dr. Meghan Lyman in a press release." • Cordyceps? Not that bad. So about tranmission. The article says "surface," i.e. fomites. CDC is mealy-mouthed: "C. auris can spread in healthcare settings through contact with contaminated environmental surfaces or equipment, or from person to person. More work is needed to further understand how it spreads." However, its advice for Infection Control is all fomites. Some say C. auris is not airborne; others agree. Then again (from "high turbulence activities such as bed making," similar to mpox). I dunno. I don't know enough about how fungus tranmits (but spores are airborne, no?). The conventional wisdom is strong here, and there's no other data. OTOH, Hospital Infection Control has a miserable record, not merely on airborne transmission of Covid, but on nosocomial infections as such. Sign of a hard problem? Or a bad paradigm?
"Orgel's rules" [WikiPedia]. "Orgel's Second Rule: 'Evolution is cleverer than you are.'" • Not hard on this timeline. But still true!
Case Data
NOT UPDATED From BioBot wastewater data from April 27: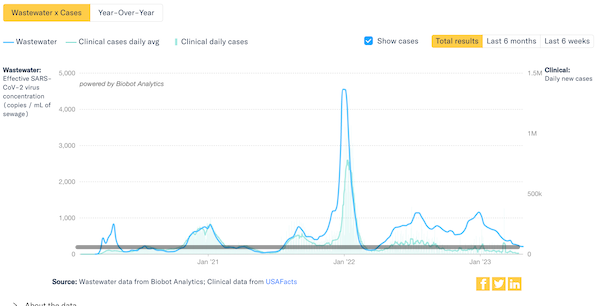 Lambert here: Unless the United States is completely, er, exceptional, we should be seeing an increase here soon.
For now, I'm going to use this national wastewater data as the best proxy for case data (ignoring the clinical case data portion of this chart, which in my view "goes bad" after March 2022, for reasons as yet unexplained). At least we can spot trends, and compare current levels to equivalent past levels.
Variants
NOT UPDATED From CDC, April 29, 2023. Here we go again: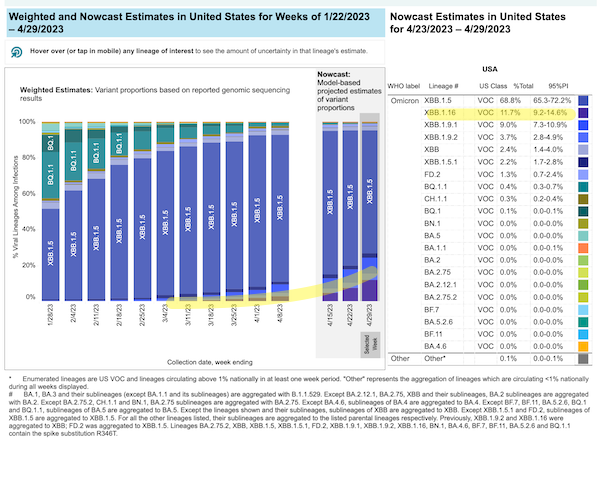 Lambert here: Looks like XBB.1.16 is rolling right along. Though XBB 1.9.1 is in the race as well.
Covid Emergency Room Visits
NOT UPDATED From CDC NCIRD Surveillance, from April 22: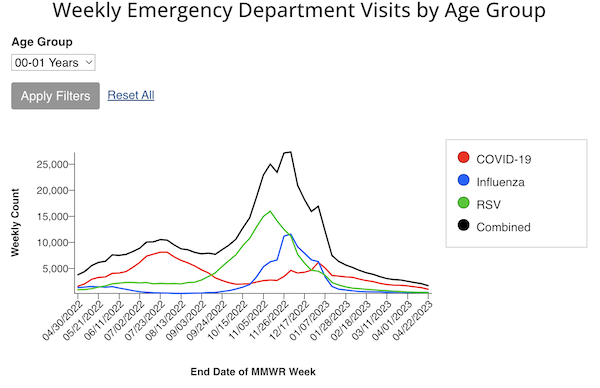 NOTE "Charts and data provided by CDC, updates Wednesday by 8am. For the past year, using a rolling 52-week period." So not the entire pandemic, FFS (the implicit message here being that Covid is "just like the flu," which is why the seasonal "rolling 52-week period" is appropriate for bothMR SUBLIMINAL I hate these people so much. Anyhow, I added a grey "Fauci line" just to show that Covid wasn't "over" when they started saying it was, and it's not over now. Notice also that this chart shows, at least for its time period, that Covid is not seasonal, even though CDC is trying to get us to believe that it is, presumably so they can piggyback on the existing institutional apparatus for injections.
Positivity
A kind reader discovered that Walgreens had reduced its frequency to once a week. No updates, however, since April 11.
Deaths
NOT UPDATED Death rate (Our World in Data):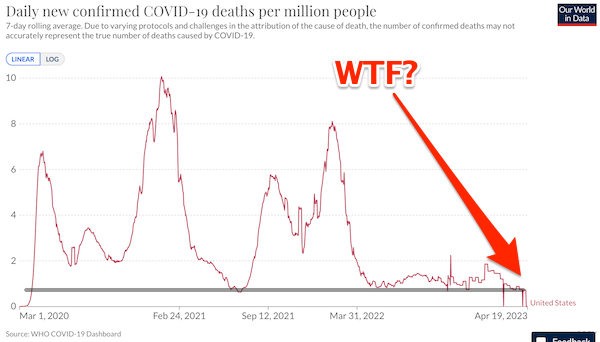 Lambert here: WHO turned off the feed? Odd that Walgreen's positivity shut down on April 11, and the WHO death count on April 12. Was there a memo I didn't get?
Total: 1,159,839 – 1,159,697 = 142 (142 * 365 = 51,830 deaths per year, today's YouGenicist™ number for "living with" Covid (quite a bit higher than the minimizers would like, though they can talk themselves into anything. If the YouGenicist™ metric keeps chugging along like this, I may just have to decide this is what the powers-that-be consider "mission accomplished" for this particular tranche of death and disease).
Excess Deaths
NOT UPDATED Excess deaths (The Economist), published April 23: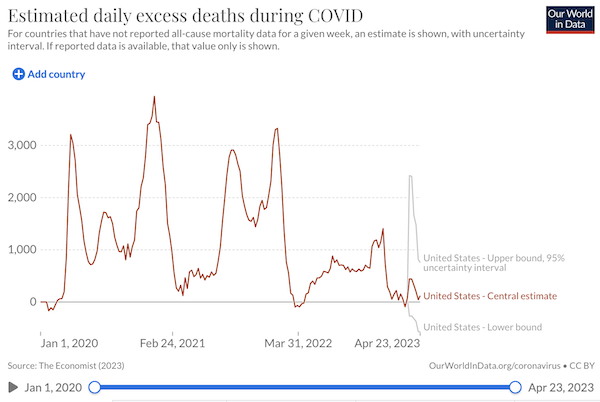 Lambert here: Based on a machine-learning model. (The CDC has an excess estimate too, but since it ran forever with a massive typo in the Legend, I figured nobody was really looking at it, so I got rid it. )
Stats Watch
Manufacturing: "United States ISM Purchasing Managers Index (PMI)" [Trading Economics]. "The ISM Manufacturing PMI in the United States rose to 47.1 in April 2023, up from a three-year low of 46.3 in the previous month and slightly above market consensus of 46.8. Still, the latest reading suggested economic activity in the manufacturing sector shrank for a sixth consecutive month, as higher borrowing costs and tight credit hit activity and boosted the risk of a recession this year."
* * *
Banks: "First Republic Bank seized and sold to JPMorgan Chase" [Axios]. "First Republic Bank was seized by regulators and sold to JPMorgan Chase, the Federal Deposit Insurance Corporation announced early Monday morning, making First Republic the third major bank failure in eight weeks… The San Francisco-based First Republic on Monday reported that over $100 billion of deposits walked out the door in the first quarter, or a net of around $71 billion once accounting for emergency inflows from JPMorgan Chase and other large banks…. What we're watching: Whether this move ultimately succeeds in containing weeks of uncertainty that's ricocheted across the U.S. financial system, especially with the Federal Reserve expected to raise interest rates yet again this week." • I believe I've said that you should never do business with a firm that has "First" in its name? It's a lot like the restaurant called "Mom's."
Tech: "Chatbots Are Digesting the Internet. The Internet Wants to Get Paid" [Wall Street Journal]. "If you've ever published a blog, or posted something to Reddit, or shared content anywhere else on the open web, it's very likely you have played a part in creating the latest generation of artificial intelligence. Google's Bard chatbot, OpenAI's ChatGPT, Microsoft's MSFT 0.12%increase; green up pointing triangle OpenAI-powered version of Bing, and similar tools from the many startups now incorporating these and other AI language models—none of these clever automated writers could exist without the enormous body of text freely available on the web. Now, in a way that hasn't been true since the early search-engine battles, the contents of the web are the subject of a contest over who owns what, as great powers attempt to carve up an irreplaceably rich source of information with a whole new kind of value. The tech and media companies that unwittingly provided this data are waking up to how essential it is to training the latest generation of language-based AIs. Reddit, an invaluable source for OpenAI, recently announced that it will start charging AI companies for access to data." • Or to translate, and leaving out the "very likely" caveats: Unsurprisingly, AI is based on theft. The Bearded One called this "original accumulation."
* * *
Today's Fear & Greed Index: 61 Greed (previous close: 59 Greed) [CNN]. One week ago: 63 (Greed). (0 is Extreme Fear; 100 is Extreme Greed). Last updated May 1 at 12:16 PM ET.
Rapture Index: Closes unchanged [Rapture Ready]. Record High, October 10, 2016: 189. Current: 185. (Remember that bringing on the Rapture is good.) NOTE on #42 Plagues: "The coronavirus pandemic has maxed out this category." More honest than most! I wonder where that's coming from?
Gardening
"Neighbors Fight Over No Mow May: 'What in the World Is Happening in This Place?'" [Wall Street Journal]. Nothing but good, I'm guessing. "As May 1 looms, Americans face a complicated moral choice: Whether to mow their lawns. Scores of U.S. cities and towns are embracing a British movement called No Mow May, whose supporters refrain from cutting their grass during that month. The goal is to allow more flowering plants to thrive, and provide nectar and pollen to nourish bees and other pollinators, vital parts of the food chain. No Mow May has been promoted by the British charity Plantlife over the past four years and is gaining ground in other countries. The project stirs warm and buzzy feelings in many homeowners' hearts. 'Pardon the weeds! We're feeding the bees!' declare cheerful signs popping up in meadow-like yards. Yet No Mow May puts bees in the bonnets of other people. Opponents question the science behind No Mow May, deplore what they see as a sloppy look and even suggest it's just an excuse for laziness." • Refusing to do useless, indeed harmful work is not laziness!
Zeitgeist Watch
This dude is staying put. He's a geographic determinist (see Guns, Germs, and Steel):
But there's something more important than all those…

Geography.

A magical combination of geography favors the USA over all others.

It's no surprise the USA keeps winning.

The USA is the only economy to grow every decade for 150 years.

Here is how the US is so gifted: pic.twitter.com/Fl2d3aHzG5

— Michael Girdley (@girdley) April 29, 2023
And of course:
12) Oceans

Germany couldn't invade Britain across 15 miles of the English Channel in World War II.

The Pacific/Atlantic Oceans are massive >2,000 mile barriers against the USA ever worrying about an invasion.

You know Red Dawn where the US is invaded?

Super dumb (but sexy). pic.twitter.com/yGaOY249E3

— Michael Girdley (@girdley) April 29, 2023
Yes, it's positively amazeballs how badly our ruling class of rentiers has managed to butcher our enormous advantages!
Class Warfare
"Josh Kline's Survival Art for 21st-Century America" [Jason Farago and Emma Goldberg, New York Times]. A jolting retrospective at the Whitney. "GOLDBERG Those videos, from 2013, were a visceral reminder that 'deepfake' technologies, capable of the type of misinformation people are so alarmed about now with A.I., have been in the works for a long time. What makes us stop and question technological development? For years there was a mounting fear that artificial intelligence would automate blue-collar work. And then in the last few months, the narrative is, 'It's not just truckers who will find their jobs obsolete, it's lawyers and copywriters.' . I think we have to ask ourselves: What work are people suddenly mobilizing to protect? What work is worthy of being preserved?" • "For so many people."
News of the Wired
"How thinking hard makes the brain tired" [The Economist]. "One analysis of previous studies suggests that cognitively overworked and "depleted" brains use less than one-tenth of a Tic-Tac's worth of additional glucose. If cognitive fatigue is not caused by a lack of energy, then what explains it? A team of scientists led by Antonius Wiehler of Pitié-Salpêtrière University Hospital, in Paris, looked at things from what is termed a neurometabolic point of view. They hypothesise that cognitive fatigue results from an accumulation of a certain chemical in the region of the brain underpinning control. That substance, glutamate, is an excitatory neurotransmitter that abounds in the central nervous systems of mammals and plays a role in a multitude of activities, such as learning, memory and the sleep-wake cycle. In other words, cognitive work results in chemical changes in the brain, which present behaviourally as fatigue. This, therefore, is a signal to stop working in order to restore balance to the brain."
* * *
Contact information for plants: Readers, feel free to contact me at lambert [UNDERSCORE] strether [DOT] corrente [AT] yahoo [DOT] com, to (a) find out how to send me a check if you are allergic to PayPal and (b) to find out how to send me images of plants. Vegetables are fine! Fungi and coral are deemed to be honorary plants! If you want your handle to appear as a credit, please place it at the start of your mail in parentheses: (thus). Otherwise, I will anonymize by using your initials. See the previous Water Cooler (with plant) here. From AA: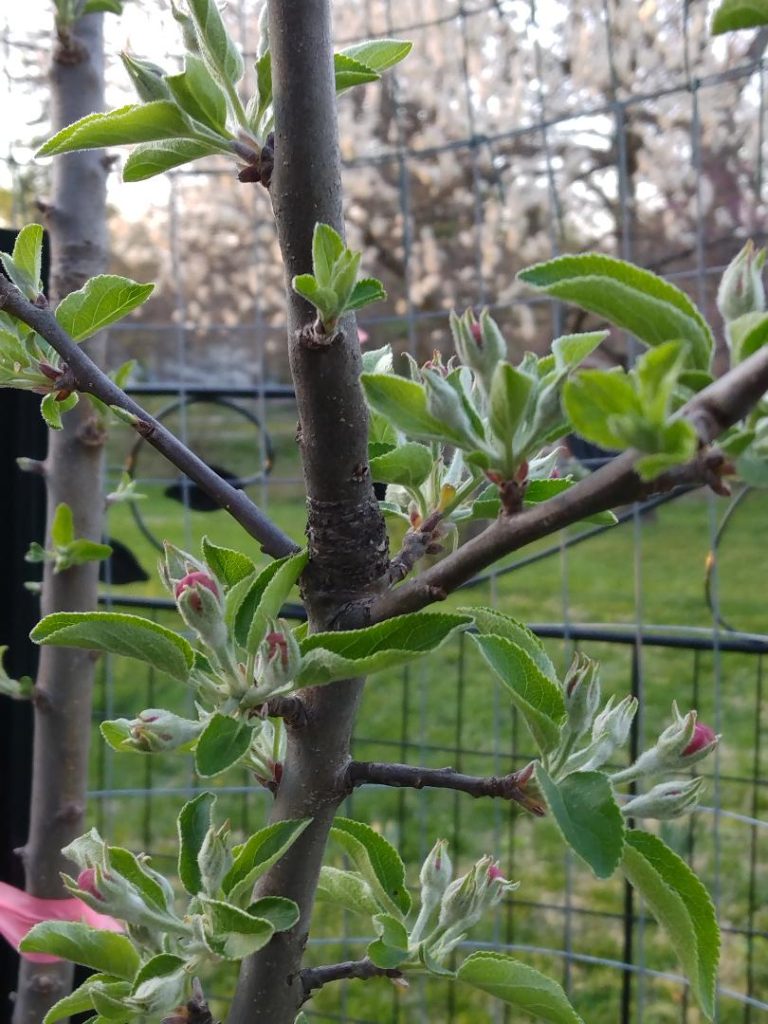 AA writes: "Black Oxford apple blossoms in NW Ohio. The cage is necessary to defend the trees from deer. This should be the first fruiting year if the buds don't get frostbitten."
* * *
Readers: Water Cooler is a standalone entity not covered by the annual NC fundraiser. So if you see a link you especially like, or an item you wouldn't see anywhere else, please do not hesitate to express your appreciation in tangible form. Remember, a tip jar is for tipping! Regular positive feedback both makes me feel good and lets me know I'm on the right track with coverage. When I get no donations for five or ten days I get worried. More tangibly, a constant trickle of donations helps me with expenses, and I factor in that trickle when setting fundraising goals:
Here is the screen that will appear, which I have helpfully annotated: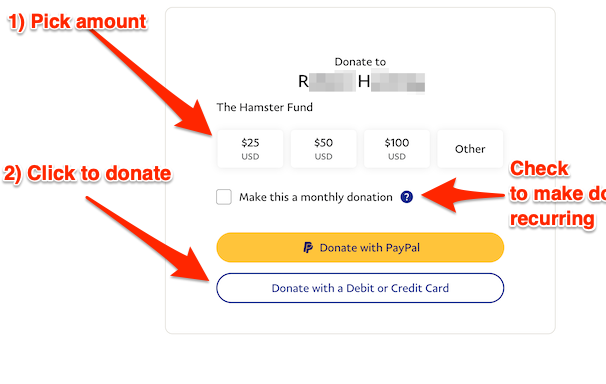 If you hate PayPal, you can email me at lambert [UNDERSCORE] strether [DOT] corrente [AT] yahoo [DOT] com, and I will give you directions on how to send a check. Thank you!