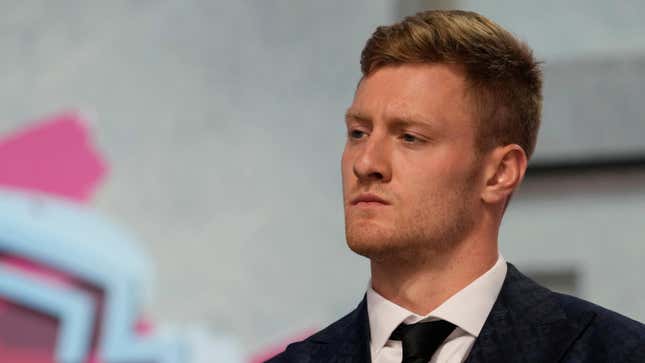 [Updated] Will Levis was drafted by the Tennessee Titans with the 33rd overall pick. The Titans traded their second- (41) and third-round (72) picks to Arizona to get him.
---
Will Levis is still on the board. As we've noted, despite the pre-draft hype — including an anonymous Redditor saying that the QB was telling friends and family he was going No. 1 overall to Carolina — the former Kentucky signal-caller is still without a pro team.
He may not have to wait much longer. But then again, who knows? Are teams leery of an injury to his toe? Or perhaps his attitude? Or maybe GMs are sickened by the thought of someone putting Hellman's in their cup of joe.
We know it won't be Carolina, Houston, Indianapolis, or either New York team, amongst a host of others who draft the 6-foot-3, 231-pound signal-caller. But let's speculate about some other squads who might.