Is It Time To Consider Virtual Reality And Games For Your Training Strategy?
Virtual Reality (VR) and games are a perfect pairing for improving performance behaviors and facilitating real-world experience. But how do you incorporate them into your existing L&D program to engage learners and immerse them in the subject matter? This eBook has all the information you need to get started.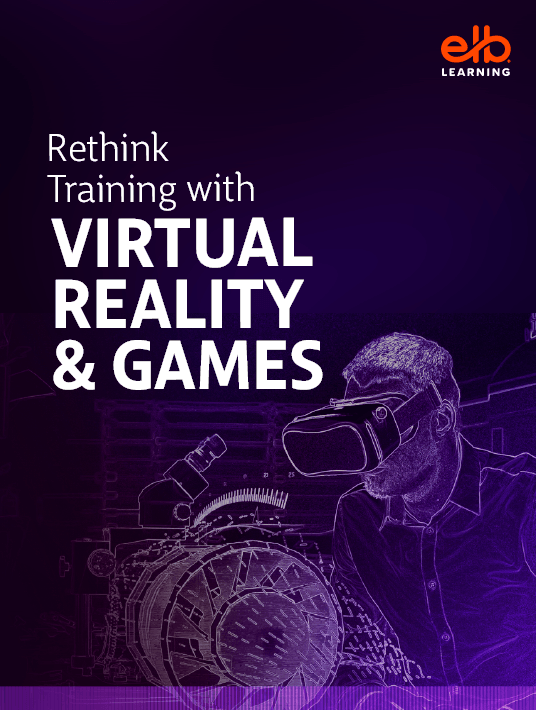 eBook Release
Rethink Training With Virtual Reality And Games
From upskilling to safety training, these real-world use cases demonstrate how games and VR make ordinary eLearning extraordinary!
How VR And Games Can Revolutionize Your L&D Approach
It's difficult to beat VR and game-based learning when it comes to immersion and mistake-driven learning. This dynamic duo can turn even the most tedious or dull topics into a truly memorable experience by bringing the ideas, concepts, and key takeaways to life. For example, learners no longer read about compliance policies. They're able to see them in action and identify performance issues or knowledge gaps that translate into workplace risks. That said, you need to find the right balance for your team and ensure that everything aligns with your objectives and desired outcomes. This eBook can help you implement Virtual Reality and games to take your training to the next level and reap the many rewards modern tech (and attention-grabbing curriculum design) can offer your organization.
About This eBook
How does immersive learning fit into your current L&D program? How can you make a strong business case for gamified training? Here's a quick glimpse of what you'll find in this guide by ELB Learning:
Why Virtual Reality?
What Has Slowed the Investment in Immersive Training?
Real-World Examples of VR Training
Healthcare And Manufacturing Courses in VR
Games And Game-Based Learning
Why Gamification?
Including Gamified Learning in the Workplace
Examples of Games And Game-Based Learning
How To Get Your Copy
Download the eBook Rethink Training With Virtual Reality & Games today to tap into the power of immersive learning and leverage games in your L&D strategy.