By Lambert Strether of Corrente
Patient readers, this Water Cooler is a bit light. In my defense, the news flow is a bit light. It feels bizarrely like mid-summer. Change my mind in comments! –lambert
Bird Song of the Day
Yellow-eyed Junco (Mexican), Rustler Park, Arizona, United States. I think I hear buzzing insects in the background.
* * *
Politics
"But what is government itself, but the greatest of all reflections on human nature?" –James Madison, Federalist 51
"Here's food for thought, had Ahab time to think; but Ahab never thinks; he only feels, feels, feels" –Herman Melville, Moby Dick
"The logic of the insult and the logic of scientific classification represent the two extreme poles of what a classification may be in the social world." –Pierre Bourdieu, Classification Struggles
Biden Administration
"Biden's Plan for Next Pandemic Eyes Vaccine Supply Within 130 Days" [Bloomberg]. "President Joe Biden's strategy for the next deadly pandemic calls for the US to produce a test for a new pathogen within 12 hours of its discovery and enough vaccine to protect the nation within 130 days." • How about the deadly pandemic we're in now? [bangs head on desk].

"Opinion: Ag companies' loyalty programs unfairly extract profits from consumers" [Lina Khan, Des Moines Register]. "Last week, the Federal Trade Commission, where I am chair, partnered up with a bipartisan coalition of state attorneys general to file a lawsuit against two of the biggest pesticide manufacturers in the world, Syngenta and Corteva, accusing them of illegally blocking cheaper competitors from the market. This forces American farmers to pay many millions of dollars more every year for pesticides than they should, and ultimately raises the price of the food you eat. The scheme starts with patents. Companies like Syngenta and Corteva are in the business of inventing new active ingredients for pesticides. Each time they do, they get to patent that invention. A patent entitles an inventor to a 20-year period where only they are allowed to sell the invention. But there's a compromise: Once the patent expires, anyone is free to bring a generic version into the market. That's why when you have a headache, for example, you can choose between Tylenol and generic acetaminophen. When someone holds a patent they can generally charge high prices, given that nobody else can sell that product. But once the patent expires and generics come in, the original patent holder should have to compete with them, including on price. Syngenta and Corteva weren't satisfied with this compromise. They wanted to keep raking in big profits even after the patents expired. To do that, our lawsuit alleges, each company plotted to cut farmers off from cheaper generic alternatives. In general, manufacturers don't sell pesticides directly to farmers. They sell to distributors. Syngenta and Corteva realized that these distributors were a potential choke point. So they each launched 'loyalty programs' in which distributors who bought their products would receive large payments, styled as a rebate. The catch: If those middlemen distribute too many generic pesticides, they don't get the money. In other words, distributors get paid to exclude generics." • This is good (and I bet Stoller is happy). Do note the author, and the venue. I should have filed this under 2024, and in a good way.

This is good:

.@PressSec: "Starting today, hearing aids will cost thousands of dollars less than before. President Biden's executive order and competition called on the FDA to make hearing aids available over the counter without a prescription." pic.twitter.com/7S7Hecn955

— The Hill (@thehill) October 18, 2022

Given the scale of the Covid slaughter and the threat of nuclear war, hearing aids are a bit like Clinton's pivot to school uniforms, but still, the benefit is real.

Lucy and her….

NEW: At DNC event today @POTUS will vow to fast track codifying Roe if Dems retain control of House & Senate.

Will be first bill he sends to new Congress, with goal to sign into law by the 50th anniversary of the Roe decision on January 22.

— Mike Memoli (@mikememoli) October 18, 2022
2022
* * *
"Dems Barely Messaging On Economic Issues" [Lever News]. "Even as polling shows Americans' top concern in the upcoming midterm is the economy, Democrats have barely amplified any message on the issue in their midterm House and Senate election advertising campaigns, according to new data reviewed by The Lever. Republican candidates and political groups have spent $44 million on TV ads focused on the economy and inflation since Labor Day, according to a tally from AdImpact, which tracks campaign spending throughout the country. In the same period, Democrats have spotlighted these issues in just $12 million worth of ads, less than 7 percent of the party's total ad spending during that time. The party has put another $18 million into ads mentioning jobs and infrastructure — but overall, Republicans are significantly outspending them on messaging around economic issues."
"How the Border Went MAGA" [New York Magazine]. "'The Democrats have a really, really big Latino problem.' It was the morning after Mexico-born Republican Mayra Flores won the June special election for a congressional seat in Texas's Rio Grande Valley, and longtime conservative strategist and co-founder of the Lincoln Project Mike Madrid was incensed by the seeming inattention of Democrats to one of the nation's fastest-growing demographics. 'The incompetence and the disregard, it's infuriating,' Madrid steamed on an emergency taping of his podcast, The Latino Vote. 'This district that just flipped has been in Democratic control since 1870,' he said, before noting it had the second-highest concentration of Latinos of 'any congressional district in the entire country, okay?' Losing a district like that constituted 'a five-alarm fire for the Democrats heading into the November elections.' Flores is a MAGA acolyte who once suggested the January 6 attack was 'caused by infiltrators' and has frequently referenced QAnon on her Twitter account. Her election represented the culmination of a years-long trend: Despite Donald Trump's endlessly hostile rhetoric toward Mexican immigrants — from labeling them 'rapists' in his 2016 campaign kickoff to reportedly calling for them to be shot on sight in 2019 — he made major gains across South Texas in the 2020 election, cutting the margin by which Joe Biden won the state's border counties to 17 percentage points, half of the 33-point margin Hillary Clinton posted in 2016. 'When you take voters for granted like national Democrats have done in South Texas for 40 years, there are consequences to pay,' Congressman Filemón Vela told the Texas Tribune at the time; two years later, his retirement opened the door for Flores's ascension. Trump's surprising performance in South Texas had major down-ballot implications, including helping Republican Tony Gonzales win the massive congressional district that covers most of Texas's border with Mexico, from the outskirts of El Paso to Del Rio." • That's a Latinx problem.
"Bernie Sanders says Democrats should have the 'guts' to court some Trump voters" [The Hill]. "'What we need is a Democratic party that has the guts to stand up to them say, yeah, we're going to take on the greed of the insurance companies and the drug companies and Wall Street. And I think if we do that some of those people, I'm not saying all, will say, you know what, I'm going to stand with the Democratic Party because on these economic issues, they're far preferable to right wing Republicans,' Sanders said on NBC's 'Meet the Press.'" …. "[T]here are millions of people in this country, working class people who look at Washington and they say, you know what, I'm falling further and further behind. I can't afford health care. I can't afford to send my kids to college. I can't afford the outrageous cost of prescription drugs. Who is listening to me?"
* * *
IA: "The Franken Campaign Was Doomed Even Before an Assault Allegation Shook the Race" [Politico]. "Iowa has long been thought of as one of the few purple states, oscillating between Republican and Democratic control. But that is changing, with most political offices at all levels more reliably red and with Republican presidential candidates winning the state by increasingly large margins over the past few elections. The expectation was that 2022 would be brutal for Democrats in a state where Biden polls terribly. Biden has never even won the majority of the Democrats in Iowa; he lost three attempts at the caucuses in 1988, 2008 and 2020. And midterms are typically bad for the party in power. As a result, funding from the Democratic Party has dried up, along with organizing infrastructure, and all the big names in the Iowa Democratic Party chose to sit this year out. As one Iowa lobbyist, who was granted anonymity because they were concerned about maintaining a positive working relationship with politicians in both parties, told me, "It's the Iowa Democratic D-listers' time to shine.'" What does that tell you about the "big names"? More: "For Democrats, the big moment could finally be here: An unpopular Supreme Court ruling, combined with an aging incumbent senator, has given Dems the first chance in a long time to flip a Republican seat in Iowa. But no one involved seems prepared, and in the weeks since, it's become even clearer that the supposedly safe choice is anything but…. These problems are common when it comes to Democrats and rural states. After the 2010 midterms, Nancy Pelosi disbanded the House Democratic Rural Working Group. Later, Sen. Harry Reid dismantled the Senate's rural outreach group, which facilitated Democratic messaging in rural areas. Even if they weren't successful, the dismantling of the groups sent a signal that the Democratic National Committee was focusing on cities. In 2016, the Clinton campaign had only a single staff person doing rural outreach, and that staffer was assigned to the role just weeks before the election…"
"Fact Check: Did Jill Biden Get Booed at Eagles Game in Philadelphia?" [Newsweek]. • Looks at the various videos backing the claim. This one made it out of the right wing fever swamp as far as the Daily Mail, but no farther. I can't get too excited, because Philly fans are notoriously and proudly fractious: "Yes, Philadelphia Eagles fans did throw snowballs at Santa Claus; here's why 'that guy had it coming'."
2024
"October 12-13, 2022 – Harvard CAPS / Harris Poll" (PDF) [Harvard Harris Poll]. From Mark Penn, so not from some wild-eyed radical. This screen shot has been making the rounds, though generally viciously cropped by the Twitter:

The headline is bit deceptive, since the top four would include Sanders. The "Net" column is also interesting. The only net positives (green) are Mike Pence (good 1/6 press), Ron DeSantis, and Tim Scott (South Carolina Senator since 2013). That doesn't bode well for the Democrats in 2024. Trump, Sanders, and Ted Cruz (!!) are net zero. Hillary Clinton and AOC aren't doing well.
Democrats en Déshabillé
Patient readers, it seems that people are actually reading the back-dated post! But I have not updated it, and there are many updates. So I will have to do that. –lambert

I have moved my standing remarks on the Democrat Party ("the Democrat Party is a rotting corpse that can't bury itself") to a separate, back-dated post, to which I will periodically add material, summarizing the addition here in a "live" Water Cooler. (Hopefully, some Bourdieu.) It turns out that defining the Democrat Party is, in fact, a hard problem. I do think the paragraph that follows is on point all the way back to 2016, if not before:

The Democrat Party is the political expression of the class power of PMC, their base (lucidly explained by Thomas Frank in Listen, Liberal!). ; if the Democrat Party did not exist, the PMC would have to invent it. . ("PMC" modulo "class expatriates," of course.) Second, all the working parts of the Party reinforce each other. Leave aside characterizing the relationships between elements of the Party (ka-ching, but not entirely) those elements comprise a network — a Flex Net? An iron octagon? — of funders, vendors, apparatchiks, electeds, NGOs, and miscellaneous mercenaries, with assets in the press and the intelligence community.

Note, of course, that the class power of the PMC both expresses and is limited by other classes; oligarchs and American gentry (see 'industrial model' of Ferguson, Jorgensen, and Jie) and the working class spring to mind. Suck up, kick down.

* * *
Realignment and Legitimacy
"Wall Street Traders or Washington Officials? Sometimes It's Hard to Tell" [Wall Street Journal]. "It's the kind of rapid-fire trading you see on Wall Street: hundreds of stock-market wagers, sometimes peppered with options and other aggressive trades. But this wasn't done on behalf of professional traders. The transactions came from about seven dozen senior federal-government officials who disclosed that they or their families each made more than 500 trades from 2016 through 2021. That totals more than 80,000 transactions while these officials worked in government. These officials accounted for roughly a quarter of all transactions while representing less than 1% of filers in a Wall Street Journal review of financial disclosures by federal officials." • Ka-ching.
#COVID19
• "COVID-19 is Surging Locally and County Data Doesn't Tell the Story" [Erie News Now]. "The latest data released by the Erie County Department of Health for the week from September 26 to October 9 shows 582 cases reported, with a daily average of 42 cases. There were 4 deaths reported between September 20 – 26. Dr. Nadworny said because so many people are testing for COVID-19 with home tests or not testing at all, because they believe they have only a cold or allergy symptoms, the data isn't meaningful. County health officials agree, the data is not a definitive indicator of actual cases in Erie County. Nadworny's early recognition that the virus is shed in our stools, and getting Erie involved in sewage testing for COVID through a company called Biobot is still paying off in giving a picture of how much virus is around locally, and he said it's very high. 'We don't know that we have anything in the area other than the BA-5 family based on the Biobot variant testing as of the end of September, and yet we are seeing a huge surge,' Dr. Nadworny said. And that's really surprising to me, because usually when you have one variant you get a surge, it peaks and then it gradually goes down to be replaced by something else. And yet here we are with another surge coming that appears basically to be the same family." • Hmm. Makes you wonder if BQ.1 is hiding in BA.5, and whether Biobot breaks it out (no, at least in their published data).
* * *
• "In New York, Masks Will Not Be Required at the Opera or Ballet" [New York Times].
Deborah Borda, the president and chief executive of the Philharmonic, said in an interview that the mask rules could change if the virus emerged as a deadly threat once again [(!!!!)]. 'This is an ever-evolving situation,' she said. 'We will stay on top of whatever the current medical protocol dictates.' But for now, she said, it is time to change focus. 'We feel it's important that we do our part to help the city return to a much more normal state of affairs,' she said, 'and to encourage people to come back into the city and to .'"
The amazing doublethink: The same public relations process that will be used to get people to remask could also be used to get people to keep their masks on. So something other than "medical protocol" must be at work, eh?
• Well, there you have it:
Sitting in docs office with no one in masks. "To each his own" I was told.

— Pam Schuble☮️ (@SchublePam) October 18, 2022
* * *
Transmission
Here is CDC's interactive map by county set to community transmission. (This is the map CDC wants only hospitals to look at, not you.)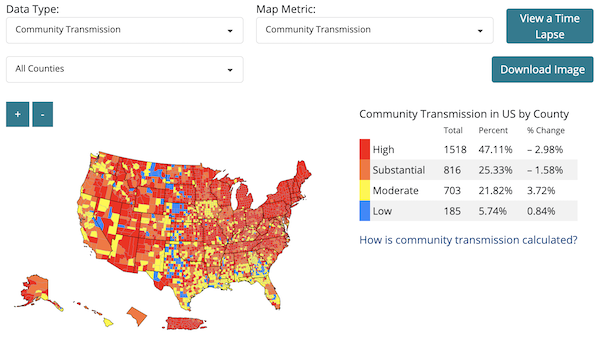 Lambert here: I have to say, I'm seeing more and more yellow and more blue, which continues to please. But is the pandemic "over"? Well….
Positivity
From the Walgreen's test positivity tracker, October 16: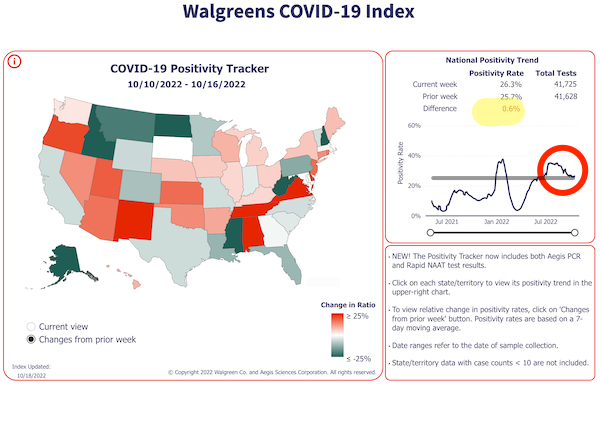 0.6%.
Readers, please click through on this, if you have a minute. Since Walgreens did the right thing, let's give this project some stats.
Wastewater
Wastewater data (CDC), October 14: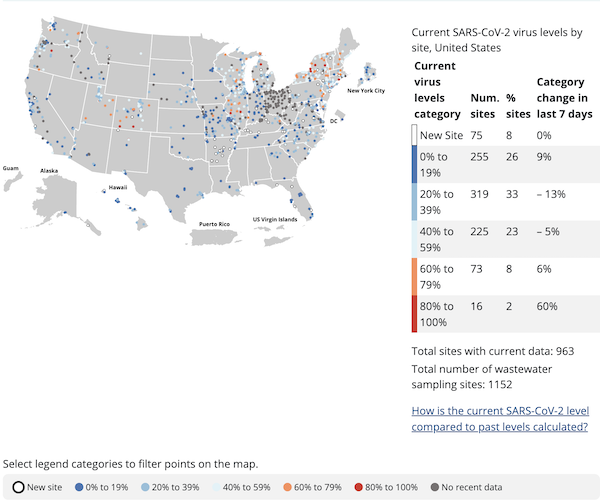 October 11: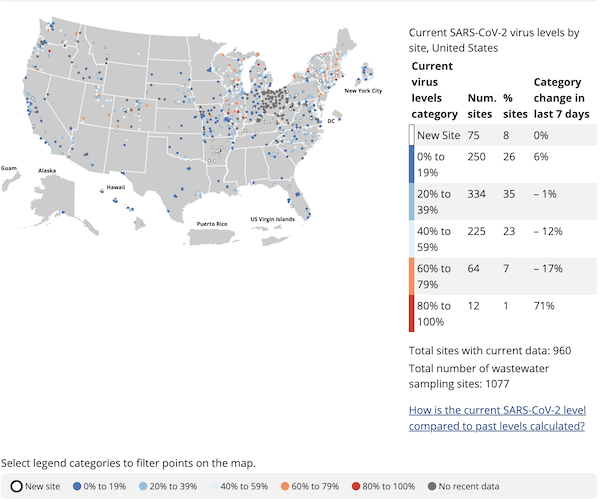 Variants
Lambert here: It's beyond frustrating how slow the variant data is. Does nobody in the public health establishment get a promotion for tracking variants? Are there no grants? Is there a single lab that does this work, and everybody gets the results from them? Additional sources from readers welcome [grinds teeth, bangs head on desk].
Variant data, national (Walgreens), October 1: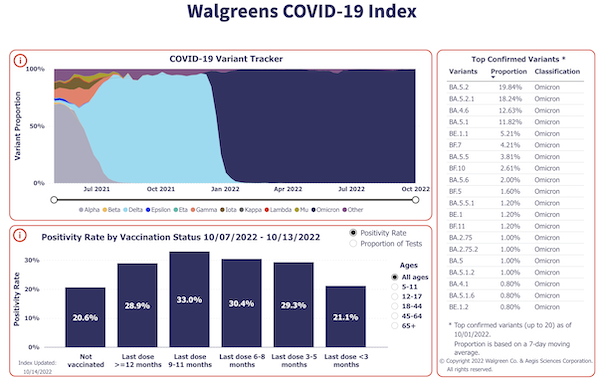 Variant data, national (CDC), September 24 (Nowcast off):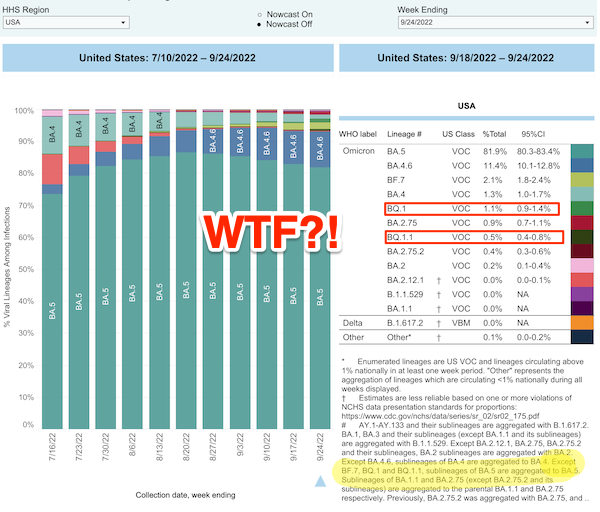 • Seems familiar, like:
BQ.1/BQ1.1 taking off in New York. pic.twitter.com/IXpdz2WwGe

— Diego Bassani, PhD (@DGBassani) October 18, 2022
Deaths
Death rate (Our World in Data):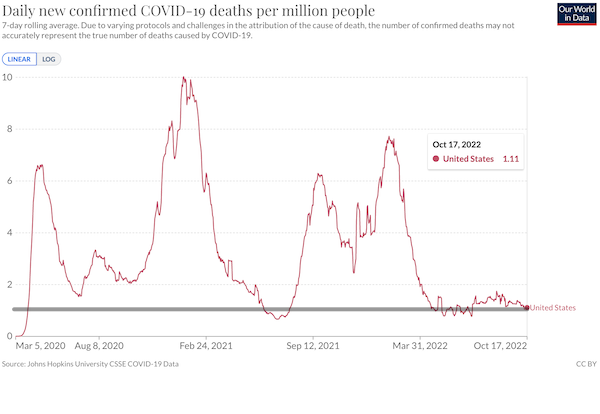 Total: 1,090,802 – 1,090,536 = 266 (266 * 365 = 97,090, which is today's LivingWith™ number (quite a bit higher than the minimizers would like, though they can talk themselves into anything. If the LivingWith™ metric keeps chugging along like this, I may just have to decide this is what the powers-that-be consider "mission accomplished" for this particular tranche of death and disease.
It's nice that for deaths I have a simple, daily chart that just keeps chugging along, unlike everything else CDC and the White House are screwing up or letting go dark, good job.
For grins, here's CDC's excess deaths chart. From October 1: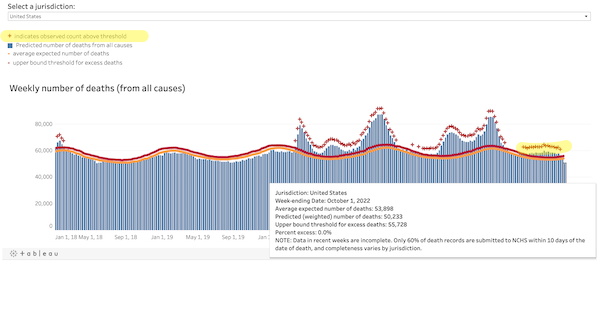 I gave up running this chart because, from the unfixed errors in the caption, it was clear that nobody at CDC was looking at it, so that meant the algo could be off. There's now an elaborate explanation of the methodology. Evaluating it is above my paygrade, but at least somebody looked at it. And there are still excess deaths. I don't see how that can be, when the pandemic is over….
Stats Watch
Manufacturing: "United States Industrial Production" [Trading Economics]. "Industrial production in the United States increased 5.3 percent year-on-year in September 2022, the most since April, accelerating from an upwardly revised 3.9 percent advance in the previous month. Manufacturing output growth accelerated to 4.7 percent from 3.5 percent in August, due to a 6.0 percent jump in the production of durable manufacturing, led by motor vehicles and parts, fabricated metal products, machinery, and aerospace and miscellaneous transportation equipment."
Capital Flows: "United States Net Treasury International Capital Flows" [Trading Economics]. "The United States recorded a capital and financial account surplus of USD 153.5 billion in July of 2022, widening from the upwardly revised USD 22.3 billion in the previous month."
* * *
Energy: "Global pressures on natural gas markets are raising concerns in New England. The region's power producers are preparing for potential strain on the grid this winter… as a surge in energy demand abroad threatens to reduce supplies they need to generate electricity" [Wall Street Journal]. "New England relies on imports to bridge winter supply gaps, and it is now competing with Europe for liquefied natural gas shipments following Russia's halt of most pipeline gas to the continent. It is one sign of the disruption that Russia's actions are triggering in fragile energy markets. Imports of LNG can make up more than a third of New England's natural-gas supply during periods of peak demand because the region lacks pipeline capacity. Jones Act restrictions on vessel transports between U.S. ports makes maritime delivery of domestic supplies economically unviable, so the region relies on gas produced abroad." • Wait, the Jones Act screws not only Puerto Rico but New England? What's up with that?
Labor Force: "The total population of industrial robots in the world has reached an all-time high of 3.5 million, according to the International Federation of Robotics. That doesn't count the growing number of 'service' robots, which basically encompasses every kind of robot that isn't bolted to the floor, including delivery robots" [Wall Street Journal]. "The newest robots have mobility, vision and flexibility that hasn't been possible in earlier automation. DHL Supply Chain has been testing Boston Dynamics' Stretch robot in Memphis, Tenn., and plans to roll out 20 to 30 of them next year to unload trucks."
* * *
Today's Fear & Greed Index: 35 Fear (previous close: 28 Fear) [CNN]. One week ago: 18 (Extreme Fear). (0 is Extreme Fear; 100 is Extreme Greed). Last updated Oct 17 at 1:25 PM EDT. October, and no crash yet.
Zeitgeist Watch
Thanks, Obama!
The sample sizes are small but in the new GSS sexless young men are declining and there's a rise in sexless young women. pic.twitter.com/6JEwF5JYjf

— Matthew Yglesias (@mattyglesias) October 18, 2022
Well, the phenomenon, whatever it is, does seem to start in 2008…. .
Class Warfare
"New York City files lawsuit against Starbucks over firing of employee Austin Locke, who started a union" [CBS]. "New York City has filed a lawsuit against Starbucks over the firing of an employee who started a union. Calling it a groundbreaking case, the Department of Consumer and Worker Production says Starbucks violated the city's just cause protection." • Good, but filing lawsuits isn't the same as union power….
"Amazon workers in New York City win partial revival of COVID-19 safety lawsuit" [Reuters]. "Amazon.com Inc (AMZN.O) must face a claim that it failed to protect New York City warehouse workers and their families from COVID-19, a U.S. appeals court ruled on Tuesday while dismissing the bulk of the workers' 2020 lawsuit. The 2nd U.S. Circuit Court of Appeals in New York reversed a federal judge's ruling that said only the U.S. Occupational Safety and Health Administration (OSHA) had the power to review complaints about Amazon's workplace safety practices…. The case involves workers at an Amazon warehouse in Staten Island that employs about 5,000 people and had become the company's first unionized facility earlier this year. The union campaign was spurred by concerns over worker safety amid the pandemic."
"Surplus" [The New Inquiry]. Excerpt from Health Communism (cf. the excellent Death Panel podcast). "The surplus, or surplus populations, can therefore be defined as a collective of those who fall outside of the normative principles for which state policies are designed, as well as those who are excluded from the attendant entitlements of capital. It is a fluid and uncertifiable population who in fact should not be rigidly defined, for reasons we discuss below. Crucially, this definition also elides traditional left conceptions of the working class or the "worker." As we will describe at length throughout Health Communism, the idea that the worker is not a part of the surplus populations, yet faces constant threat of becoming certified as surplus, is one of the central social constructions wielded in support of capitalist hegemony. Similarly, the methods the state employs to certify delineations between surplus populations constitute effective tactics in maintaining this hegemony. An understanding of the intersectional demands of those subjected or excluded by capital constitutes the potential for building solidarity, which is definitionally a threat to capital. An understanding that the marking and biocertification of bodies as non-normative or surplus constitutes a false, socially constructed imposition of negative value is also a threat to capital. An understanding that illness, disability, and debility are driven by the social determinants of health, with capital as the central social determinant, itself constitutes such a threat. We argue therefore that in order to truly mount a challenge to capitalism it is necessary that our political projects have and maintain the surplus at their center. While the surplus population does contain those who are disabled, impaired, sick, mad, or chronically ill, the characteristic vulnerability of the surplus is not inherent to their existence—that is, it is not any illness, disability, or pathologized characteristic that itself makes the surplus vulnerable. Their vulnerability is instead constructed by the operations of the capitalist state. The precarity of the surplus population is made through what Ruth Wilson Gilmore calls "organized abandonment," the deliberate manipulation and disproportionate dispossession of resources from Black, Brown, Indigenous, disabled, and poor communities, rendering them more vulnerable to adverse health."
News of the Wired
"Phantom Forests: Why Ambitious Tree Planting Projects Are Failing" [Yale Environment360]. "Forest scientists say they are surprisingly frequent, and they warn that failed afforestation projects around the world threaten to undermine efforts to make planting a credible means of countering climate change by reducing carbon dioxide in the atmosphere or generating carbon credits for sale to companies to offset their emissions…. The causes of failure vary but include planting single species of trees that become vulnerable to disease; competing demands for the land; changing climate; planting in areas not previously forested; and a lack of aftercare such as watering saplings… But the very unanimity of support for tree planting may reduce the impetus for detailed audits or critical analysis of what is actually achieved at each project. The paucity of follow-up thus far has resulted in a great deal of wasted effort – and money." • Planting a tree is not the same as growing a forest….
* * *
Contact information for plants: Readers, feel free to contact me at lambert [UNDERSCORE] strether [DOT] corrente [AT] yahoo [DOT] com, to (a) find out how to send me a check if you are allergic to PayPal and (b) to find out how to send me images of plants. Vegetables are fine! Fungi and coral are deemed to be honorary plants! If you want your handle to appear as a credit, please place it at the start of your mail in parentheses: (thus). Otherwise, I will anonymize by using your initials. See the previous Water Cooler (with plant) here. From Amechania's cousin: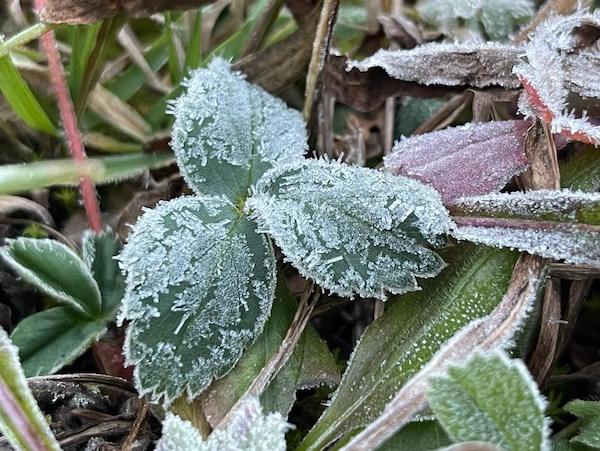 Amechania writes: "No sense crediting it, because my cousin took it. From the state of Colorado, up in the mountains." First frost?
* * *
Readers: Water Cooler is a standalone entity not covered by the annual NC fundraiser. So if you see a link you especially like, or an item you wouldn't see anywhere else, please do not hesitate to express your appreciation in tangible form. Remember, a tip jar is for tipping! Regular positive feedback both makes me feel good and lets me know I'm on the right track with coverage. When I get no donations for five or ten days I get worried. More tangibly, a constant trickle of donations helps me with expenses, and I factor in that trickle when setting fundraising goals:
Here is the screen that will appear, which I have helpfully annotated: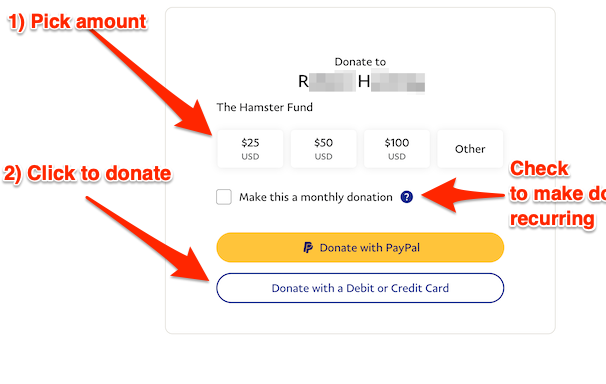 If you hate PayPal, you can email me at lambert [UNDERSCORE] strether [DOT] corrente [AT] yahoo [DOT] com, and I will give you directions on how to send a check. Thank you!