How To Find The Right Compliance Training Solutions In An Exclusive Directory
An exclusive online directory is your search springboard for regulatory compliance training solutions. It gives you all the information you need to compile a shortlist so that you can move to the next stage. Which is to visit vendor sites, submit RFPs, and hire them for sample projects. As well as gather more social proof so that you know what you're getting into. The catch is that you need to know how to evaluate listings to get the most from niche directories. Just like any other reference tool, reading between the lines is essential. How do you know what to look for and what should you to do prep beforehand?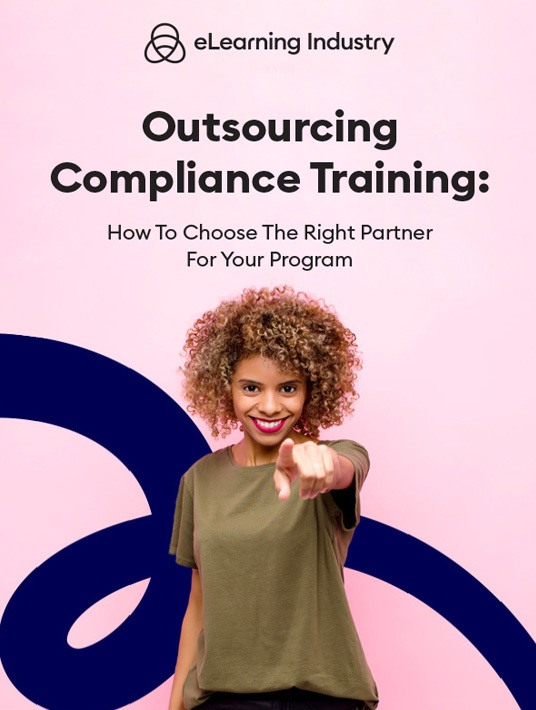 eBook Release
Outsourcing Compliance Training: How To Choose The Right Partner For Your Program
This guide will help you outsource with ease and choose the best partner for the job.
7 Top Tips To Use A Corporate Compliance Training Directory
1. Identify Your Compliance Training Requirements
Before you start the search, you need to know what you're looking for. What are your compliance training requirements and how can an outsourcing partner help you address gaps? Is there a deal-breaker that immediately takes vendors out of the running? For example, you won't even consider solutions providers that lack industry experience. This is also a good opportunity to conduct a training needs analysis and get employee input. Evaluate LMS metrics, surveys, and assessments to identify potential compliance risks.
2. Use Built-In Search Filters
An exclusive directory saves time, but it can still take a while to review all the listings. This is why built-in filters are essential. They cover all the evaluation criteria, from customer type to industry. You can even sort listings by rating to see which vendors earned high marks from clients. One of the most beneficial filters is solutions. You're able to select training activities or services that matter to your organization. As an example, you're looking for companies that offer custom content versus off-the-shelf training.
3. Evaluate Vendor Solutions
When you click through to a listing, you automatically see the company details and solutions list. In fact, regulatory compliance training vendors are able to highlight which services they offer, and the other options are grayed out. That makes it easy for you to zero in on providers that meet your requirements. The solutions overview is one of the main reasons why you should use an exclusive niche-specific directory. As these sites understand your unique buying needs and expectations. Not to mention, the most sought-after solutions that organizations consider for their L&D programs.
4. Read User Reviews
Read what clients have to say about the vendor and their service. In the exclusive directory, users have the chance to highlight all the pros and cons of their experience. They can also provide a summary statement to put things into perspective. At the bottom of each review, you'll find project details. This includes their industry, company size, level, focus, and experience with the company. So, you can concentrate on reviews that align with your use case. For instance, you have a similar staff size and you're in the same niche. So, their review carries more weight in terms of your compliance requirements and scope.
5. Analyze Performance Overviews
If you don't have time to look at individual ratings, at least check out the performance overview. It consists of all the star ratings left by users, ranging from likelihood to recommend to value for money. You can also see how the content provider communicates and adheres to deadlines. As well as the quality of their service and responsiveness. Finally, analyze the overall rating to choose a vendor with a proven track record.
6. Focus On Specialization Areas
Your primary focus is compliance online training. However, you may need additional L&D content for your remote team. Or even related training solutions to enhance your compliance program. As an example, you need vendors that specialize in the health and safety sub-niche. Maybe you need a risk management consultant to help you identify gaps beforehand. Every directory listing includes specialization areas so that you can find a vendor that handles everything. Instead of having to hire multiple eLearning content providers to deal with specific outsourcing tasks. That said, you should include all these specialties in your RFP so that vendors can determine if they're a good fit. In other words, don't hire them for compliance and then expand the project to include onboarding at the last minute. They may not have the expertise, time, or tools to take on the extra work.
7. Compare Top Solutions
Top directories feature comparison tools so that you can evaluate options side-by-side. Choose up to 3 vendors for a detailed overview, wherein each vendor gets their own column. Option 1 may have more industry background experience, but option 2 delivers more targeted solutions. Then again, option 3 has higher ratings. To make the most of the comparison tool, have your evaluation criteria on hand. That way, you can go through every item on your list and see how each provider fares in their category. Whether it's customer type or content design development.
Conclusion
A compliance training solutions directory is a great way to kick-start the selection process. However, it's not the only resource that's available. In fact, you should check out online guides, eBooks, and articles to make the best buying decision. Also, don't forget to look for directories with fraud prevention. For example, users need to create an account to leave a review, just as corporate compliance training companies must register to add their listings. That way, you know you're getting reliable information instead of biased ratings.
Download the eBook Outsourcing Compliance Training: How To Choose The Right Partner For Your Program to find the best content provider for your needs.