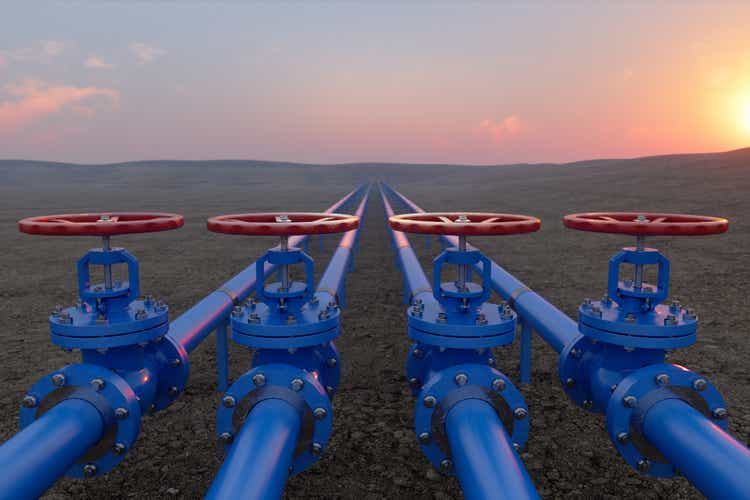 U.S. natural gas futures fell sharply Monday to the lowest in nearly three weeks, as analysts cited record production and forecasts for cooler weather over the next two weeks than previously expected.
Front month Nymex gas for September delivery (NG1:COM) settled -5.9% to $7.589/MMBtu, the lowest since July 19, as temperatures begin to cool down a bit, and gas production approaches all-time highs.
ETFs: (NYSEARCA:UNG), (UGAZF), (DGAZ), (BOIL), (FCG), (KOLD), (UNL)
"Strong selling is attributed to cooler weekend trends for mid-August and U.S. production remaining healthy at near all-time highs of 98B cf/day," NatGasWeather.com said.
The front-month U.S. natural gas price has doubled YTD as sky-high prices in Europe and Asia – which accelerated after several countries cut their use of Russian gas following the invasion of Ukraine – feed strong demand for U.S. liquefied natural gas exports; on Monday, gas was trading at ~$57/MMBtu in Europe and ~$44/MMBtu in Asia, according to Reuters.
Russian gas exports on Nord Stream 1 and the two other main pipelines into Germany held at 2.5B cf/day on both Saturday and Sunday, compared with an average of 2.8B cf/day in July and 10.4B cf/day in August 2021.
Freeport LNG, the second-biggest LNG export plant in the U.S., was shut by a fire on June 8; it now expects to return to at least partial service in early October.