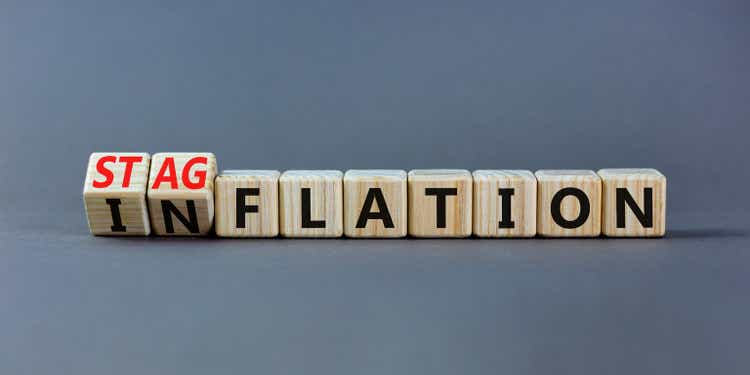 Inflation, Federal Reserve policy tightening, and geopolitical turmoil are cooking up a recipe for stagflation — when inflation and low or no economic growth coincide — said Sumit Handa, managing director at investment firm Pennington Partners.
Due to a mix of factors, the typical relationship between stock markets and bond markets has broken, he said. Typically, bond markets fall when stock markets rally and vice versa. But for the first half of 2022, both stock and bond markets sold off, then in July they both rallied, he points out.
So where to invest? Handa doesn't rule out the stock market. During stagflation in the '70s, "value-oriented strategies did very well," he said. "So did commodities, and so did inflation-related assets."
Meanwhile, utilities, telecom, staples and technology fared poorly during the `70s, he said. "Now if this environment, this stagflationary environment continues, there will be more and more dollars going into more value-oriented and commodity-like strategies," Handa said.
What may not sound intuitive, though, is that value can be found in the technology sector as well. A recent example is PayPal Holdings (PYPL) Activist fund Elliott Investment Management took a stake in the payment firm and started talking with the payment tech company's management. On Aug. 3, the day after PayPal (PYPL) announced a pact with Elliott, a $15B stock buyback, better-than-expected Q2 results and boosted its guidance, its stock climbed 9.3%.
"So this is an example of even though technology in a stagflationary environment generally does not do well, it can do well," he said. "There are examples where activists are coming in to try to press companies and work with them because they realize there's inherent value in these businesses."
Handa doesn't recommend specific securities, and his firm often invests in privately held companies, but he points to sectors that he expects to perform well in the currently challenging environment. That includes energy, not just green energy and renewables, but "we still need fossil fuels. And so it is an economic priority for all countries," he said. The data and data security sector also stands to benefit. "We like that space as well."
And as pandemic lockdowns in China and geopolitical turmoil make acquiring supplies from other parts of the world more uncertain, "manufacturing should pick up again in the United States again," he said.
For related investment ideas: Merk Stagflation ETF (STGF); Industrial Select Sector SPDR ETF (XLI), or stocks included in the ETF, such as Raytheon Technologies (RTX), Honeywell International (HON), Lockheed Martin (LMT); Materials Select Sector SPDR EETF (XLB), or stocks included in the ETF, such as Linde (LIN), Newmont (NEM), Air Products and Chemical (APD), and Freeport-McMoRan (FCX).
Previously (June 30), Jefferies likes data center, tower, industrial, senior housing REITs as stagflation risks rise