I love San Diego! Take the train, fly or drive about two hours south of Los Angeles and here you are, in southern California, a stone's throw from Mexico.
For those of a certain era (ahem), San Diego is most famous for Top Gun. For other people it's famous for SeaWorld San Diego and the Zoo, but these days I boycott SeaWorld and also found San Diego Zoo a bit traumatic after seeing a polar bear in his tiny concrete quarters several years ago.
This post features the best things to do in San Diego – without those last two (nor San Diego Zoo Safari Park).
But yes, you have to have a Top Gun fix while you're here! In fact read on, because I'll take you to the "Great Balls of Fire" restaurant where you can get on the piano Goose played!
We tootled down the coast in three picturesque hours by train from Los Angeles with the Pacific Ocean lapping on our right to San Diego, nicknamed America's Finest City.
The San Diego climate is warm year-round with temperatures between about 10˚C and 25˚C (50˚F to around 80˚F) making it an ideal winter vacation spot if you're not wanting to hit the ski slopes and features on this list of warm places to visit in February.
*This post contains affiliate links. If you make a purchase I will earn a small commission, at no extra cost to you.
So here are my picks for the best things to do in San Diego for first-timers:
1. Hang out in Gaslamp Quarter
This historic downtown San Diego neighbourhood covers 16 blocks and home to 94 beautiful Victorian historic buildings. It was built circa 1880 and dotted with, you guessed it, gas street lamps.
This is where you go for shopping, eating and a vibrant nightlife. It's also near the Padres ballpark so fans congregate in one of the many bars, clad in their team strip, to down a few beers before (and after) the game.
FYI: when you visit San Diego, you're a fan of the Chargers in football season, or the Padres during the baseball months.
The shops open about 11am till late and with 145 restaurants and nightclubs with every taste from tapas to Italian, dance floors to cocktail lounges, you'll not be disappointed.
This would be a fun part of town to stay in too. See my recommendation for which hotels to stay in further down.
2. Visit Kansas City Barbecue
This is your Top Gun moment! If you're looking for the Top Gun bar, it's located opposite the Manchester Grand Hyatt (where we stayed a couple nights in the Gaslamp Quarter).
Kansas City Barbecue not only has great barbecue but if there's a game on you'll be all amongst it. AND this is the bar made famous in the 1986 hit movie Top Gun.
You remember the scene where Meg Ryan and Goose sing Great Balls of Fire before her iconic line, "Goose! Take me to bed or lose me forever"? It was filmed here. The best decision the owners made, they say.
Today the bar is filled with movie memorabilia as well as police patches from all over the US and beyond. And as I was traveling with my husband, aka the Thin Blue Line, we added the New Zealand police shoulder flash to the wall. Prizes for anyone who can find it!
3. Tour the USS Midway Museum
The USS Midway Museum is one of five aircraft carriers that are now retired and laden with fighter aircraft. This will enthral every male no matter his age – and doesn't do too badly with females either. I loved it!
You can buy skip-the-line tickets online which gets you an audio tour on a supplied headset and off you'll go, climbing up narrow ladders and through hallways, past crew sleeping quarters and onto the flight deck where several planes are parked including the Skyhawk alongside the Top Gun F14 Tomcat.
I don't want to stereotype, but you could send the boys here while you try a massage or hit the shops if planes and ships are not your thing?
4. Swim with sharks
You can actually swim or snorkel with leopard sharks for free at La Jolla Beach, San Diego! And there's nothing to fear, these guys are harmless. Also known as the tiger shark, they grow to four or five feet long and spend about six months each year here to feed and breed.
The best time to see them – or jump in and swim with them – is from June to the end of September/early October, with August being the peak. But don't worry if you're here at other times, as there are typically more than 100 here year round and you can even take a boat tour to snorkel with them.
They typically hang out in the shallow waters of La Jolla Cove looking for food and a mate and are more scared of you than you are of them! There are life guards and as with any wild animal, you're not allowed to touch them.
If you don't have your own snorkelling gear you can join a local tour company and rent theirs. If you want to get out in the water, you will love this sea kayaking tour with a local guide.
5. See an old fashioned drive-in movie
If you're looking for things to do at night in San Diego, drive-in movies are having a renaissance! But if you are like us and took the train to San Diego from Los Angeles, you'd have to rent a car for the night just to see the movie(!)
For those of you with wheels, this is a fun night out in America's finest city. Not to mention, just the ticket for social distancing!
There are two drive-in movie theatres in San Diego: Santee Drive-In Theatre, since 1962 but now with digital screens and sound. It's open seven nights a week no matter the weather. Bring your own food or buy burgers and snacks on site. Sound is broadcast on your car radio – so make sure it's working.
And South Bay Drive-In Theatre, since 1953, 20-minutes from San Diego. It's been upgraded with three 100-foot digital screens and sound and also sells snacks and food. Sound is via your radio, so they suggesting bringing an FM radio lest your car battery run flat. FYI, both theatres have jumper leads!
6. Visit Old Town San Diego
For the best Mexican food this side of the United States/Mexico border!
The winner of the best Mexican restaurant in San Diego for 18 years in a row is Café Coyote. They have over 100 different tequilas, although by no means the largest on the street, apparently. It's the busiest restaurant on this one street that makes up the tourist part of Old Town San Diego.
Our server recommended his favourite dishes so we had the El Ray – carnitas carne asada (pork and beef) served with refried beans, rice, guacamole and sour cream to fold into fajitas. It was delicious. We also got chipotle camarones – a spicy dish of large shrimp sautéed in a chipotle cream sauce and served with refried beans and rice.
There are a lot more things to do in Old Town San Diego than just food though! Make some time to shop, get amongst the history, take in some live music and if you strike it right, some cool events might be on.
7. Hit the beach!
There are 31 beautiful beaches to choose from in San Diego. Some are great for families and others can be quite dangerous with known rips. Before you choose which one to go to, read the full list of county beaches at SanDiego.org.
Some are great beaches for camping, some you can swim with sharks like I've said above. Surfers love Coronado Beach which is dotted with volleyball nets. Coronado Beach actually sparkles, thanks to minerals in the sand.
For real volleyball action, head to Ocean Beach.
You'll also find surf at Cardiff State Beach, Coronado Beach North, Garbage Beach, Imperial Beach, La Jolla Shores, Mission Beach South, San Elijo State Beach (which is also a great spot for California beach camping), Swami's Beach Park, which are popular spots for experienced surfers.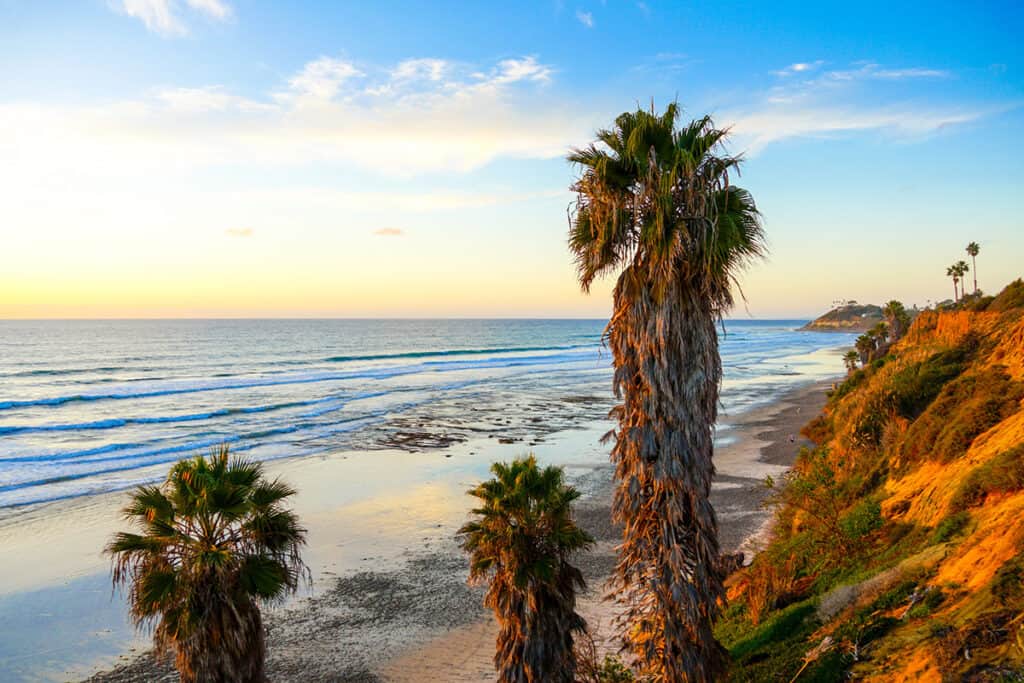 Local surfers will be found at D Street Beach and Windandsea.
Sandcastle lovers should get along to Imperial Beach during the annual summer Sun & Sea Festival to see amazing sand art – and be inspired with take home ideas for your own buckets and spades!
Or eat, shop and relax at Pacific Beach. This beach is north of Mission Beach and great for exercising, cycling, eating and drinking!
Behind Mission Beach is Mission Bay. This is man-made bay is edged in parks and beaches and home to hiking trails. It was controversially created from 2,000 acres of wetlands and has changed the ecology of San Diego with brackish salt-fresh water. The Mission Bay Yacht Club is based here and it's a hugely popular location for water and land sports.
8. Visit Little Italy
I'm a huge fan of Italian food, so Little Italy is definitely on my San Diego must-visit list. It was a predominately Italian and Portuguese fishing village located in downtown San Diego, which has now been gentrified into a hip urban, historic neighborhood. It has been here since the 1920s.
It is probably most famous for the Wednesday and Saturday Little Italy Mercato Farmers' Market, where San Diego locals come for produce and artisan products on pedestrianised W Date Street between India and Colombia Streets, from 9.30am-1.30pm. (There is also a Sunday market downtown in Chula Vista at the Third Avenue Village Market from 10am to 2pm.)
During the rest of the week you'll find a trendy bar scene with cocktail bars, brew pubs and restaurants spilling into outdoor dining areas and shop at the boutique clothing stores.
If you want to get a great overview of the best of Little Italy, take a walking and eating tour. Go with a local foodie and be taken to the best places to try Italian food, while learning about the area and taking in all the vibrancy and charm and getting plenty of selfies in piazzas dotted with water fountains.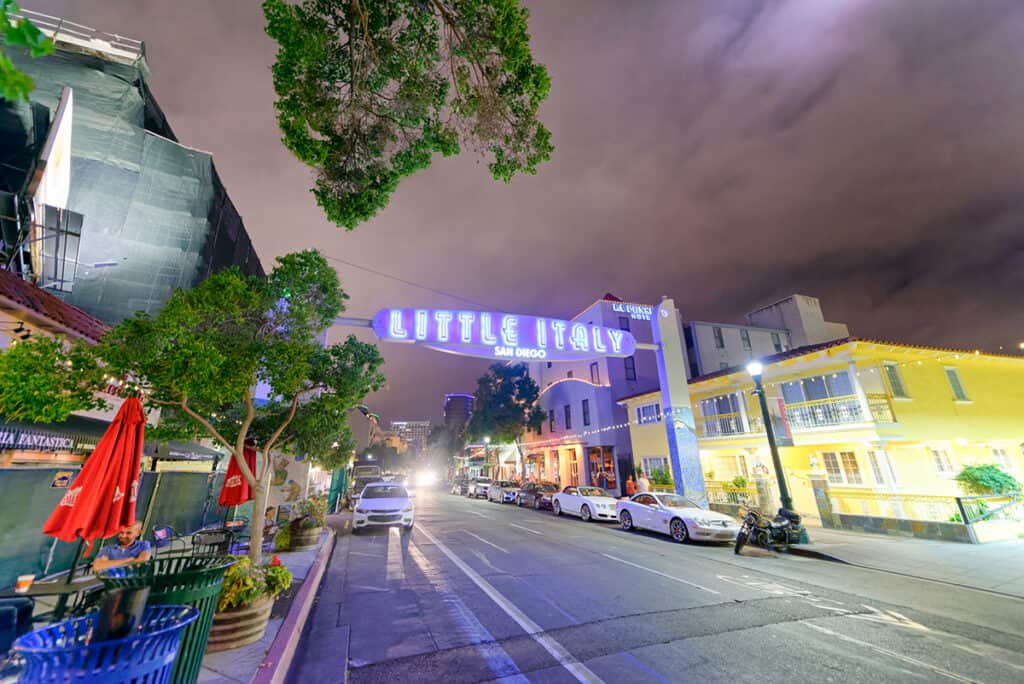 9. Get to a Padres game!
One of the most fun things to do in a new city is to catch a game. We love live sport, hubby and I, and try to include a game wherever we go. We even went to Chicago purely to see the New Zealand All Blacks rugby team play. Twice!
We've seen the LA Dodgers, the Houston Astros, the Anaheim Angels, the Texas Rangers, Memphis Grizzlies v OKC Thunder, the Florida (formerly Miami) Marlins, and over in Philly we went to a hockey game (my first ever!) and saw the Philadelphia Flyers play the New York Rangers.
The Padres MLB home ground is the spectacular Petco Stadium, which has also hosted concerts by the Rolling Stones, Madonna, The Eagles and other huge acts.
The cool thing about this baseball stadium is the concourse is open all the way round and fans also get treated to views of San Diego Bay and the skyline at this 40,000-seat stadium.
10. Visit Cabrillo National Monument
For those of us who're not used to Spanish words, it's pronounced Cab-reee-oh.
In 1542, Juan Rodriguez Cabrillo, a Portuguese navigator from Spain, landed in the United States at Ballast Point in San Diego Bay and at the southern tip of Point Loma Peninsula a monument was erected in 1949 to memorialise the first landing of a European expedition on US soil.
There is also a lighthouse up here and the views are spectacular. Plan to spend a couple of hours to a half day – even bring a picnic – and make time for walking along the cliffs and down at the beach at low tide to play in the tide pools.
You might like to consider buying a National Park Pass and enjoy access into all the US national parks, including Joshua Tree National Park, nearby in Palm Springs.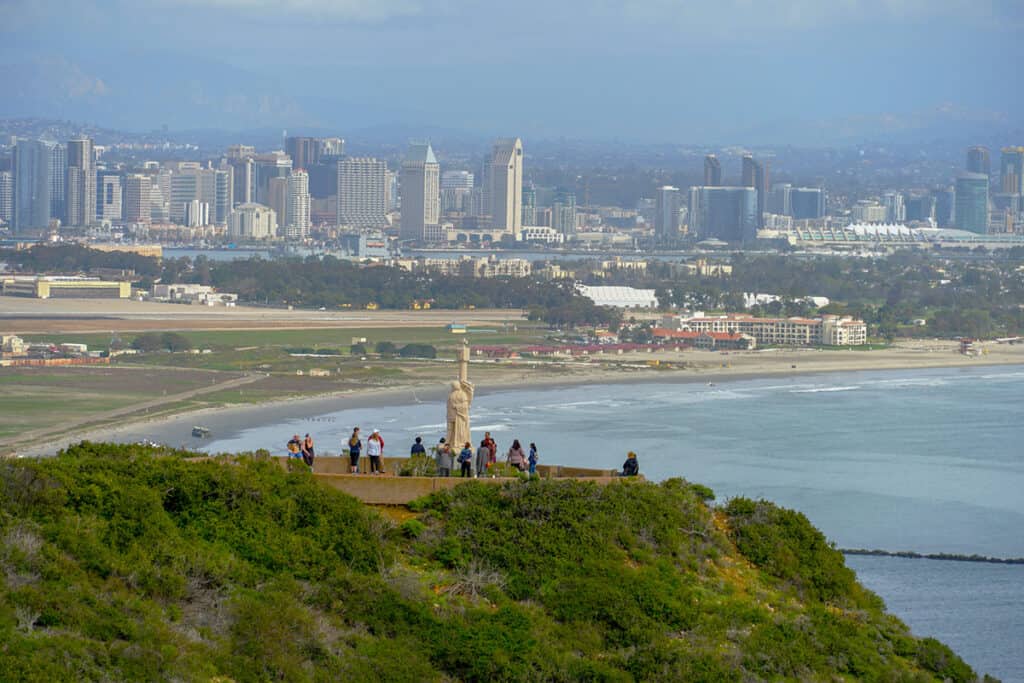 11. Have fun at Belmont Park
Belmont Park is a great place for the whole family!
This waterfront park is San Diego's beachfront theme park located at Mission Beach. It's most famous for the historic Giant Dipper roller coaster (which originally opened in 1925) and has all the boardwalk food and attractions we know and love for a fun day out!
There are also several restaurants for burgers, tacos and beers (and yes dippin' dots!) and loads of activities like mini golf, rock wall climbing, wave riding, lazer tag, more whizzy head-spinning rides and some gentle ones for the little kids.
Parking and admission is free, and you pay for the rides.
Pro tip: stay for sunset and sushi at Cannonball's rooftop terrace.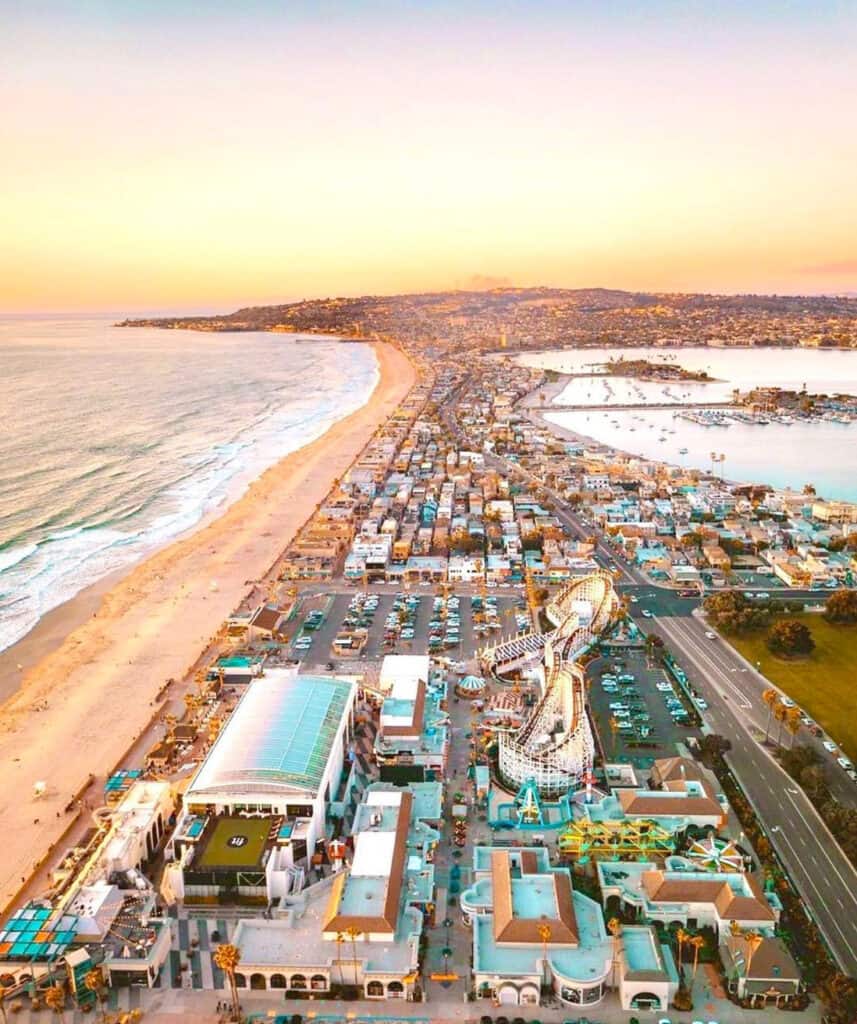 12. Air and Space Museum
Keeping with the Top Gun theme that had me fan-girling the first time I visited San Diego, true air and space fans will want to visit the San Diego Air & Space Museum in the Ford Building at Balboa Park.
This museum is affiliated to the Smithsonian Institute's Air & Space Museum in Washington DC and houses a collection of historic aircraft and space craft from around the world, including the actual Apollo 9 Command Module spacecraft which was flown in space.
You can also dual in an interactive flight simulator ride and get your inner Maverick on.
Parking is free. Admission is by ticket.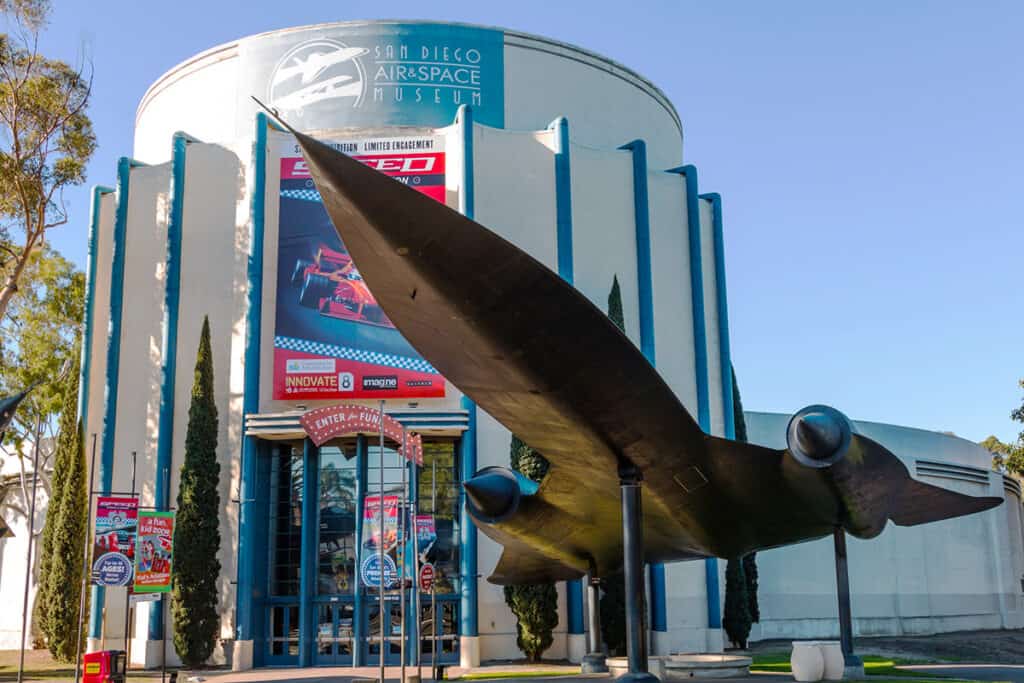 13. Visit San Diego Museum of Art
Art lovers will want to make time for the SDMA at Balboa Park. This fine arts museum is home to Spanish and Italian old masters, South Asian paintings and 19th and 20th century American paintings and sculpture.
There are pieces here dating from 5,000 BC to 2,012 AD and it's well known and respected for its collection of Spanish work.
They regularly host events that include lectures and musical performances as well as the wonderful sounding Culture & Cocktails (this sounds like me!), Film in the Garden, and Art After Hours. They also run Summer Camps, Teen Summer Studios, and family Drop-in Days with fun activities for your young artist.
Admission is free for under 17 years.
How to get around in San Diego
If you don't have a car and it's your first time visiting San Diego, I'm a big fan of the good old hop-on hop-off bus tours. I always advise people to get a two-day pass and that way they can stay on it on the first day to get their bearings of where everything is located, and tomorrow you'll know where you want to hop off.
I usually head straight upstairs for the views, plug in the little earbuds and off we go. Sometimes I might get off (if I'm hungry) and then wait for another bus to come along so I can tick off all the best places in a city, and make a note of the ones worth coming back to.
Where to stay in San Diego
Book a bayside bungalow at Paradise Point, in the middle of Mission Bay, where the sand is literally at your front door. Light a fire in the fire pit in the evening and sit there making s'mores you can buy from the hotel store.
This is such a luxurious spot. We stayed here during our honeymoon and absolutely loved it.
This hotel is my pick for being close to everything you want downtown. You can walk everywhere.
Plus it's on the water with great views of the bay and right beside Seaport Village for boutique shopping and outdoor dining.
They also have a rooftop pool area with hot tubs and a children's playground.
Read more: San Diego and nearby Coronado both feature in my post of 12 marvelous day trips from Los Angeles!
Read more: Do you love the idea of beach camping? This post covers some gorgeous places for beach camping in California for your tent or RV.
You might also like to read my post on driving the Pacific Coast Highway from Los Angeles to San Francisco!
We took a fabulous 5 days to drive from LA to San Francisco and this post is an epic day-by-day itinerary that you can simply copy or pick and choose.