Utah. The name that evokes images of giant red cliffs, deep mysterious canyons, and wild running rivers.
It's home to some of the most desolate wild lands in the western United States and some of the most jaw dropping natural beauty in the world. And the best part? Many of its hidden gems are accessible by a short drive to a campsite or trailhead!
For any adventurer, a Southeastern Utah road trip is an absolute must. The access to the many national and state parks, plus the availability to get way the heck out there for some of the most brilliant star gazing you've ever seen makes for a trip that will make memories to last a lifetime.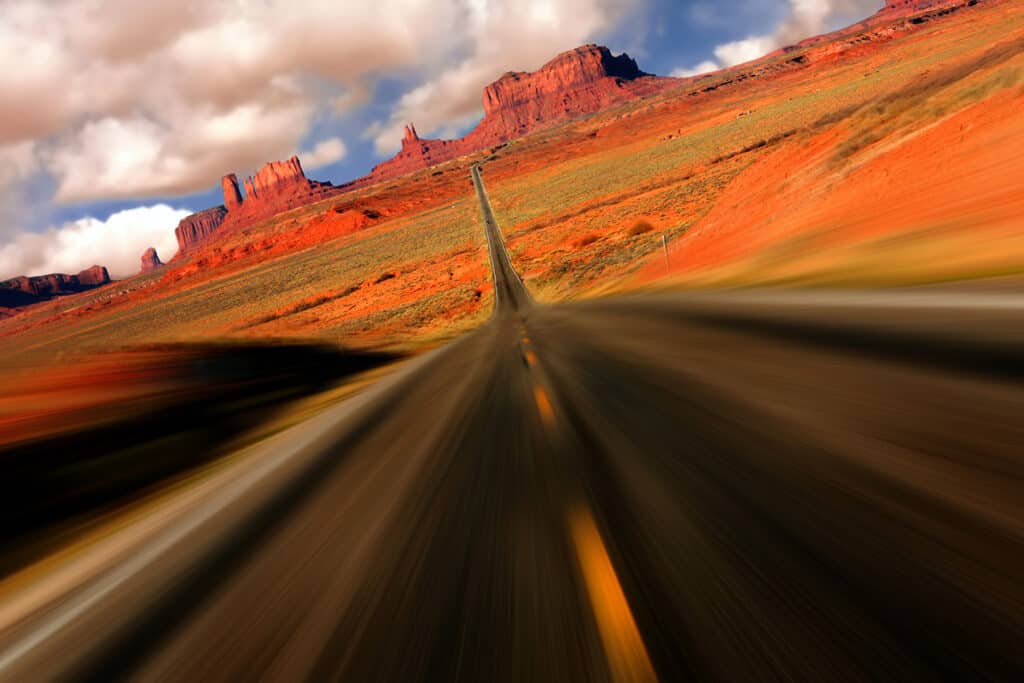 Whether you're in the process of trying to figure out where to take your next epic road trip or you're dead set on exploring the wonders of Southeastern Utah already, you'll learn about the can't miss spots to visit throughout this geologically and historically diverse land. Let's get started!
We've also got the Ultimate Southwestern Utah road tip Guide if Zion and Bryce are where you want to go.
National Parks in Southeastern Utah
Southeastern Utah is home to three of the Mighty Five national parks: Arches, Canyonlands, and Capitol Reef.
The other two, Zion and Bryce Canyon, are covered in my Ultimate Southwestern Utah guide.
Bring your camera because these parks all offer some of the most spectacular rock formations to view from either the road in the comfort of your car or up close and personal via your own two feet! 
Moab is a great destination to refuel on gas and food as there are tons of easily accessible gas stations as well as some pretty amazing restaurants here.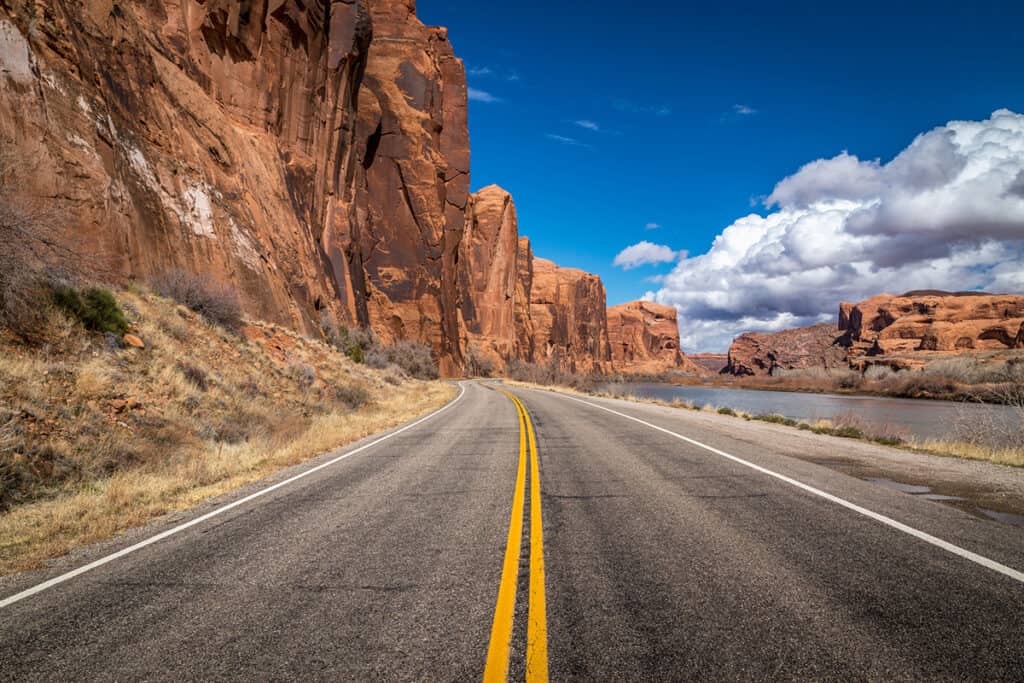 Once you're done filling up in Moab, your first stops are going to be to Arches and Canyonlands national parks as they are located within minutes of downtown.
Then once you've gotten your fill of the wonders in both parks, the next stop should be Capitol Reef. It's a bit of a drive from Moab at around two hours, but you'll drive through some of the most gorgeous red stone desert in the state as you make your way southwest from Moab along State Highway 149.
Arches National Park
This is the stuff of magazine covers and postcards! One of the most famous features of Utah are the impressive red sandstone arches that draw crowds from all over the world from sunrise to sunset.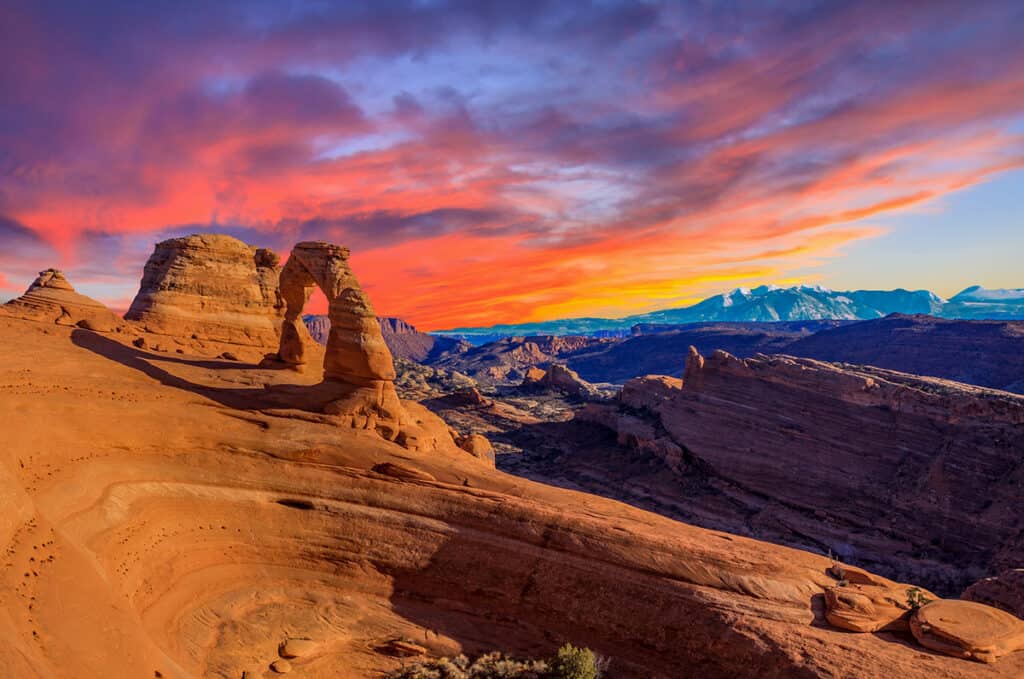 The most famous and impressive of all of these arches reside in appropriately named Arches National Park!
There's currently a timed-entry permit required to enter Arches which you can pick up here. 
Some of the can't miss arches here include:
Delicate Arch
Double Arch
North Window Arch
South Window Arch
Landscape Arch
Each one of these arches requires a little bit of hiking to get close to, but man is the trip worth it!
The biggest tip to viewing each of these awesome geological wonders is to get there early! Especially for Delicate Arch, you want to be in the parking lot before the sun rises as the lot gets full quickly.
While you can absolutely do a lot of Arches National Park in a day, there are plenty of camping spots here to extend your stay for as long as you like. Within Arches National Park there are a total of 51 campsites.
Just remember to responsibly travel through these areas and only set up in spots that have obviously been used before to minimize your impact on the land. We want to keep these places pristine for years and years of use in the future!
Where to stay in Moab
Under Canvas Moab, is a luxury tent resort open March through to October, just seven miles north of Moab near Arches and Canyonlands National Parks. It's desert glamping for those who want to be close to nature and enjoy the local mountain biking, climbing, hiking – or just relax by the pool!
Best Western Plus Canyonlands Inn, comes with a swimming pool, hot tub, gym, in-room coffee maker and a fridge for your bottle of wine (ok, or milk for your breakfast tea!) You're about 40 minutes drive from Dead Horse Point State Park, Moab Adventure Center is a 5-minute walk from this hotel, and Millers Shopping Center is 1.6 km away.
Red Cliffs Lodge, has rooms facing the Colorado River and is surrounded by majestic 2,000-foot red cliffs. Rustic, comfortable suites and cabins with modern comforts and spectacular water views. Dine at The Cowboy Grill, or ask for a box lunch to take with you on the go.
Sorrel River Ranch Resort & Spa, is an adventure-driven riverside ranch retreat set among 240 acres of Utah's iconic arches, canyons and red-rock mesas with views of the Colorado River. They have an on-site adventure team to make bookings for you within the resort and with other operators.
Big Horn Lodge, Moab, located in the Heart of Canyonlands and four miles from Arches National Park. You can keep your mountain bike in your room at this lodge, and pet-friendly rooms are also available. Dine next door at the Moab Grill.
Canyonlands National Park
Canyonlands is one of the most fascinating places in all of Southeastern Utah. It's home to one of the most expansive and desolate canyon systems in the entire state!
Its depths were formed from millions of years of erosion from the two major rivers that flow through it: the Colorado and Green Rivers.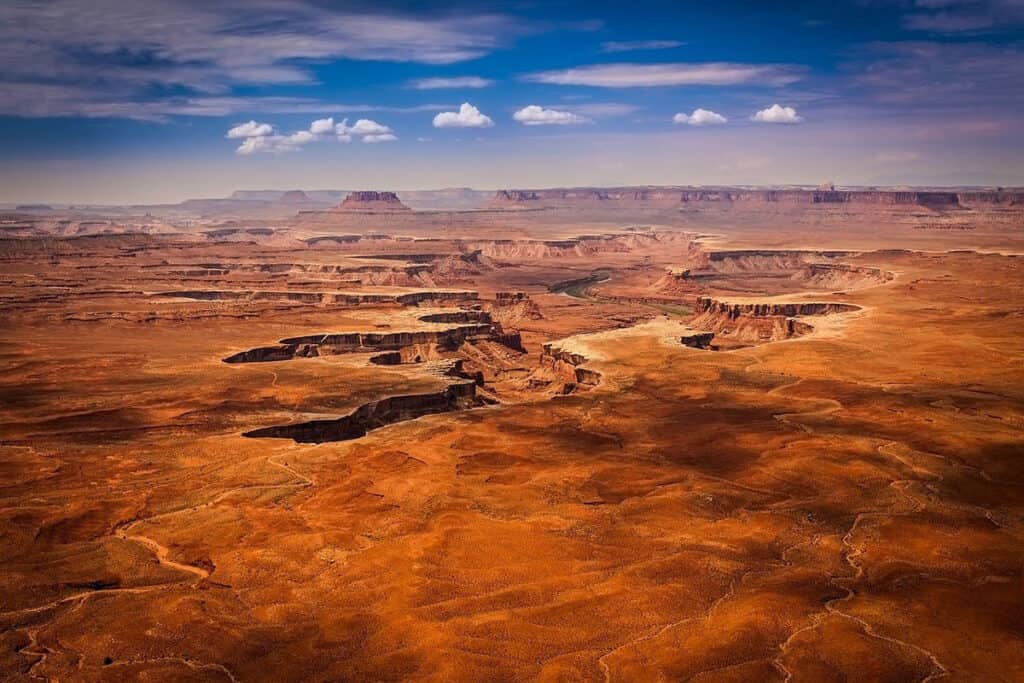 In fact Canyonlands is one of the most historic parks in Southeastern Utah. The confluence of the Colorado and Green River, found inside of Canyonlands, is where the famous explorer John Wesley Powell joined the Colorado after starting his expedition to survey the Colorado River to the end of the Grand Canyon in 1869.
You can easily view the confluence and see the exact same rock formations that Powell and his team did all those years ago from the main paved road that extends the entire length of the top of the park.
There are a few amazing overlook points that you can access from the park's Island of the Sky main entrance at the top of the canyons. The can't miss overlooks include:
Grand Viewpoint Overlook
Green River Overlook
Upheaval Dome
Druid Arch
Big Spring Canyon Overlook
But if you're wanting to get the most out of your trip to Canyonlands, you gotta bring an off-road vehicle!
There are tons of adventurous miles of trails to explore inside of the canyons, including the most famous trail in all of Canyonlands: The White Rim Trail.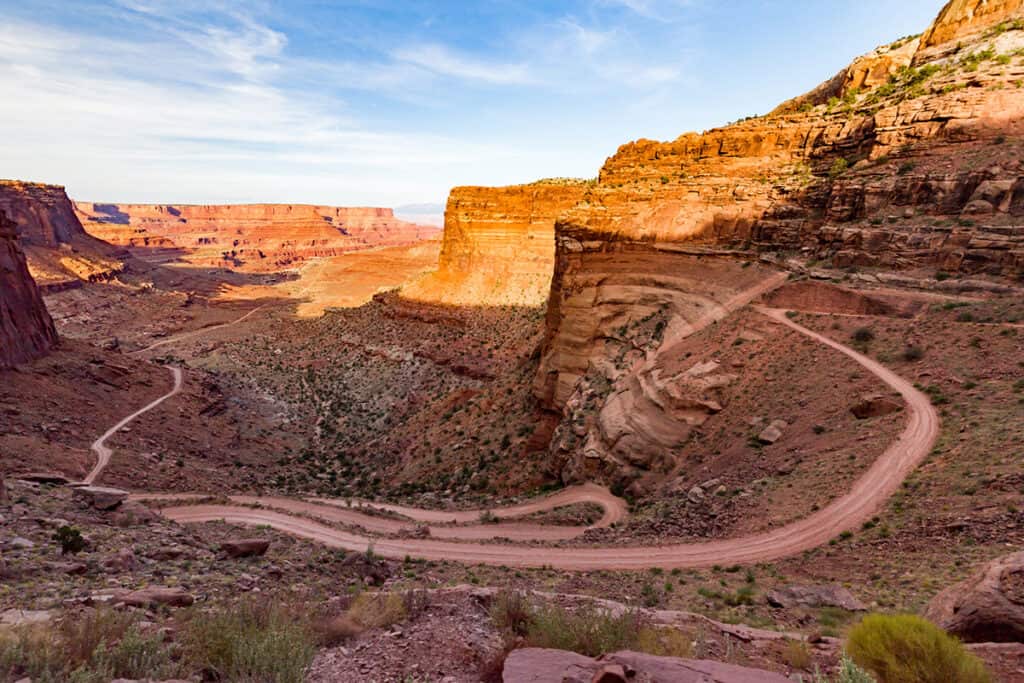 This 100km long trail is best experienced over a two-day trip as you'll see some of the most brilliant stars you've ever seen in your entire life.
Forever Mighty is actually encouraging travelers to experience these places with a guide. You can find more information and recommendations on taking a guided tour at Discover Moab.
Note: if you're travelling on your own, be sure to pick up a permit to drive 72-mile The White Rim Trail before you arrive to make sure that you follow the regulations set by the park.
Capitol Reef National Park
The most common thing that people say after visiting Capitol Reef National Park is "I wish I had budgeted more time to spend here!" Capitol Reef is one of the most under-rated of Utah's Mighty Five national parks and when you visit, you'll understand why!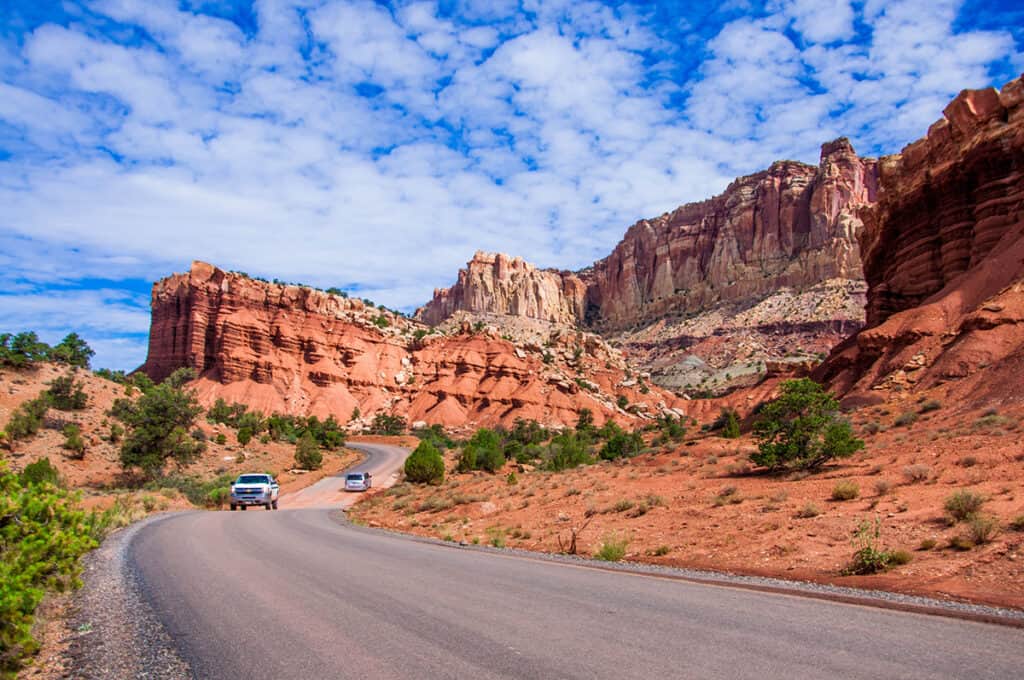 Hikers will absolutely fall in love with the number of amazing trails to hit while visiting Capitol Reef. The ones you won't want to miss are:
Hickman Bridge Trail
Cassidy Arch Trail
Grand Wash Trail
Chimney Rock Loop Trail
Cohan Canyon Trail
Each of these hikes takes you through some of the most spectacular red sandstone formations in the entire state! Plus, there are plenty of areas that are great viewing opportunities for wildlife.
The most common wildlife sighted in Capitol Reef are mule deer, desert big horn sheep, and marmots (if you've never seen a marmot, they are probably the number 1 reason why you want to visit. They're a bit like Australia's quokkers – and so cute!)
Camping in Capitol Reef National Park is also a can't miss experience. Fruita Campground is the only developed campsite with 71 reservable spots to pitch your tent or park your RV.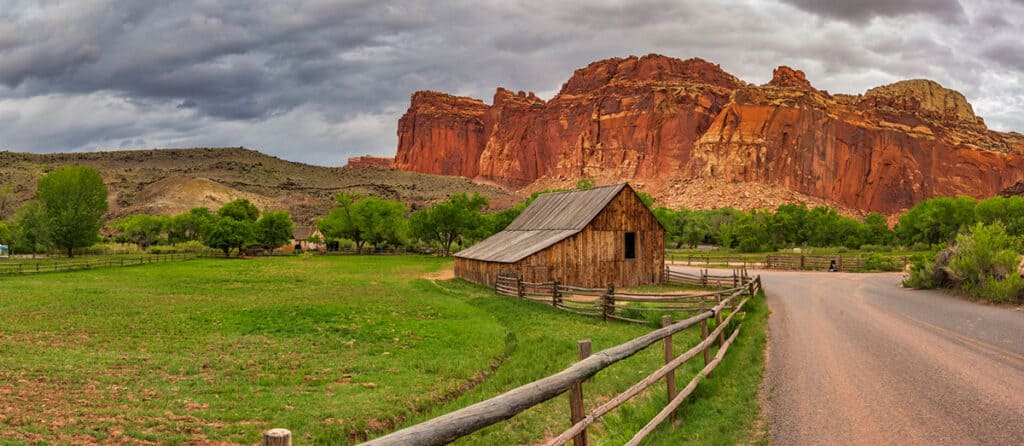 But if getting away from the crowds is more your vibe, there are plenty of opportunities to get a backcountry spot by snagging a backcountry permit from the ranger station and hiking out to a designated primitive campsite or by driving along one of the many off-road vehicle trails.
In either case, stay on the trail at all times to minimize your impact and travel responsibly!
Hotels near Capitol Reef National Park
Broken Spur Inn, is one of the best value motels in town, but you can also stay in a Conestoga Wagon! A truly unique American West experience. They can sleep up to five people, and are exact replicas of the original big wagons used by the pioneers as they crossed the prairies, traversed mountains and colonized the American West.
Capitol Reef Resort, has luxurious glamping cabins, teepees and Conestoga Wagons! Each accommodation has its own unique style and amenities that will make your stay in one to remember on the doorstep of Capitol Reef National Park
Red Sands Hotel, Torrey, has wide open ranch views from the rooms, an indoor pool, spa, and a star-gazing deck for those mesmerized by the night sky. Buy a lunch box and head out to explore the slot canyons and lesser-crowded hiking trails.
Cougar Ridge Lodge is a luxurious ranch resort in a sandstone masterpiece of a building. There is the lodge, plus seven villas, added in 2017. Facilities include a pool, spa, hot tubs, outdoor BBQ area with bar. You can choose to cook your own meals, opt for a private chef or head to a nearby restaurant. Join the weekly star-gazing parties (book in advance).
State Parks in Southeastern Utah
While Utah is known worldwide for its national parks, the more than 40 state parks that reside within Utah also are must visit spots!
Just like with the national parks, Utah's state parks are home to a variety of things to see and do that will keep you coming back for more for years and years to come. 
As with the national parks, many of Utah's state parks are in some pretty desolate regions. Cell phone service is limited as well as gas stations and grocery stores. Go prepared by having plenty of water and food as well as a method for getting in contact with someone should you experience an emergency. Taking a GPS beacon like a Garmin In-Reach or a SPOT location beacon is a must when venturing out here as they could potentially save your life if you get into a tight spot. 
Going prepared and having a plan in place is key to ensuring that you have as much fun as possible when visiting these can't miss state parks in Southeastern Utah!
Dead Horse Point State Park
Located minutes away from Canyonlands National Park, Dead Horse Point is a must for any outdoor adventure road trip.
The park rivals Canyonlands in its spectacular vistas, dramatic cliff drop offs, and views of the Colorado River far below.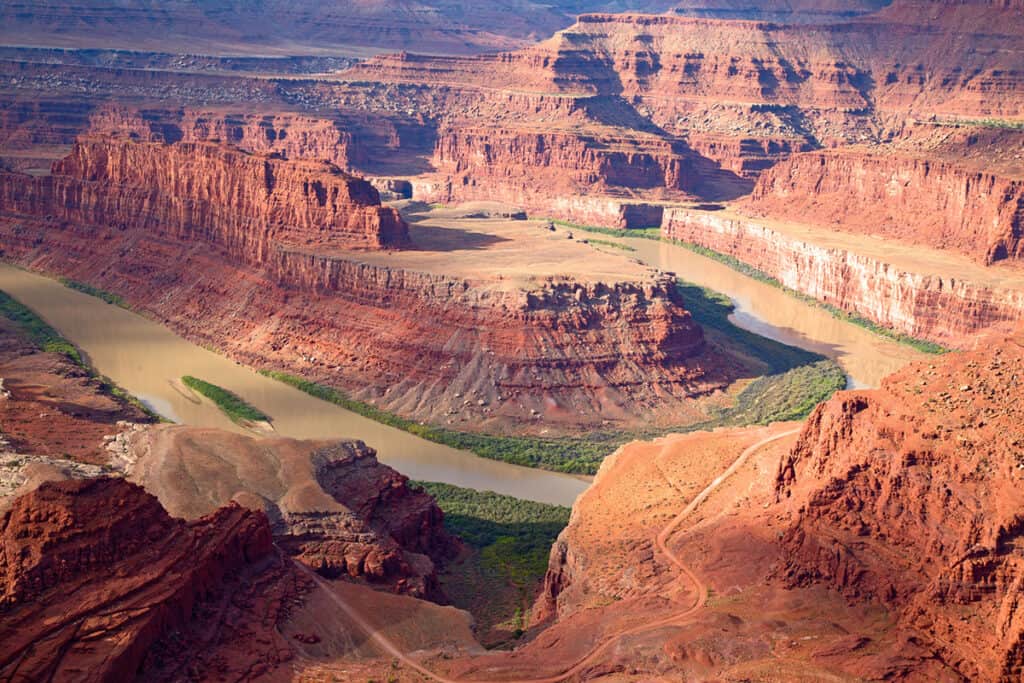 The canyons that populate Dead Horse Point State Park were formed through millions of years of erosion by the Colorado River and the other streams and creeks that meander their way through the maze of red sandstone rocks.
One of the best things to do when visiting Dead Horse Point State Park is to check out any one of the several mountain bike trails. There are trails to suit just about every ability level. From easy paved bike paths to technical rock gardens, Dead Horse Point has it all.
And if you don't have your own bike, no problem! You can easily rent one from Bighorn Mountain Biking that has a shop set up at the trailhead for the Intrepid Trail.
Goblin Valley State Park
Located east of Dead Horse Point State Park and Moab is an anomaly among anomalies: Goblin Valley State Park.
Named for the unique hoodoos that stand like goblins throughout the park, Goblin Valley is a gem of a park because not many people know about it and there are plenty of places to explore!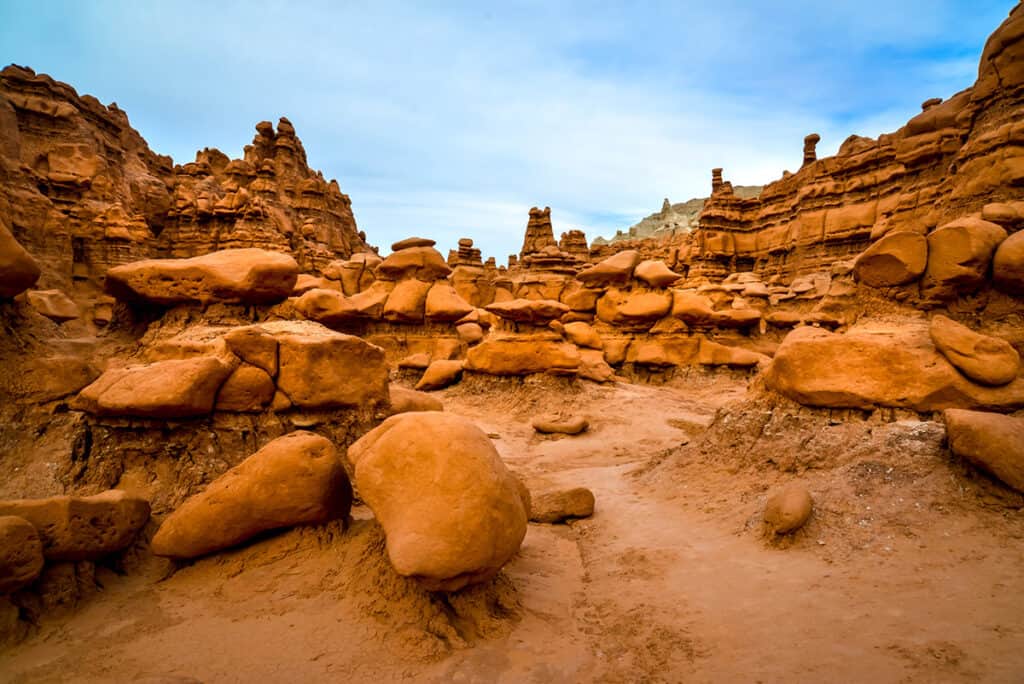 Little Wild Horse Canyon is a slot canyon outside of the Goblin Valley State Park. 
The best thing to do in the park is to explore and meander through the amphitheater of hoodoos located right outside the parking lot. They filmed Galaxy Quest here because the terrain is what we imagine Mars to look like!
Tip: Be sure to bring plenty of water, a wide brimmed hat, and some sunscreen as the back half of the hike is pretty devoid of shade after you get out of the slot canyon.
Staying at Goblin Valley State Park is also a great idea as there are plenty of opportunities to stay at the campground. With 24 campsites and two yurts located within the center of the park, you can set up a base camp to rest up at and refuel after a day of exploring the park.
Plus, the distance that is between Goblin State Park and any other major source of light makes for some of the best stargazing you'll find in Southeastern Utah!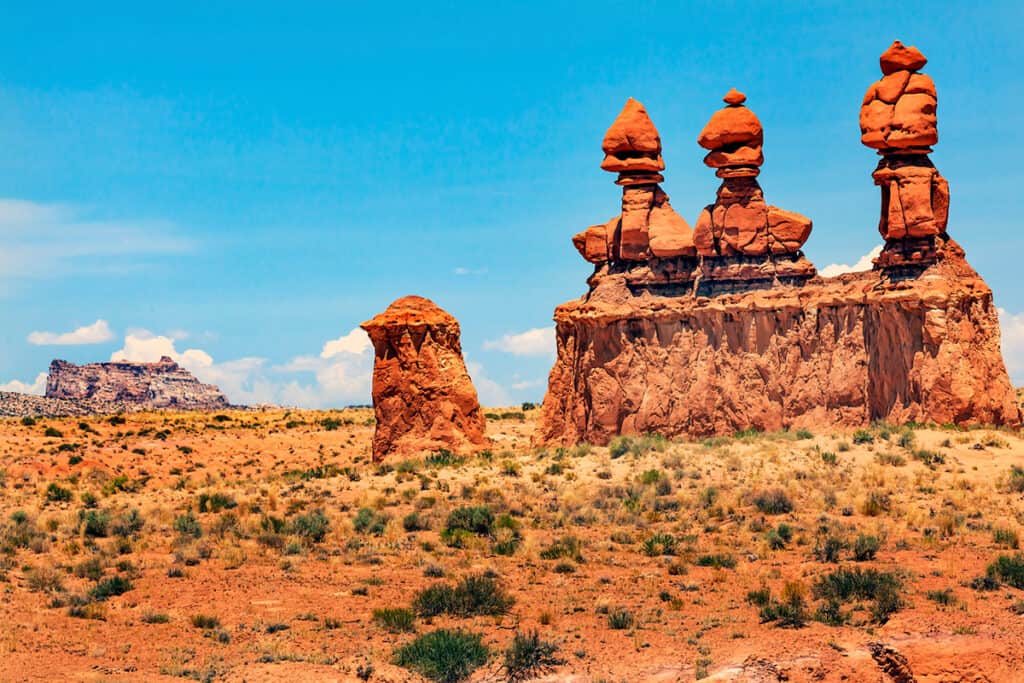 Hotels near Goblin Valley State Park
River Terrace Inn is located on the banks of the majestic Green River and just off I-70. It's a great location for hiking, biking, river rafting, boating, and other activities. From here visit spectacular San Rafael Swell, Goblin Valley, Arches, Canyonlands, Dead Horse Point, and other attractions, then relax by the pool or enjoy a walk along the river at the end of the day.
San Rafael Bed and Breakfast is located between the beautiful Manti LaSal mountains and minutes from the San Rafael Swell. It is an elegant home away from home with a courtyard and jacuzzi, plus a movie room. Full breakfast is served each morning.
Big Mountain Lodge has luxury cabins and lodge rooms. It is a "one stop shop" with a full restaurant on site, a gas station, convenience store, bakery, ice cream parlor, and coffee shop! You can also rent UTVs, 4-wheelers, jet skis, paddle boards, kayaks and fishing poles here.
Goosenecks State Park
This is another amazing formation where the San Juan River has carved out an array of meandering canyon walls that tower over the river below in the shape of – you guessed it – goosenecks.
The best place to view the meander of Goosenecks State Park, in the Navajo Nation, is from above the river looking down over the canyon is just outside of Mexican Hat.
The trail is considered easy. It's 2.9km there and back and takes under 40 minutes to complete. You'll also get a great view from the parking lot too.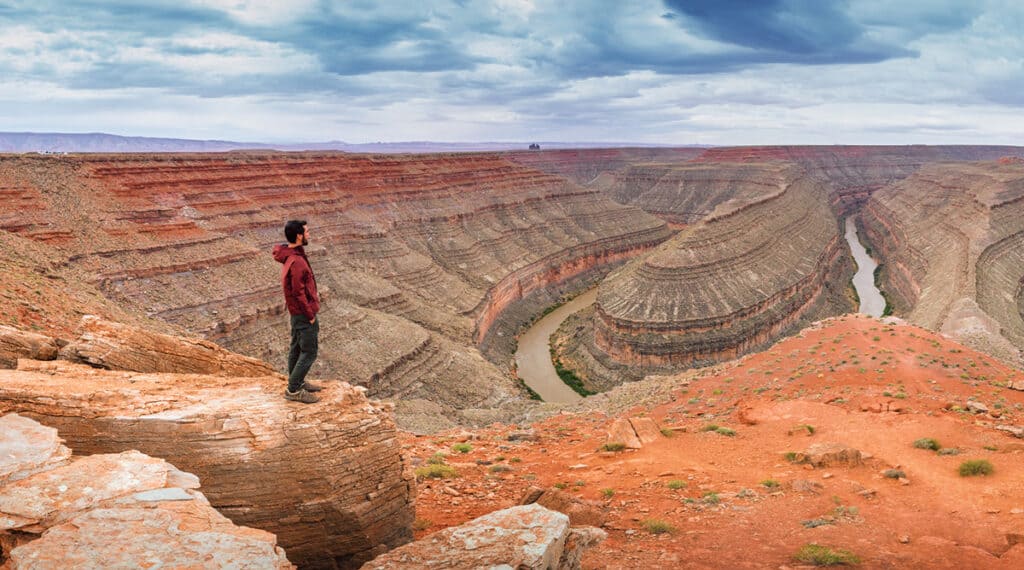 Valley of the Gods
Is Valley of the Gods worth driving through? Valley of the Gods has imposing sandstone formations. You'll see sandstone buttes, mesas and pinnacles on a 17-mile gravel loop road, and although not at dramatic as Monument Valley, it is worth driving through for sure.
It is also close to Mexican Hat, on the San Juan River, which is another fun photo op. The good thing is there won't be large crowds here, so if you want wide open spaces for your photographs, this a good place to visit.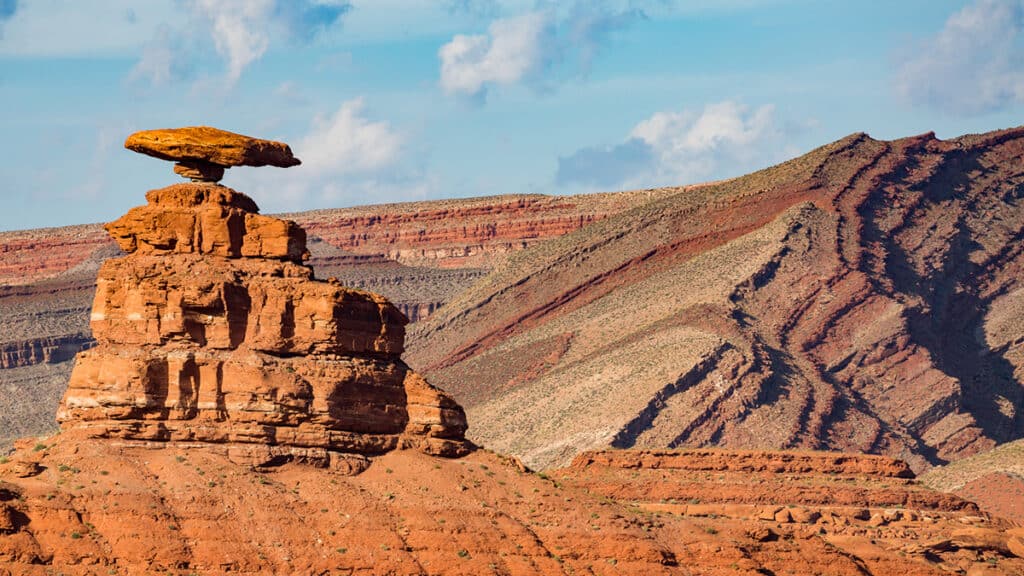 Southeastern Utah Public Lands
Southeastern Utah is home to thousands of acres of public land, most of which is BLM, meaning that it is free to explore and camp on. There are also plenty of spots to check out that aren't located in one of the many national and state parks that honestly will have you wondering how they aren't a part of the national park and state park systems.
Monument Valley
One of the most iconic drives in the entire US takes you through Monument Valley. You'll know it from Forest Gump!
Located near the four corners region of the state (the place where you can stand in Utah, Arizona, New Mexico, and Colorado all at the same time!) Monument Valley is home to some of the most spectacular rock formations that have been featured in tons of popular movies and TV shows.
One of the most iconic scenes in all of cinema history was filmed here. Remember that scene from Forest Gump when he gets to the end of his run and he turns to his followers and says, "I'm pretty tired, I think I'll go home now"? That was filmed right here on the way to Monument Valley.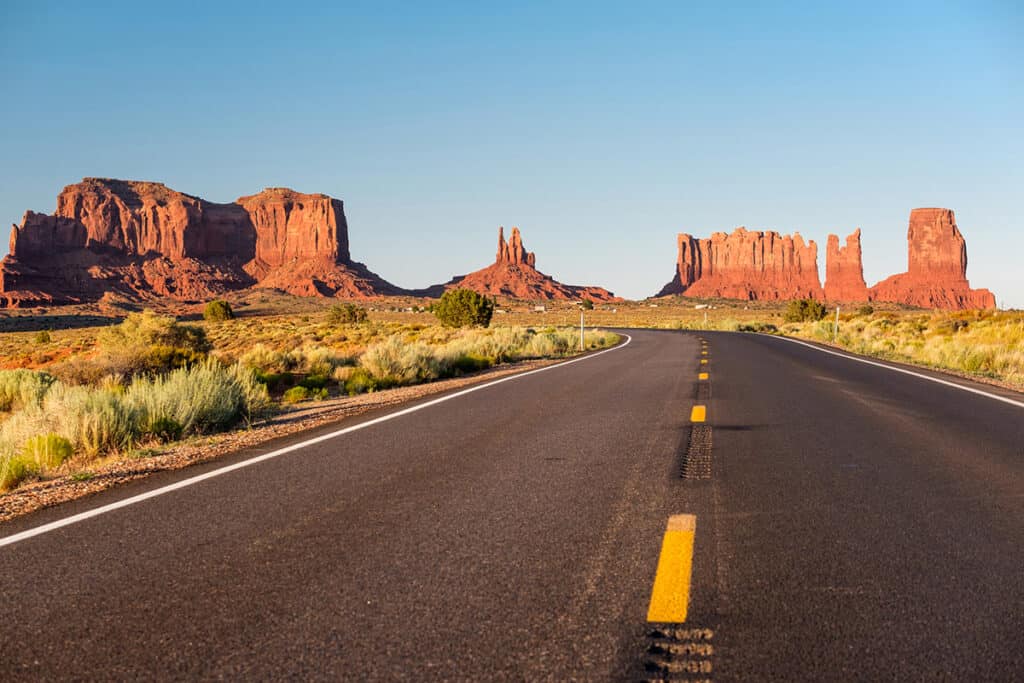 Native American Tourism
It's so very cool when our travels can directly support native business owners and operators, so here are some you might like to check out:
Best times to visit Utah
Utah is a land of extreme contrasts. This is true for the geography as much as it is for the weather. The shoulder seasons of spring and fall are the two best times to visit Southeastern Utah as the temperatures during the day are warm and at night are cool. Mild temperatures make it easy to spend all day outside and stay comfortable all night.
Spring in Utah
If you visit Southeastern Utah in the spring, be sure to bring along plenty of layers for the evening as temperatures can dip fairly low at night. But if you have a sleeping bag that is rated for at least 30°F, you will be comfortable all night long! 
Additionally, the rivers that go through Southeastern Utah will be swelling with fresh snowmelt from the La Sal Mountains to the east as well as from the Rocky Mountains in Colorado. The water will be pretty cold, so if you do decide to go in the river, be sure to bring a wetsuit to keep your body temperature up!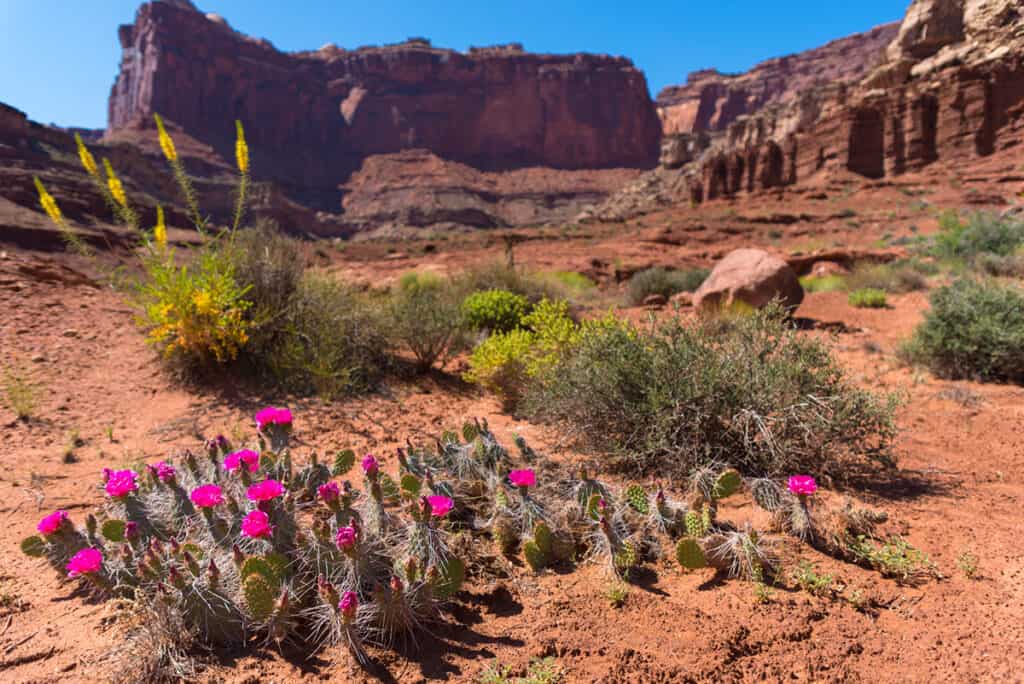 Summer in Utah
Summertime travel in Southeastern Utah is challenging mostly from the heat. Temperatures can soar as high as 100°F during the day and not cool off very much during the evening.
If you do end up visiting during the summer, be sure to bring plenty of water and plan to do your activities during the early morning or in the evening after the sun has passed the highest point in the sky. That way you can avoid heat exhaustion and serious sun burns.
Fall in Utah
Visiting Southeastern Utah in the fall is ideal for those who want to experience the same mild temperatures of spring, but don't want to deal with the snow run off that comes with spring weather.
By this time of year, river levels and creek levels will be low, making it much slower for beginner boaters. In addition to boating, you won't need to deal with creek crossings when off-roading or hiking as much of the runoff will have passed through the area and dried up throughout the summer months.
Winter in Utah
Winter brings colder temperatures to Southeastern Utah, so if you're camping, go prepared with a sleeping bag rated below 30°F to stay nice and toasty at night with plenty of layers. Or stay in a luxury glamping resort or a hotel!
But for those that brave the cold will find a beautiful desert landscape dusted with snow! You got that right, snow in the desert!
While it doesn't snow very much in Southeastern Utah, the snow they do get makes the already enchanting red sandstone rock formations even more spectacular. There's something special about watching the sun come up through Delicate Arch with the La Sal Mountains standing snow capped in the background!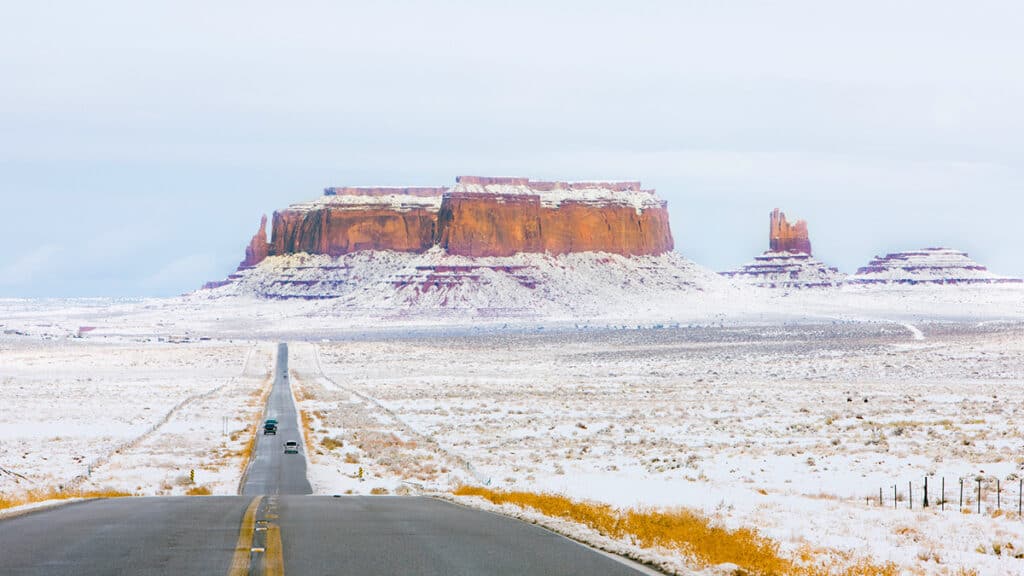 Pro Tips for visiting Utah
Whenever you visit Southeastern Utah, it's important to bring along the right gear and know how to use it. Some gear is pretty obvious to have along with you. Things like tents, hiking shoes, and plenty of water are key to ensuring that you have a safe and comfortable trip.
However, there are a few things that you'll also want to bring with you to make certain that you have the best time possible!
If you bring a cooler that has a big ice block of ice at the bottom, you'll be able to keep your food and drinks cold for longer as the larger ice will melt slower than just cubed ice.
You'll also want a way to spray off your feet and boots. The red sandstone rock formations are constantly eroding from the wind and rain that shapes them, leaving fine red dust and sand pretty much everywhere. Bring a bottle of water that you can use to wash your feet and boots at the end of the day to clean them for tomorrow's adventures!
Final Thoughts
Southeastern Utah is truly a gem to be explored. If you love being outside in beautiful places, you won't be disappointed when you visit! Make sure to plan out your trip in advance by linking together some of the places in the posts below that I've also posted on Utah. Make your accommodation restorations in advance too so you don't miss out.
You'll also love our Ultimate Southwestern Utah guide here.
And this post is helpful: 32 fun things to do in Salt Lake City, Utah.